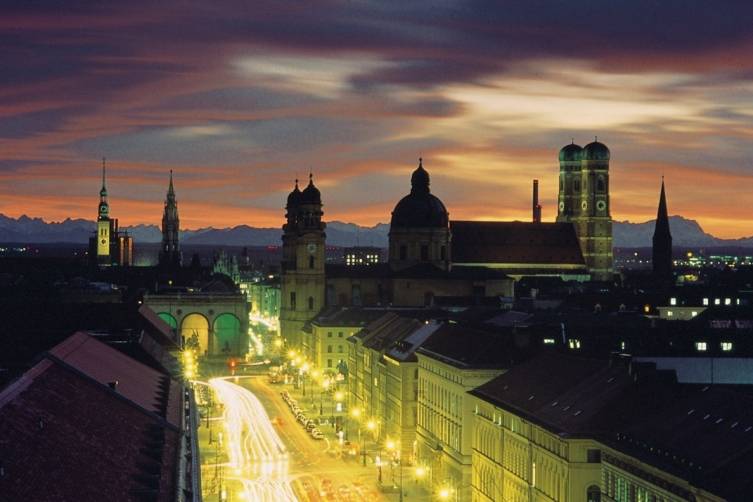 Photo Credit: Ulrike Rorneis
There is no better way to get into the holiday spirit than by visiting the iconic German Christmas markets of Bavaria. Here, find out what to do, where to stay and how to play while enjoying some Christmas cheer in Germany's most luxurious city.
WHAT ARE THE GERMAN CHRISTMAS MARKETS?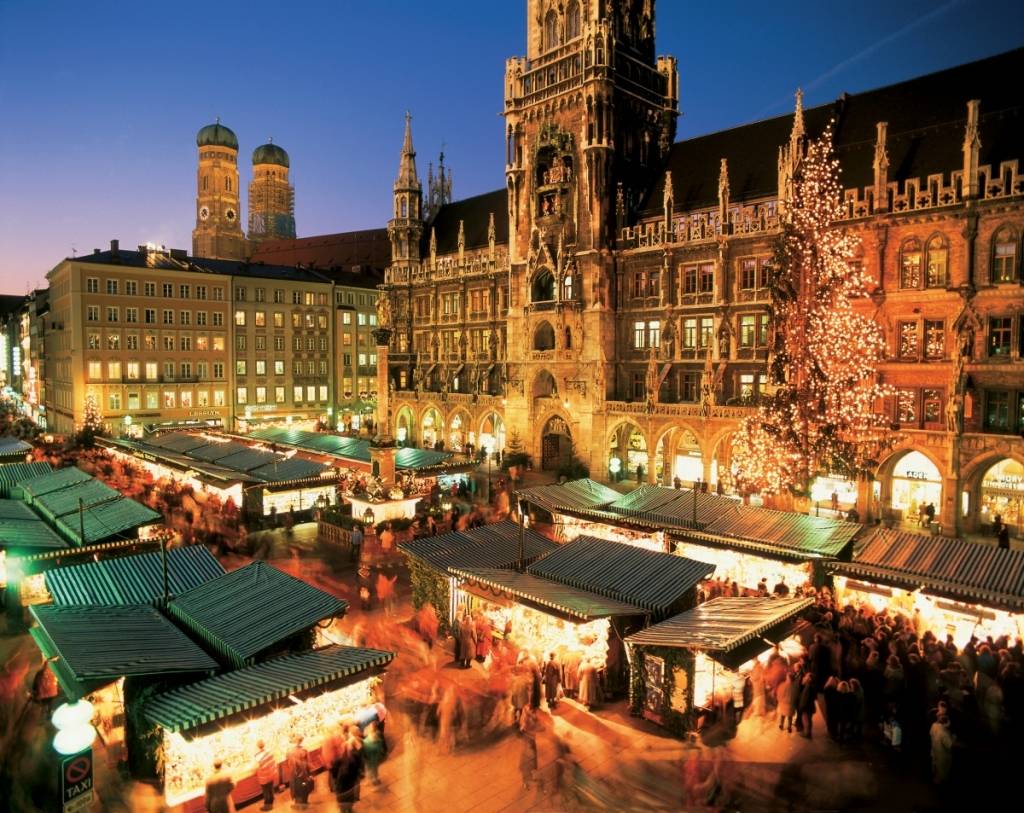 Photo Credit: Tourism Germany
Christmas markets are a tradition throughout Germany, the country responsible for the Christmas tree as we know it, the advent calendar, and good old Saint Nick. They are unique: the markets are, in equal parts, places to buy traditional items such as toys, wood carvings, beeswax candles and lambskin shoes, food items like roasted chestnuts, gingerbread, marzipan and wienerschnitzel, and places to hang out with friends while drinking spiced wine. In Munich alone there are 20 markets, all of which have a different vibe. Here you'll find a medieval market with gospel singing at the Wittelsbacher Platz, the traditional Christkindlmarkt on the Marienplatz and a children's storybook market with robotic Saint Nicks, reindeer and Grimm figures like Red Riding Hood. These markets signify that it is Christmastime, and the ritzy city gets together for one big, festive holiday party from November 26-December 24.
STAY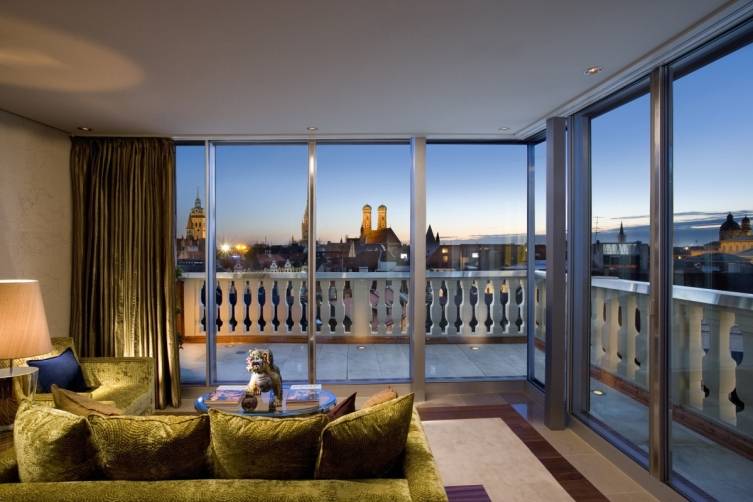 The Mandarin Oriental might be in the heart of the action with its location in the atmospheric old town of Munich, but this quietly opulent retreat offers complete privacy at its best. The haute hotel currently offers 73 rooms and suites, but is undergoing a massive renovation. While its rooftop bar and rooms are being renovated, still expect to find sophisticated and elegant rooms in the brand's signature East-meets-West aesthetic, stunning outdoor terraces, spacious marble bathrooms with heated floors and a stunning neo-Biedermeier design. From the moment you enter the Mandarin's lobby and are served a glass of Ruinart champagne to the moment you're whisked away to your suite, know that you're in for a truly luxurious experience. There's much to do here in the way of dining and drinking: enjoy cocktails and afternoon tea at the Mandarin Bar, a neat glass at Rum Club or nosh on both traditional and modern German fare at the small yet mighty BistroMO and. If you have a moment to enjoy the amenities, you'll delight in the fully-equipped fitness center, the Turkish steam bath and Finnish sauna, and the unparalleled spa. For those who have a more adventurous side and prefer not to drive around this small city, the Mandarin also has complimentary Mercedes-Benz bicycles available for guests.
Mandarin Oriental Munich, Neuturmstrasse 1, 80331 München, Germany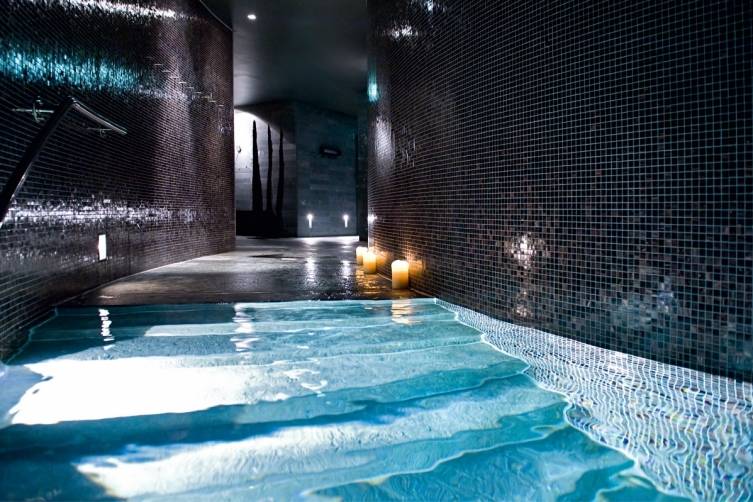 The Sofitel Munich Bayerpost is a sleek, chic and modern destination for those who want a more contemporary place to stay. This haute hotel is a design mecca thanks to its dramatic neo-Renaissance façade, gorgeous art displays and contemporary architecture; you'll also spot traces of the hotel's past, as it once housed the Royal Bavarian Post Office. Ritzy travelers will opt to stay in the Magnificent Apartment, a stunning suite thanks to its high ceilings and vast windows, though you will definitely enjoy all ten of the themed suites designed by German interior architect Harald Klein.  You'll also fall in love with the hotel's pool, which has an underground, Blue Lagoon-esque feel. After you've settled in, check out Delice, the hotel's French-inspired eatery, which offers a modern take on brasserie classics like boeuf bourguignon or salade niçoise in a cool, electric red setting.
Bayerstraße 12, 80335 München, Germany
The Charles Hotel doesn't scream elegance, and it doesn't need to: the Rocco Forte collection hotel simply is elegant. Here you'll find artworks by Franz Von Lenbach, Art Deco touches by architect Christian Sattler. Here you'll find a captivating mix of modernity, Gothic architecture, traditional beer gardens, cool bars and glamorous restaurants from this stunning property, which is located in the heart of Munich overlooking the city's Old Botanical Gardens. Despite its old-world feel, it's the newest hotel in Munich, built in 2007. Each of the 136 bedrooms and 24 suites are designed by Olga Polizzi, and offer some of the most spacious overnight stays in the city. You'll relax in style from these well-appointed rooms, which offer views of the Old Botanical Garden, decorations in porcelain from Bavaria's oldest manufacturer and touches like a selection of works by Thomas Mann at your bedside. It's the small touches that make The Charles special though. Whether it's that they offer custom-made dirndls during Oktoberfest or large-scale gingerbread houses during the Christmas months, this is a hotel that goes to great pains to make your stay special and spectacular.
The Charles Hotel, Sophienstraße 28, 80333 München, Germany 
PLAY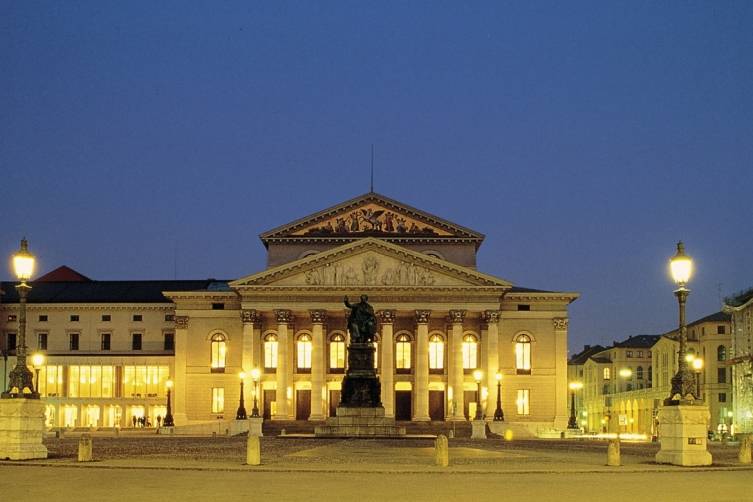 Photo Credit: Ulrike Romeis
There are a ton of activities at your disposal for those who need a break from the Christmas markets. Take a behind-the-scenes tour of the National Theatre, which houses the Bavarian State Opera and Bavarian State Ballet, or enjoy some Canalettos at the modern Pinakothek Museum or, conversely, learn about a big part of Munich's history at the Beer & Oktoberfest Museum. Go on a shopping spree of high-end goods on Maximilianstraße, Munich's equivalent of Rodeo Drive, where you'll find boutiques such as Dolce & Gabbana, Versace, Louis Vuitton, Dior, Chanel, Escada, Hugo Boss, Gucci, Gianfranco Ferré and Bulgari. Auto enthusiasts will NOT want to miss the BMW Museum, which shows the brand's technical development throughout its history. It contains engines and turbines, aircraft, motorcycles, and vehicles in a plethora of possible variations. In addition to actual models there are futuristic-looking, even conceptual studies from the past 20 years.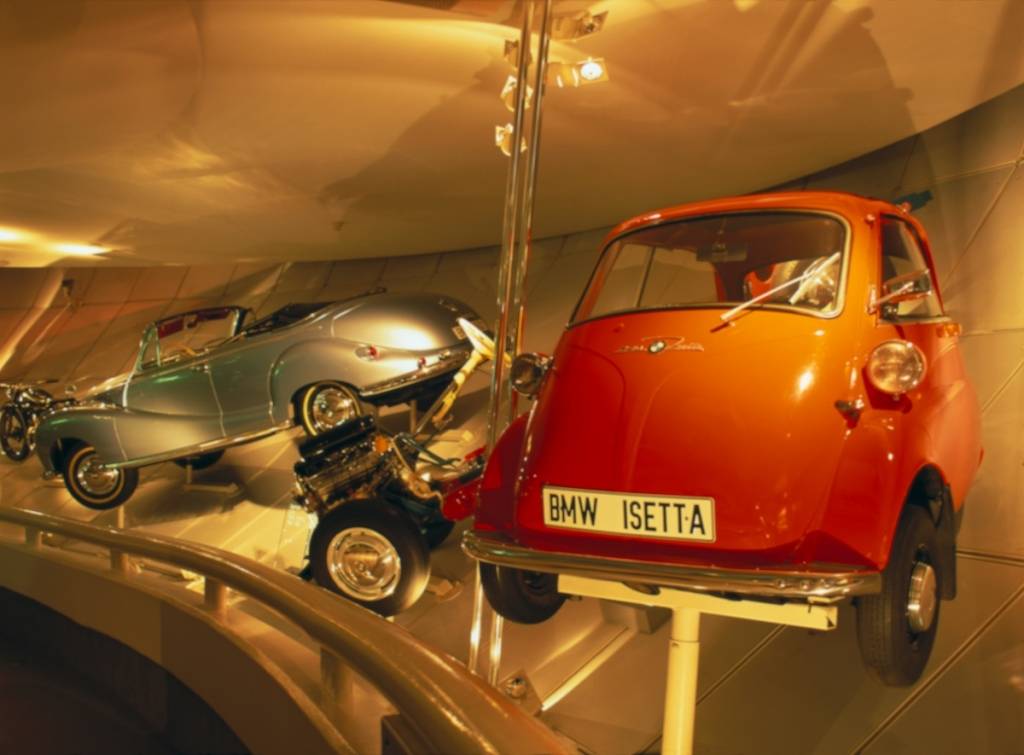 Photo Credit: Tourism Germany 
BMW Museum, Am Olympiapark 2, 80809 München, Germany
Alte Pinakothek Museum, Barer Straße 27, 80333 München, Germany
National Theatre, Max-Joseph-Platz 2, 80539 München, Germany

DINE
Kuffler Restaurant
Munich, and Germany in general, is not a place for the vegetarian. This is a place where meat—veal, deer, beef and pork—are your options of choice. At Spatenhaus, you'll enjoy the very best of Bavarian cuisine. The restaurant is split into two parts: the upstairs is fine dining, offering more modern dishes in addition to classic Austrian and Bavarian fare. Its downstairs eatery is perfect, however, for that person who wants the authentic experience. When in Rome, right (or Munich, as it were)? Here you'll find homemade jelly of suckling pig, Bavarian sausages, herring, spaetzle, boiled beef and even ox in a rustic, chalet-style environment. If you're looking for something a little more varied, head to Kuffler Restaurant for a chic evening experience. The interior designers at Kuffler Inn Design furnished the restaurant with exquisite in-house furniture and lamps. Oak flooring and warm wood determine the atmosphere, colourful tiles set contrasts, and stuccoers have done an excellent job. Besides that, focus is on stylish regional art: with paintings and photos from Munich artists we have purchased real eye catchers for all rooms. The menu is eclectic: you'll find everything from lobster and grilled prawns to veggie burgers and tagliatelle. Meanwhile, those seeking great Italian food in this meat-heavy land will love the Italian market night at Davvero, where you actually participate in making your own pasta dishes, salads, and entrees and which is quiet, spacious, and opulent: the perfect place for a special occasion. Last but not least, vegetarians should not despair of ever visiting Munich, as the relatively new Tian – Experience Taste – a high-end mecca similar to Gracias Madre or Crossroads in LA – offers veggie dishes in a lovely setting.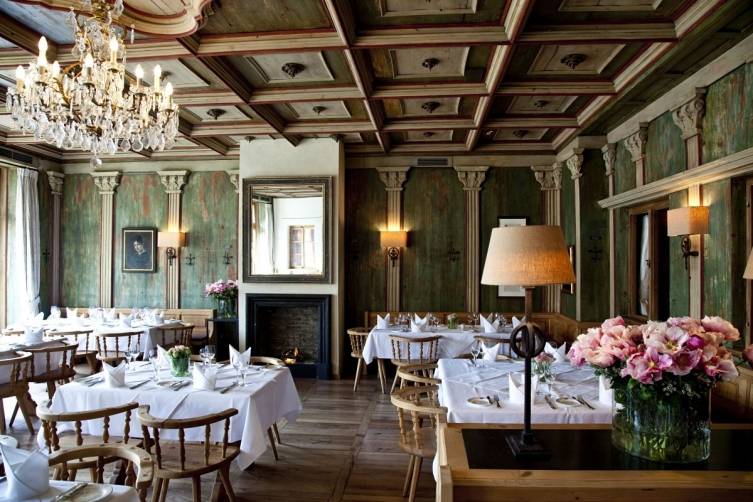 Kuffler Restaurant, Hofgraben 9 / Ecke Maximilianstrasse 80539, München, Germany 
Restaurant Davvero, Sophienstraße 28, 80333 München, Germany
Spatenhaus an der Oper, Residenzstraße 12, 80333 München, Germany
Tian – Experience Taste, Frauenstraße 4, 80469 München, Germany
DRINK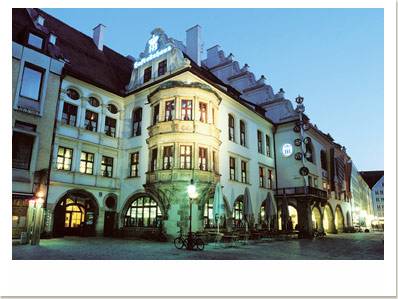 Anyone who is anyone is familiar Hofbräuhaus, a brewery owned by the Bavarian state government which is beloved by lederhosen-wearing locals and tourists alike. After Munich's world famous Oktoberfest (where the Hofbräu has one of the largest beer tents), the Hofbräuhaus am Platzl is hands-down Munich's most outstanding tourist attraction and historical monument. Pull up a bench and make friends with your neighbors at this notoriously rowdy yet entertaining establishment which is right up there on the list of 'must-dos' should you visit Munich.
IF YOU HAVE TIME FOR A DAY TRIP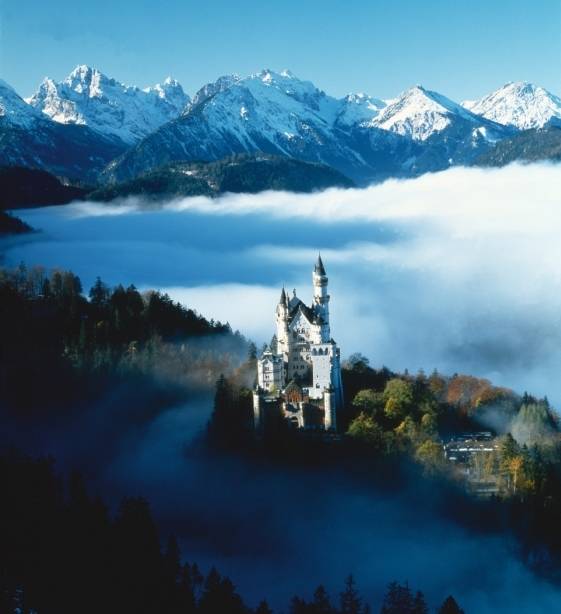 Photo Credit: Tourism Germany
Munich is a stone's throw away from a handful of amazing destinations that are mere hours away. Salzburg, Austria, the home of Mozart, is just 90 minutes away, while Nuremberg is of an equal distance by train, while Linderhof Palace, a picture-perfect reatreat King Ludwig II modeled on Paris' Versailles, is a two-hour drive. Our pick, however, is Neuschwanstein Castle, which is often referred to as the crown jewel of Europe's Fairytale Castles. Angelenos will love that Walt Disney modeled Sleeping Beauty's Castle at Disneyland on King Ludwig's ambient locale his over-the-top alpine castle. On an extensive tour of the grounds, you'll see that the castle has everything from a man-made grotto to rooms with peacock feathers to even a waterfall. It is, most definitely, an inspiration for the theatrical, over-the-top millionaires and billionaires that call LA home.
Subscribe to discover the best kept secrets in your city