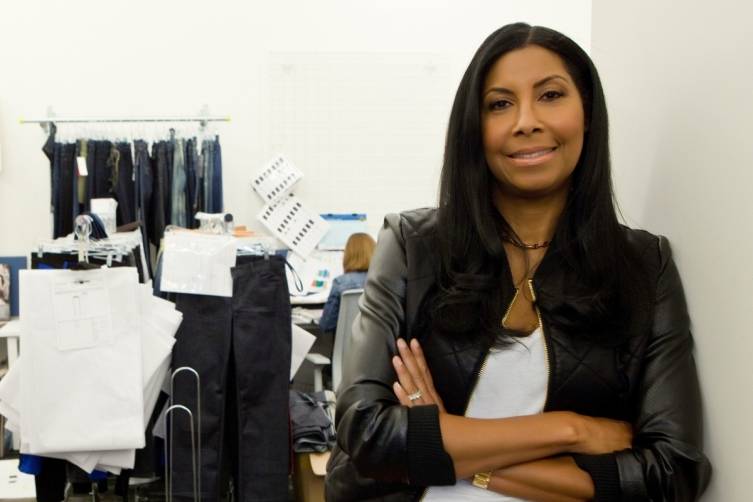 Cookie Johnson had a problem: she couldn't find a great pair of jeans to emphasize her curvy and athletic shape. Frustrated by what she found on the market, she came up with a solution: she would create her own denim company. Five years ago, CJ by Cookie Johnson was born, and has been an overwhelming success. Says Johnson, "There was nothing really out there for a woman with a feminine body, which is why I created these jeans. The majority of the world is like this!" Thankfully, the fashion entrepreneur (who also happens to be Magic Johnson's wife) is here to share her secrets on how to find the perfect pair of jeans.
Make sure you have enough time to try them on. Don't just walk up and buy them off the rack.
Talk to a salesperson and tell them what you're looking for; if you're looking for a higher rise or a lower rise. Ask these questions: What is your lifestyle like? Do you want the sexy low rise one, or are you a mom and you need to have a little more coverage because you're bending over all the time? They'll steer you in the right direction of which jean to go with.
If you have a butt and a thigh, you want to make sure that you find a jean with a nice stretch to it. [This jean will] hug your curves rather than fighting them.
Find a style that works for you. If you're short, go with the skinny jeans because they're easier to hem. Taller people should try to go with the straight-leg jeans because they run really long. If you're hippy, go for a boot-cut jean because it balances out your hips. I also don't want a curvy girl to get scared of trying a legging or a skinny jean, because there are so many ways you can camouflage [problem areas] with how you accessorize. Meaning, put a longer top with it and a longer jacket over the top: you can still wear the skinny jeans and feel comfortable because you have coverage.
When you put on the jean, make sure it's not pulling too much on your inner thigh or below the butt so you don't have smile lines. If you try on the size that you think you are and it's pulling right there, you might want to go up a size.