Grab a table for two with these restaurants designed with sharing in mind.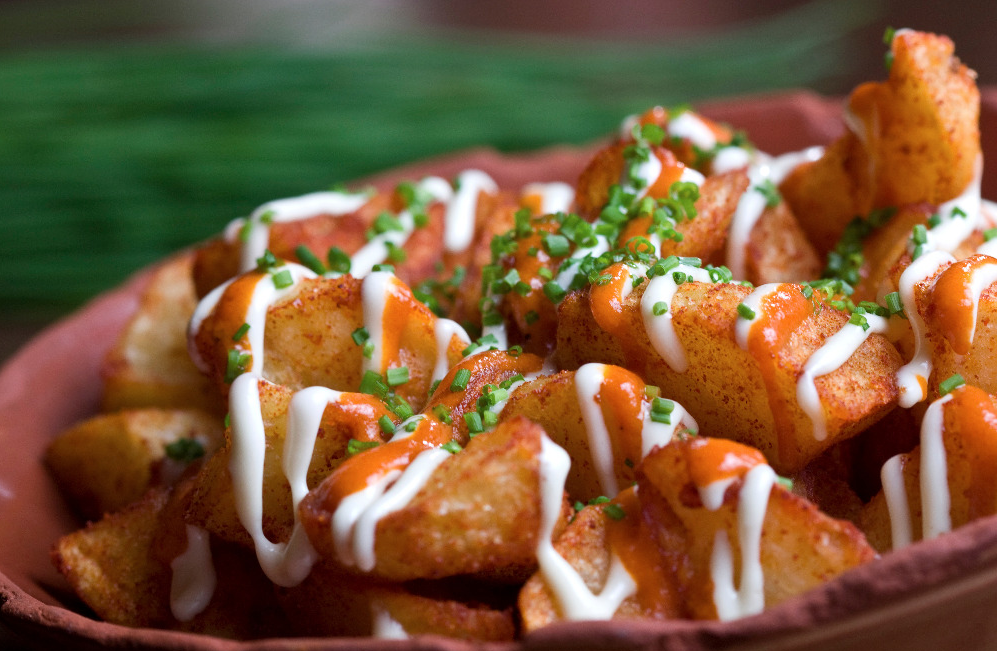 Boqueria
1460 Second Avenue
New York, NY 10075
(212) 343-2227
Ambiance: This newly minted eatery on the Upper East Side is the third location of the popular tapas place to pop up in Manhattan. Just like its sister locales, it's the perfect spot for a Friday night out, offering a diverse menu of Spanish small plates easily split amongst amigos. Adorned with single-drop lights that bathe the space in a gilded glow, the restaurant has a sophisticated yet down-to-earth vibe, accented with whitewashed walls and comfy plush leather seating.
Scrumptious Starter: Gambas al Ajillo – Shrimp, garlic, brandy, sherry vinegar, and Guindilla pepper in olive oil ($13)
Enticing Entrée: Paella de Mariscos – Bomba rice, monkfish, sepia, squid, shrimp, clams, mussels, and saffron, served with salsa verde ($19 per person, minimum two orders)
Decadent Dessert: Churros Rellenos – Churros filled with Nutella, cinnamon, and sugar (five pieces for $10, nine pieces for $16)
Sumptuous Sip: Catalan Margarita – Sauza Gold Tequila, Honey, and Torres 10 Brandy, served with a salt-cured lime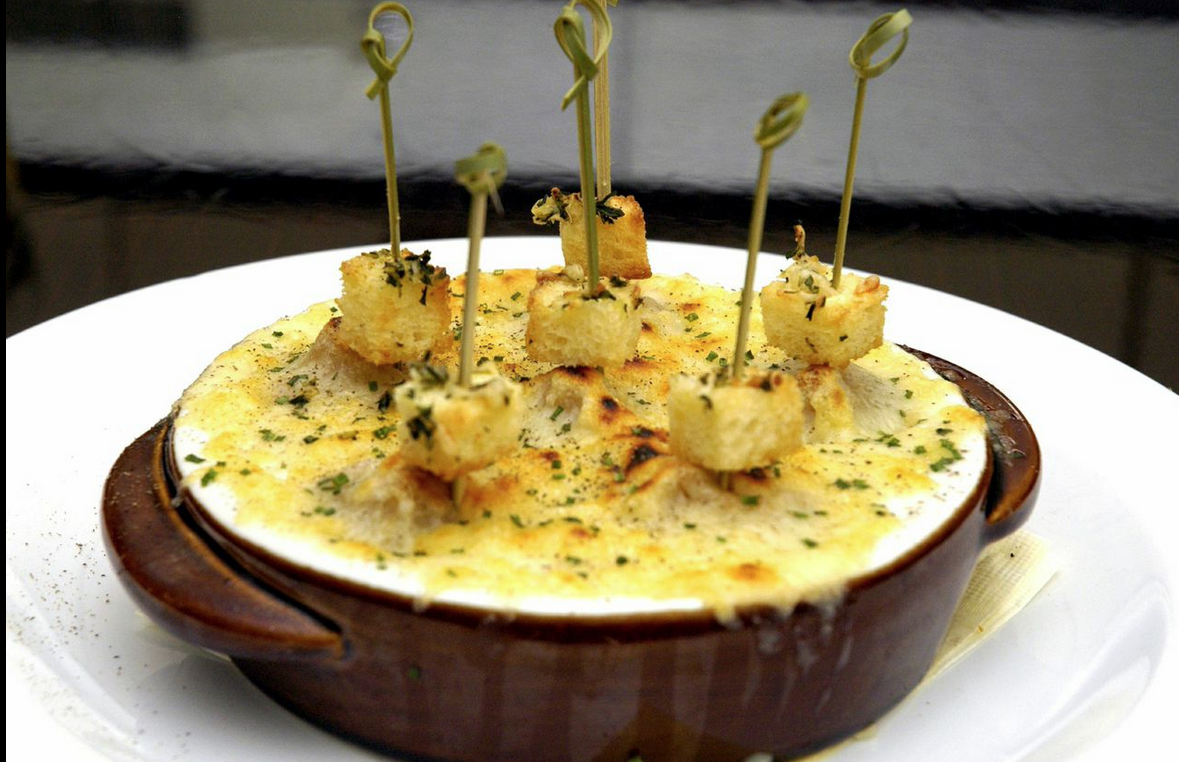 The Stanton Social
99 Stanton Street
New York, NY 10002
(212) 995-0099
Ambiance: Often frequented by celebrities and scenesters, The Stanton Social is one of the sultriest spots in town. Boasting a multi-ethnic menu of creative plates designed for sharing, the lively lounge is an ideal go-to for groups of all sizes looking to indulge in an über stylish, yet relaxed setting. Its beguiling, three-level interior showcases fine lizard skin, fringe, and leather accents, not to mention a 30-foot, glowing wine wall displaying over 2,000 bottles.
Scrumptious Starter: French Onion Soup Dumplings ($12)
Enticing Entrée: Dry Rubbed Heritage Baby Back Ribs, served with southern style vinegar slaw ($18)
Decadent Dessert: Apple Pie Empanadas served with cinnamon caramel and pecan whipped cream ($10)
Sumptuous Sip: The Social Tea – Stoli Citrus and gunpowder green tea with orange-honey marmalade ($14)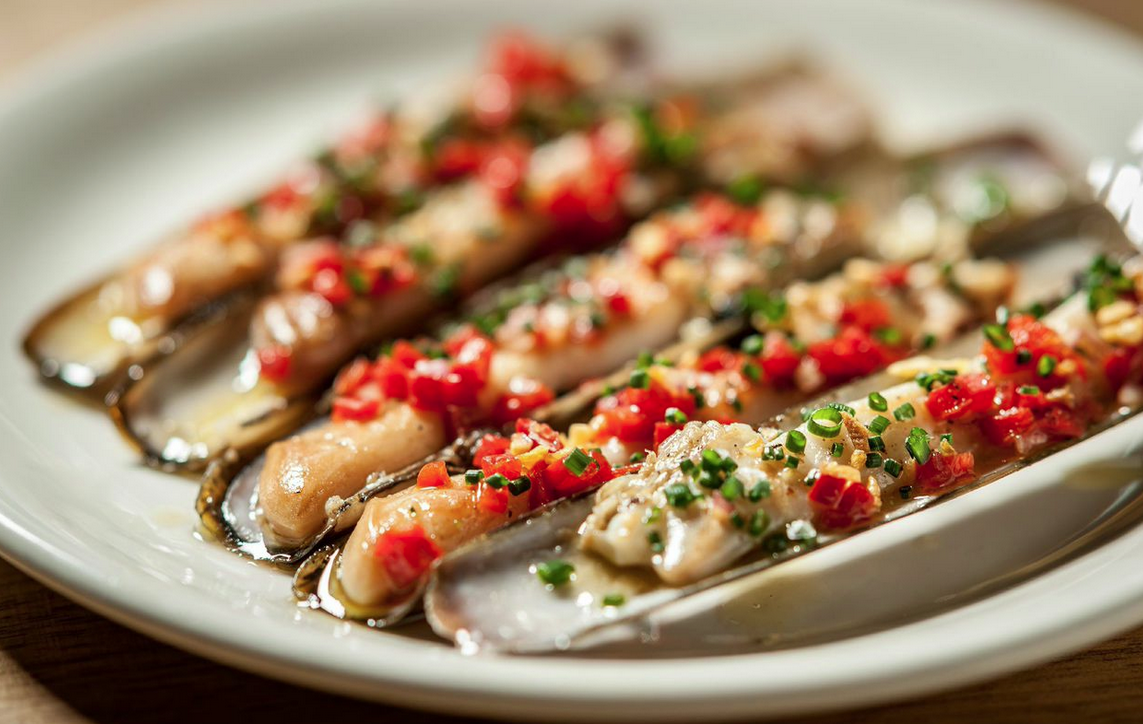 Toro NYC
85 Tenth Avenue
New York, NY 10011
(212) 691-2360
Ambiance: Helmed by James Beard Award-winning chef Ken Oringer, Toro touts a one-of-a-kind selection of tapas featuring an array of oddball ingredients such as gooseneck barnacles and pig ears. Housed in the old Nabisco factory building in Chelsea, the 100-seat restaurant sports an industrial-cool, red brick interior, punctuated by a mounted fighting bull's head from Mexico.
Scrumptious Starter: Navajas – Razor clams with piquillo pepper, garlic, and lemon ($16)
Enticing Entrée: Paella Valenciana – Shrimp, mussels, clams, chorizo, chicken, and calasparra rice (full: $76, half: $36)
Decadent Dessert: Roasted apple, dulce de leche, and oatmeal streusel, served with goat cheese ice cream ($10)
Sumptuous Sip: Celestial Tequila with crushed red pepper, cinnamon, and orange bitters ($14)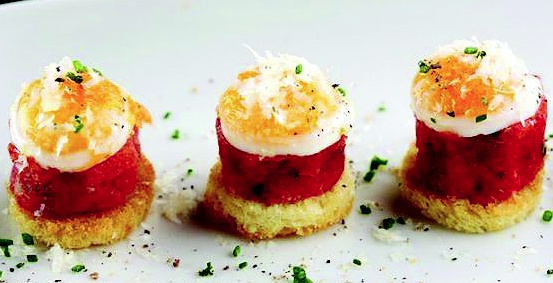 Beauty & Essex
146 Essex Street
New York, NY 10002
(212) 614-0146
Ambiance: Oozing with early '60s glamour, this red-hot eatery boasts a peacock-themed grand dining room, a splendid two-story chandelier, and free-flowing Champagne in its ladies' room. Offering a colorful range of shareable dishes made with upscale ingredients, the restaurant is often packed with an urbane crowd just as classy as its interior.
Scrumptious Starter: Lobster Tacos – Beer battered Maine lobster served with red cabbage slaw and poblano crema ($21)
Enticing Entrée: Oven Braised Chicken Meatballs with sheep's milk ricotta, wild mushroom, and truffle ($18)
Decadent Dessert: Box of Doughnuts – Vanilla beignets with chocolate hazelnut crème and raspberry jam ($13)
Sumptuous Sip: Smooth Criminal – Illegal Mezcal, lemon, lime, and peach purée ($15)