Victoria Monfort is a French actress and blogger—with a killer sense of style. Haute Living sat down with the 27-year-old beauty to chat about her fashion and beauty tips, her travel experiences, and her exciting film career.
When did you realize that you wanted to act?
I would say I have always liked it, but I realized I wanted to become an actress the year I passed my A level. I dared myself to go on stage, and I was so excited and found myself waiting all week for that.
What is your favorite movie?
Oh that's a hard one! I would say Mommy by Xavier Dolan. The movie is amazing. Pictures are beautiful. Female roles are interesting, intense. He does everything by himself and doesn't delegate anything. I admire his work so much. Watching his movie made me cry, made my smile, and made me laugh.
Which director would you love to work with?
Xavier Dolan of course, and Patrice Leconte. I would love to be in a movie directed by Ben Affleck and produced by Steven Spielberg.
Which actor would you like to co-star with?
Leonardo DiCaprio! He's super professional and one the greatest actor of our times. Chris Hemsworth too—he is so sexy!
Tell us about one of your best and worst filming memories?
I got the chance to play in a TV movie a little while ago. The filming took place in Morocco. It was an incredible atmosphere… very friendly and funny. But, most of us were sick with traveler's diarrhea! And of course one, of the first scenes that I had to play was a nude one.
What is your next project?
The next play is called BBN: the Blonde, The Beautiful, the … N(…ymphomaniac). I will be playing the Beautie. This play is written and produced by Alil Vardar, a very talented actor, comedian, and screenwriter.
As an actress you must love clothes and fashion. Who is your favorite fashion designer?
Chanel! I also like Celine bags, Isabel Marant, Carven, Yves Saint Laurent, and J Brand among others. I like mixing Couture and Pret-a-porter—wearing a basic Zara top with JBrand jeans, a Celine b fag and Chanel shoes.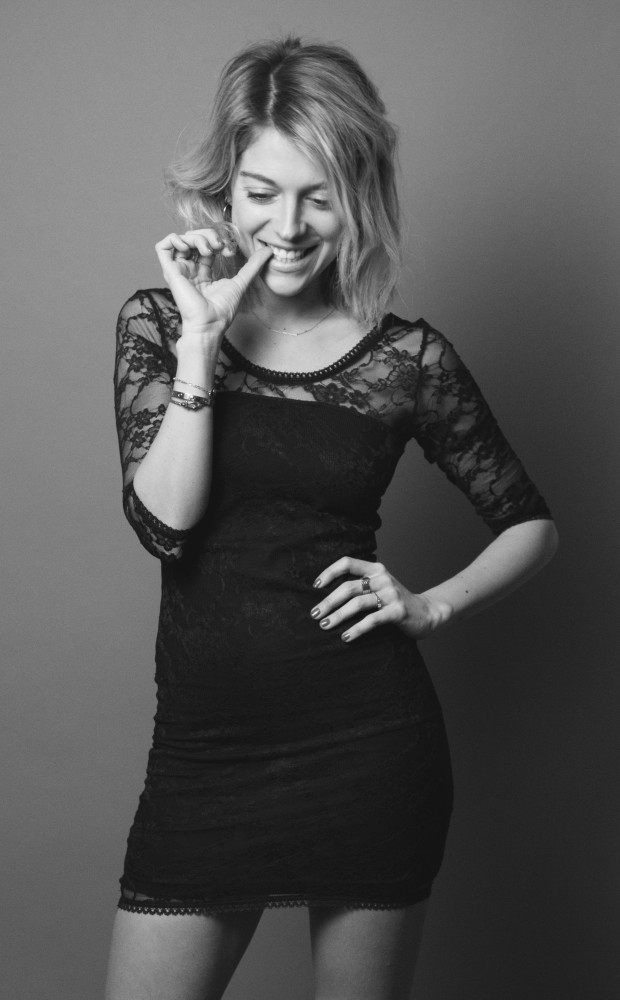 Who is your fashion icon?
Diane Kruger—she is so chic. I like her elegant and feminine style, but it's still kind of edgy because of trendy, fashionable details and accessories. On the other hand, I like the sporty, boyish style of Cara Delevingne.
What three pieces should every girl have in her closet?
A perfecto motorcycle jacket (mine is the YSL one), the Chanel boy bag, capri J-Brand jeans.
Any beauty tips?
I remove my make-up using micellar water. I don't wear a lot of makeup on my days off. Every morning I use a daytime Clarins cream that protects the skin against the appearance of wrinkles and loss of firmness.
What do you always keep in your handbag?
iphone 6, Smythson agenda, Bottega Veneta purse, and the new fall Dior lipstick.
Subscribe to discover the best kept secrets in your city