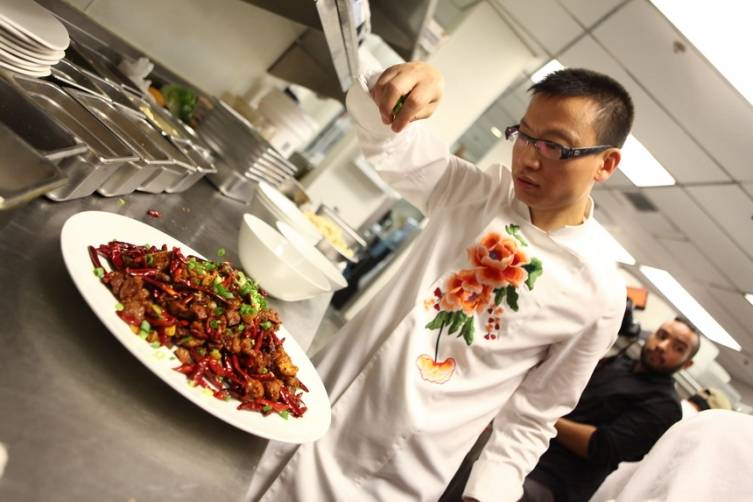 Chef Tony Hu threw a grand opening party for his new Lao Sze Chuan, now open at the Palms. The authentic Chinese cuisine restaurant kicked off its Tuesday night party with a ribbon cutting ceremony led by Hu, former Mayor of Las Vegas Oscar Goodman, and the restaurant's key partners. Goodman gave Hu an official Las Vegas welcome with his signature Bombay Sapphire Gin cocktail in hand, with a Szechuan pepper replacing his usual garnish of choice, a jalapeño, to signify his excitement for Lao's hot opening. When welcoming Tony to town, Goodman playfully introduced Hu by saying, "They call him the mayor of Chinatown in Chicago and if you try to become the mayor of Las Vegas here, I will have you whacked." Afterward Hu was presented with a formal proclamation and certificate marking his first Las Vegas venture.
Before the private party started, a large crowd gathered around the entrance of the restaurant to enjoy a festive lion dance, an ancient Chinese tradition to commemorate the restaurant opening.
For the opening bash, Hu presented an impressive culinary display featuring a delicious selection of  dim sum, skewers, newly created dishes and Lao Sze Chuan favorites. Guests mingled and enjoyed featured items like the spicy Dry Chili Chicken and the tantalizing Szechuan Peppercorn Fish, and refreshing signature cocktails like China Girl.
Lao Sze Chuan at Palms is a reinvention of Hu's popular Chicago-based  restaurant, known as one of the nation's most beloved Chinese restaurants with a solid reputation for providing traditional Sze Chuan cuisine with high quality ingredients.
Like Haute Living Las Vegas? Join our Facebook page or follow us on Twitter. Want Haute Living Las Vegas delivered to your in box once a week? Sign up for our newsletter.
Aaron Whitten - GM - Tony Hu - Owner - Seven Bai - Food Consultant
Barry S. Dakake. Tony Hu. George Maloof. Todd Greenberg. Christopher Joy. Palms Executives Photo by Joe Fury
Chef Barry S. Dakake with Oscar Goodman in front of Lao Sze Chuan
Chef Tony Hu applies finishing touch to famed Three Chili Chicken dish
Chef Tony Hu at Lao Sze Chuan at Palms
Chef Tony Hu cuts ribbon at Lao Sze Chuan grand opening
Chef Tony Hu enjoys welcoming chinese lion dance
Chef Tony Hu in kitchen
Chef Tony Hu prepares Three Chili Chicken
Chinese lion dance 2
Chinese Lion Dance 3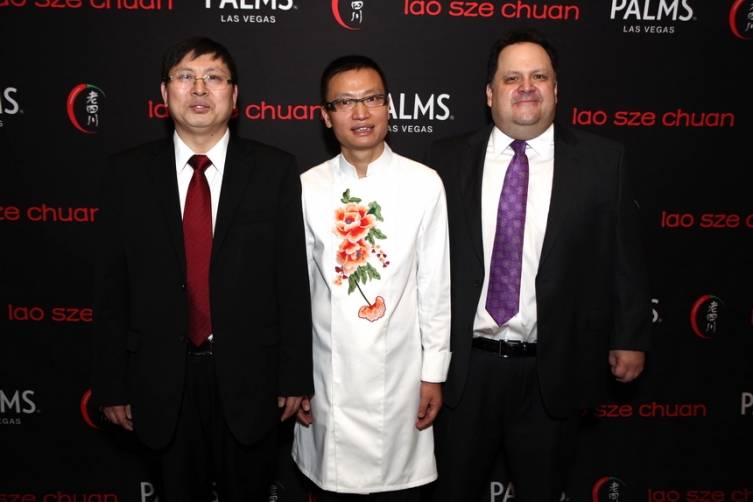 Deputy Consul General of China Song Ruan - Chef Tony Hu and Palms President Todd Greenberg
Ice sculpture at Lao Sze Chuan
Lao Sze Chuan Opening Team Photo. Credit Joe Fury
Lao Szechuan entrance 2
Lao Szechuan entrance
Lobster
Onlookers enjoy Chinese lion dance
Oscar Goodman and Chef Tony Hu greeting each other
Oscar Goodman and Chef Tony Hu toast with Saphire Bombay Gin cocktail garnished with a szechuan pepper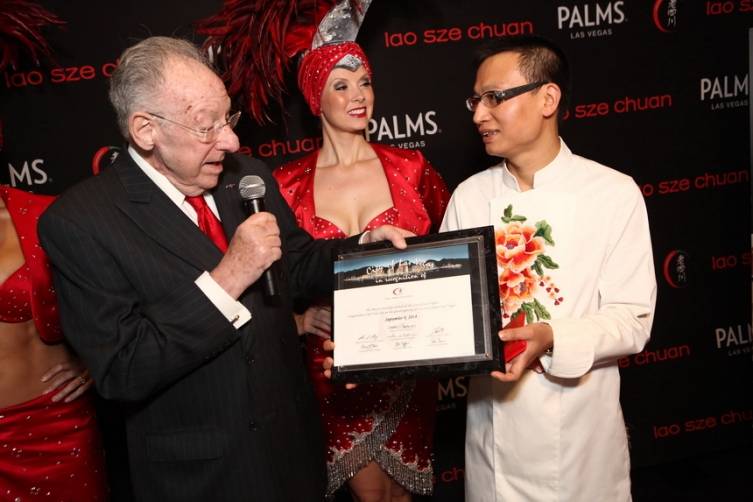 Oscar Goodman presents Chef Tony Hu with certificate of recognition
Oscar Goodman, Chef Tony Hu and Deputy Consul General of China Song Ruan all smiles at grand opening
Ribbon cutting (Left to right) Seven Bai- Aaron Whitten -Oscar Goodman - Chef Tony Hu - Song Ruan - Jie Bu - Christopher Joy
Welcoming Chinese Lion Dance