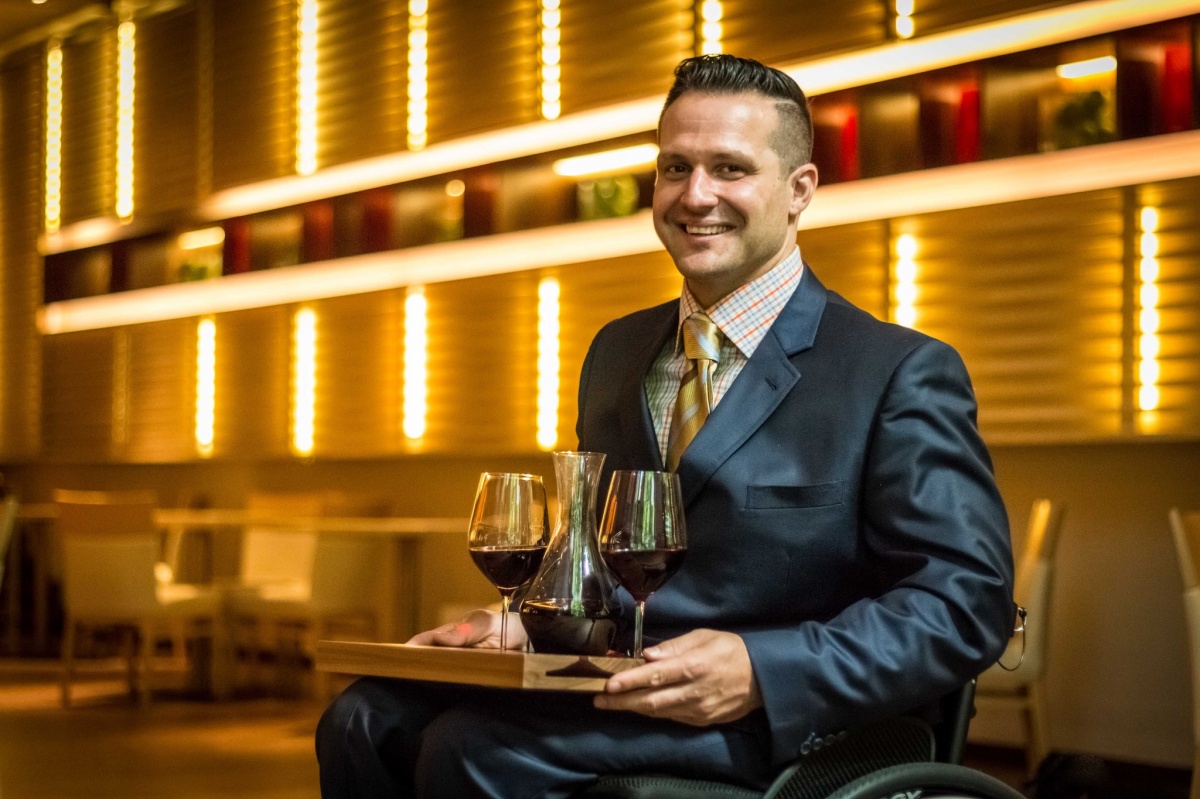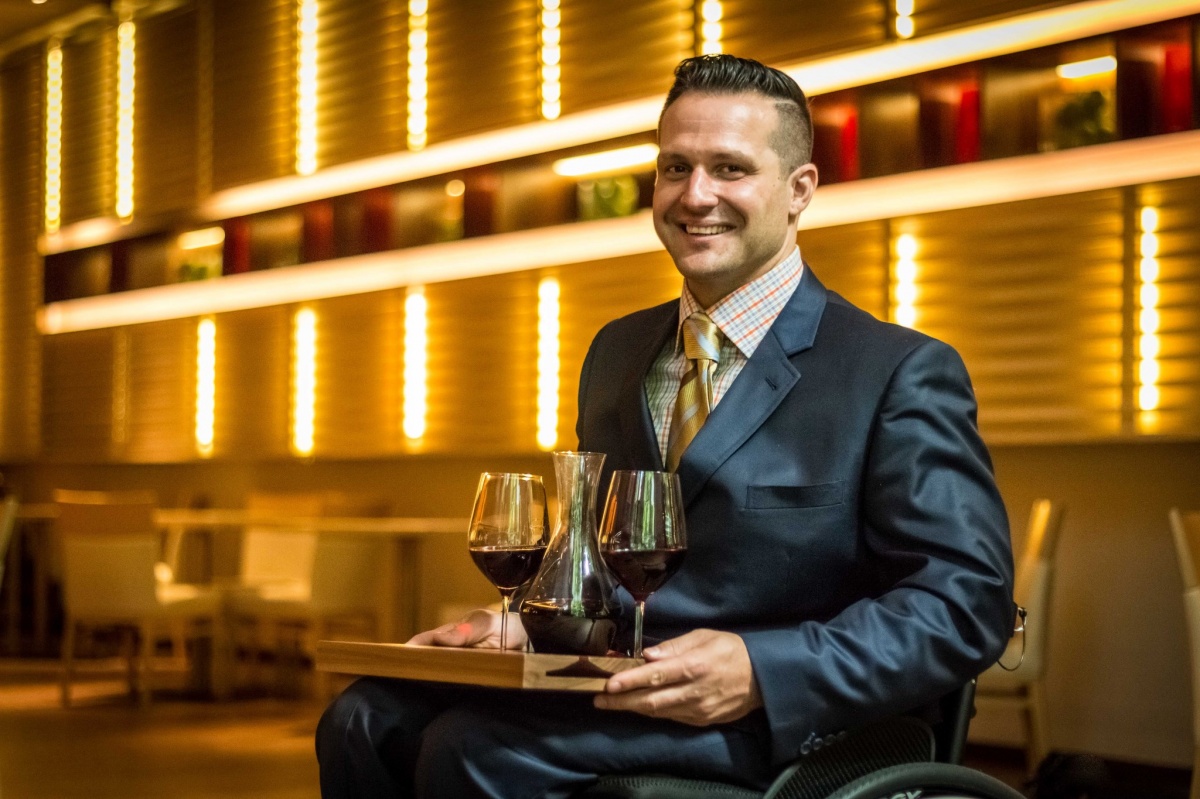 Ever wonder what top sommeliers are drinking this fall? Today we ask Yannick Benjamin, sommelier of New York's University Club and lead lecturer at Le Dû's Wines in the city's West Village. His previous restaurant credits include Le Cirque, Jean Georges, and Atelier.
When a 2003 car crash left 25-year-old Benjamin paralyzed from the waist down, it jeopardized his place as a rising star in the industry. A career working the floors of the world's most famous restaurants seemed near impossible, and finding a job became increasingly difficult.
"There is nothing worse than being judged for something you have no control over," said Benjamin. "When I see the person that they hired over me, and he or she has only been in the business for a few years… it can sting."
Refusing to accept defeat, Benjamin used his accident as motivation to pursue both a college degree and a career on New York's restaurant scene. He has even received Advanced Sommelier status from the Court of Master Sommeliers.
Benjamin was then introduced to Jean Luc Le Dû of Daniel fame, and owner of the eponymous wine shop. Le Dû hired him on the spot.
With his career thriving, Benjamin turned his attention to another cause: helping the disabled. He partnered with fellow paraplegic Alex Elegudin to found Wheeling Forward, a New York based charity that helps recently disabled people find the support and services they need.
"We [Eleguidn] were roommates in the same hospital, but were in two separate car accidents a couple of weeks apart," said Benjamin. "Since he was a lawyer, I told him to do all the required paperwork. And I promised to do major wine tastings and events to raise money for our cause."
Wheeling Forward is host to New York's premier wine event, Wine on Wheels.  Part tasting and part auction, it pairs the city's most famous sommeliers with wine importers and collectors. More than fifty sommeliers participated in this year's event, including those from Per Se and Le Bernardin.
Among them was Dustin Wilson, Wine Director of Eleven Madison Park and star of the film documentary Somm.
"Yannick is one of the most inspirational people in the industry," said Wilson. "It's always an honor working with him."
Pascaline Lepeltier, Wine Director of Rouge Tomate and Master Sommelier, is also a fan.
"Yannick Benjamin has been one of the most inspiring people in my life. He changed my vision of the world with his determination, passion and commitment to tirelessly help people in need or distress," she gushed. "I am blessed to call him a friend."
Today, this inspirational sommelier shares his recommendations for top wines for fall. To get involved with Wheeling Forward or to make a donation, please visit them here.
Agrapart & Fils "7 Crus" Avize, Champagne NV $59.99
Made by Paul Agrapart, this is part of the new wave of growers and producers who concentrate on small quantity, but high quality champagnes. It is a blend of 90% Chardonnay and 10% Pinot Noir, each hand harvested. The grapes come from seven different villages in the Champagne region, giving it the name "7 Crus". This is a full bodied champagne with flavors of hazelnut and walnuts, balanced perfectly with its chalky mineral base and hints of pear and apple. Don't wait for a special occasion to pop a bottle of champagne; try it with a slow roasted chicken or have it with Sushi!
Sandhi "Rita's Crown" Santa Rita Hills, California 2011 $56.99
Sandhi is a boutique winery from the Santa Rita Hills of Santa Barbara County. It was founded in 2010 by Rajat Parr, the Wine Director for Michael Mina Restaurants. A perfectly balanced Chardonnay, this white incorporates the best of California with a Burgundian touch. Purity at its best, this vintage shows  characteristics of stone fruits, spice, white flowers and tinges of brioche. It is a medium-bodied, juicy wine with a clean finish. Pair with this wine with a grilled fish that has a good amount of fat and body.
La Fleur de Bouard; Lalande de Pomerol, Bordeaux 2004 $51.99
I spent my summers in Bordeaux, so naturally I have a bias.  Located on the right bank of Bordeaux, La Fleur de Bouard is overseen by the Bouard family (owners of the world renowned Chateau Angelus from Saint Emilion). The blend is Merlot dominated with a small percentage of Cabernet Franc and Cabernet Sauvignon. It offers the lavish and delicious complexities that we often look for in a great Grand Cru Chateau, but for a reasonable price. This impressive effort from La Fleur de Bouard offers terrific bursts of black raspberry and berry, along with hints of truffles, licorice, and smoke. When I am in  Bordeaux with my family and we open up a special bottle of Bordeaux like this, roasted lamb is what you will find on the table.
Tenuta Terre Nere "Etna Rosso" Sicily, Italy ; Nerello Mascalese 2012 $21.99
This is one of the most unique wines that I have ever tasted that uses a local Sicilian Grape called Nerello Mascalese. The vineyards are situated in Mount Etna, settled over 2000 feet in elevation on volcanic soil. This Etna Rosso has a beautiful aroma of dried herbs and fruit with lavender expressions. Match is with a pasta dish that requires herbs and infusion of fresh tomatoes.
Subscribe to discover the best kept secrets in your city