Labor Day should most certainly be celebrated in the US of A, but we all need to remove ourselves from our home city once in a while. Labor Day weekend is the last long weekend of the summer—so make it count. And the good news is: Every major city in the country has plenty going on this weekend. Here are some of the best last-minute Labor Day weekend travel plans you can make.
CHICAGO

WHAT TO DO

Labor Day is perfect for Chicago this year. The weather is the best it will be all year so you can go for a stroll through Lincoln Park and not be profusely sweating or shivering. You could catch a Chicago Bears preseason and check out the fireworks at the Navy Pier. Perhaps most excitingly the 31st Chicago Jazz Festival with performances from the Chicago Underground Duo, The Ari Brown Quintet, and more jazz performers ranging from atonal free jazz screechy to elevator jazz easy-listening.
WHERE TO STAY
The James
Even though they've opened up artsy locations in SoHo and Miami, the original James in Chicago always reigns supreme. The iconic stack of vintage suitcases as art installation to the quaint and classic lobby, the James is perfect for wealthy businessmen looking to relax as well as for creative types looking for a home base while on vacation.

THE LAKE OF THE OZARKS

WHAT TO DO
Just being in the Lake of the Ozarks is to be in awe. It is man-made, despite the fact that it is huge, as in 15,050 miles of shoreline, huge. Your usual outdoors-y and water sports fun comes in spades here: fishing, water skiing, boating, birding, rock climbing, and all that. The town also has a ton of special events for the holiday. Corny but totally fun bands will be playing performances, there will be a Captain Morgan-sponsored, and happy hours are littered throughout the Lake of the Ozarks' numerous bars.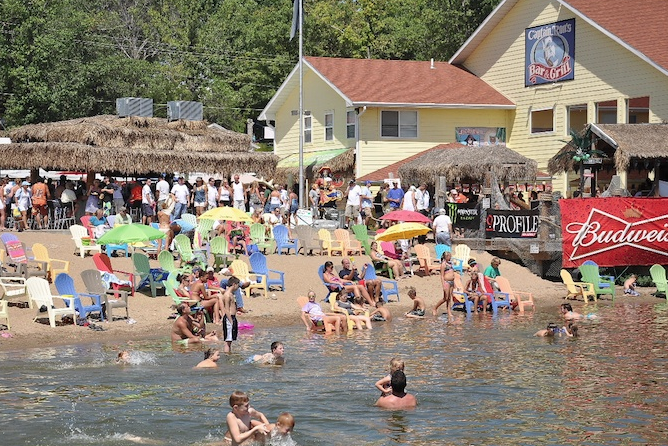 WHERE TO STAY
The Lodge of the Four Seasons
A hotel with all the glitz of any Four Seasons but the quaint country-side appeal of that the Lake of the Ozarks promises and delivers on. The hotel includes a beautiful 18-hole golf course and the 15,000 sq. ft. spa offers massages, body treatments, facials, and salon treatments, as well as a fitness center, steam, sauna, and whirlpool. If there wasn't so much to do around town, one would be perfectly happy to whole up in this resort and relax in the trues sense of the word.


WASHINGTON D.C.
WHAT TO DO
Honestly, none of us never spend enough time in our nation's capital, so why not on Labor Day. Live music abounds on Labor Day in D.C. with the National Symphony Orchestra performing for free and then on the other end of the musical spectrum the D.C. Blues Fest is taking place. Taking place on Saturday, Canadian jazz and Blues vocalist Shakura Si'Aida headlines.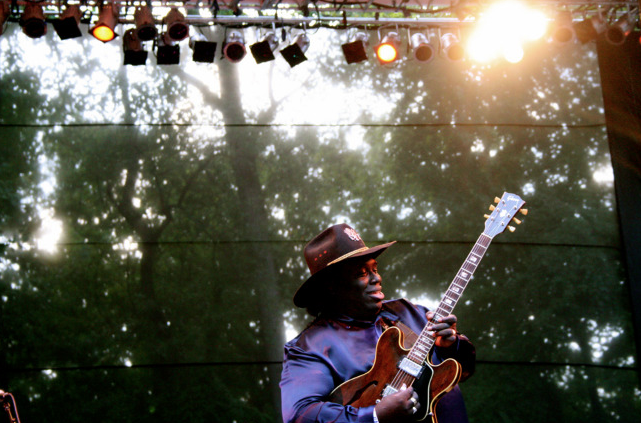 WHERE TO STAY
The Willard Intercontinental
Opened in 1901, the Willard stands among the world's most luxurious historic hotels. The hotel has a full spa, and two different restaurants offering two different dining cuisines. The prestigious Willard Room is fancy as restaurants get, but Cafe 1401 delivers a more casual and laid-back experience.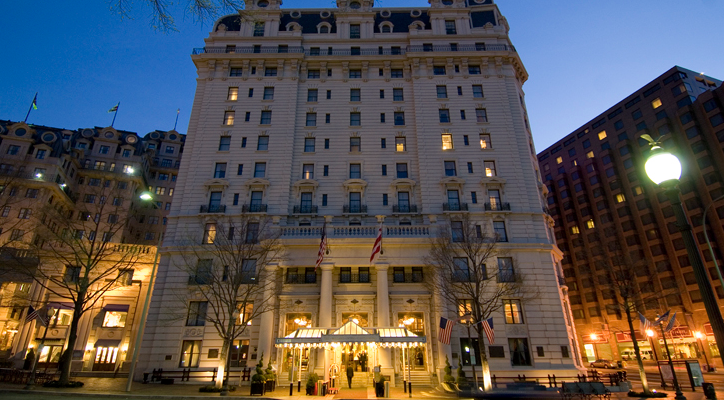 BOSTON

WHAT TO DO
Boston is as historic as American cities get and as such offers a plethora of things to do for Labor Day weekend. The Boston Labor Day Parade is going on in Marlborough with over 150 floats and bands to keep your kiddies entertained. For those looking for some culture there is the Boston Arts (Ahts) Festival with artists showing their work and live performances in Columbus Circle. For those who like to spend their vacation weekends stuffing themselves full of glutton head to the St. Lucy's Festival in the North End for good old fried Italian carnie eats.
WHERE TO STAY
Hotel Commonwealth
One of Boston's most luxurious hotels is also its best located. Located in a corner of Kenmark Square, the best shopping in Boston is right around the corner.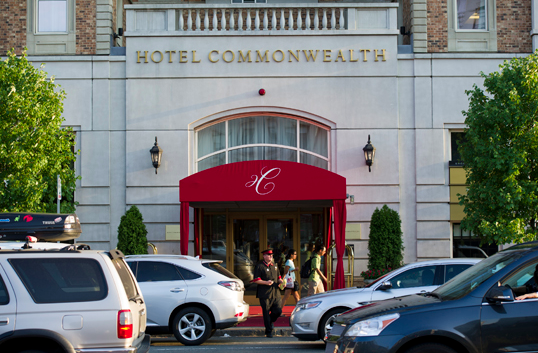 SAVANNAH, GEORGIA
WHAT TO DO
The most beautiful time of the year in the South, and Savannah is an uncommonly beautiful town. Also, for Labor Day weekend there will be two rather exciting events if you are into craft food goods. The Craft Beer Festival features indoor and outdoor beer gardens with a crazy beer selection from around the whole world. Also, the first ever Bacon Festival has, well, bacon. Savannah is also a beach town and the Tybee Island Labor Day Beach Bash has fireworks and live music.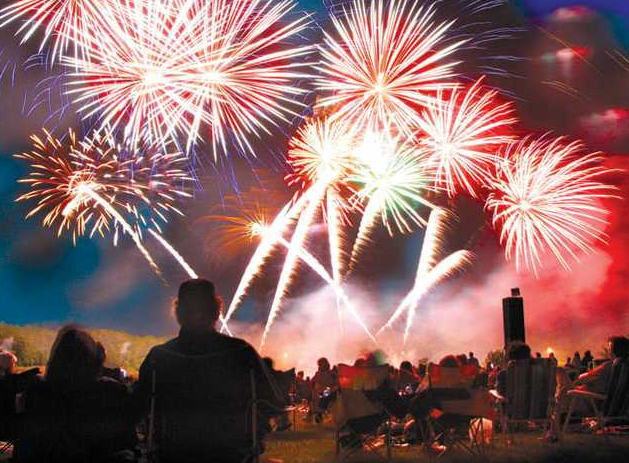 WHERE TO STAY
The Mansion on Forsyth Park
The Mansion on Forsyth Park is a renovated old-South Victorian mansion set in Savannah's Historic District. Delicious southern cuisine and good-natured Southern spa treatments, this is one of the best hotels in the whole South.

COOPERSTOWN, NY
WHAT TO DO
Nothing says summer like baseball, and baseball oozes out of Cooperstown's pores. For New Yorkers, it's a quick five hour drive upstate and yields a truly American holiday for the celebration of Labor Day. There is great golf at the Leatherstocking Golf Course and water spots galore on the beautiful Lake Ostego. There's also going to be an Arts and Crafts festival. Obviously if you are a swanky cosmopolitan patron of the arts you'll feel a little unimpressed but there's no need to be pretentious about having some good ol' timey fun on Labor Day.
WHERE TO STAY
The Ostesaga Resort Hotel
Those under the assumption that luxury and Cooperstown are antithetical concepts can wipe those snarky smirks off their faces and look towards the Ostesaga. As a member of the Historic Hotels of America by the National Trust for Preservation and a recipient of AAA Four Diamond award for accommodations, the Ostesaga harkens back to a time when service was polite and friendly. The resort has 16 suites, a full golf course and effortlessly blends into the pure and beautiful village surroundings that make Cooperstown what it is.
WHAT TO DO
Named one of America's best beach towns by Parents magazine, St. Pete Beach is lined with miles of beach with sand so white you'll find yourself surprised that you are sitting atop the Gulf of Mexico and not smack-dab in the middle of the Caribbean. There is a slew of things to do on Labor Day weekend including GeckoFest, which is described as "Mardi Gras meets the Renaissance," and features people getting costumed and boozing the full extent of their freedom while celebrating the town's unofficial mascot. The 6th annual Pass-a-Grille VW Beach Bash in Hurley Park has the usual food trucks, vendors, artists, and most importantly a glorious line-up of VWs.


WHERE TO STAY

Tradewinds Island Grant Resort
From family suites to romance rooms, Tradewinds offers everything you could possibly imagine specified to your vacation needs. There are nine pools, full access to the beaches, watersports, spas, just about everything you would need. Tradewinds offers all the accommodations of a full resort at any Caribbean island.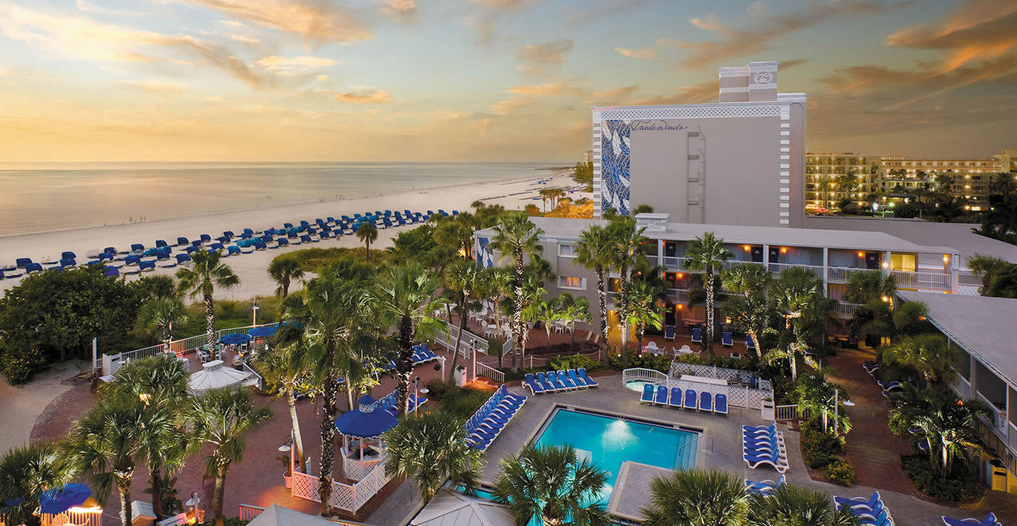 Subscribe to discover the best kept secrets in your city