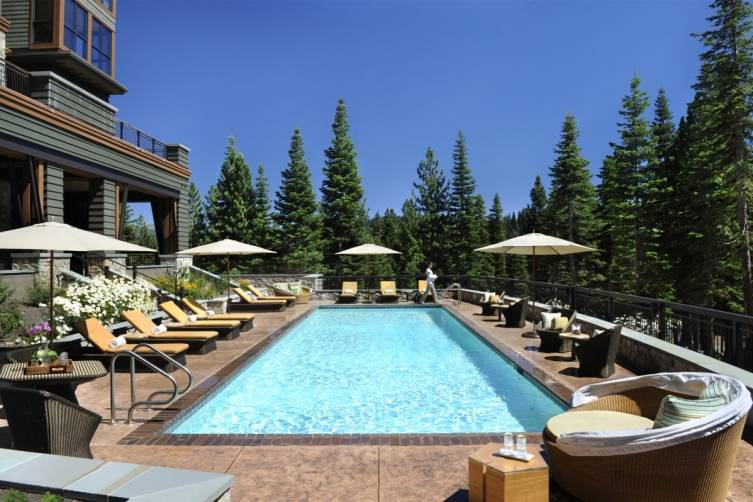 It's nearly Labor Day weekend which means one thing and one thing only to us: vacation time! If you live on the west coast (and even if you don't), here are the seven Labor Day weekend getaways you must take this year.
LAKE TAHOE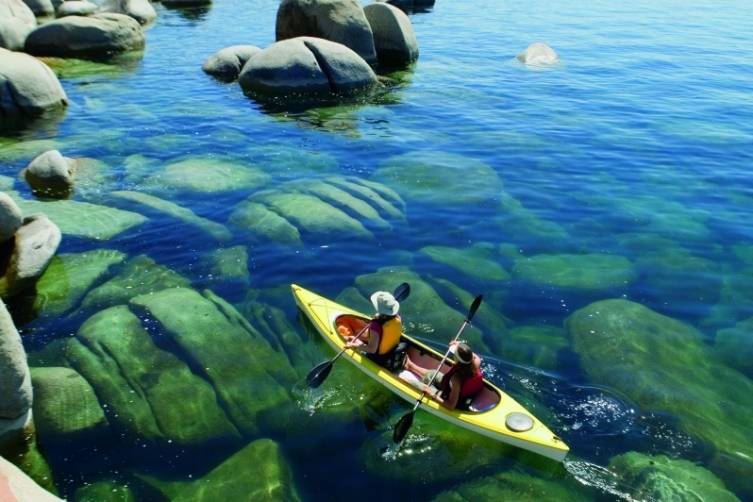 Photo Credit: Ritz-Carlton Lake Tahoe
Paddleboarding and boating on the lake, hiking on Northstar, white-water rafting, kayaking, wake boarding, charter fishing and more awaits you in the picturesque summertime paradise of Lake Tahoe. This is a nature enthusiast's dream retreat, while it's also a great place for those who want to sit back, relax and enjoy the summer sun (warning: it gets hot, hot, hot here in the summertime months). While staying at our pick, the Ritz-Carlton Lake Tahoe, indulge in some spa time or rent a two-person poolside cabana if you're so inclined; there are also three beach options just a short drive from the resort— Agatam Beach in Tahoe Vista, the Kings Beach Recreation Area in Kings Beach and Sand Harbor. Golfers will also rejoice to learn that there are two amazing options for them in Tahoe. The Old Greenwood golf course is 18 holes of perfection from Jack Nicklaus in a gorgeous setting nestled among 600 acres of towering pines and surrounded by beautiful mountains. There is also a Golf Academy at Old Greenwood for the aficionado: a 15-acre training complex that hosts a 1,500 square foot learning center equipped with an indoor/outdoor hitting bay, flat-screen TVs, lockers, club storage, a fully-staffed reception area and high-speed internet access, outdoor classroom consists of two large all-grass tees and a five-acre short game facility, with several greens for putting, chipping and sand play and one-of-a-kind private golf learning center featuring golf schools, golf clinics, private golf lessons, golf school vacation packages and a junior golf academy with 5-day summer camps. Also check out the Golf Club at Gray's Crossing, which is certified as the 2nd Audubon International Gold Signature Sanctuary in the entire state of California.
Stay at: The Ritz Carlton Lake Tahoe, Truckee, CA, (530) 562-3000
DEL MAR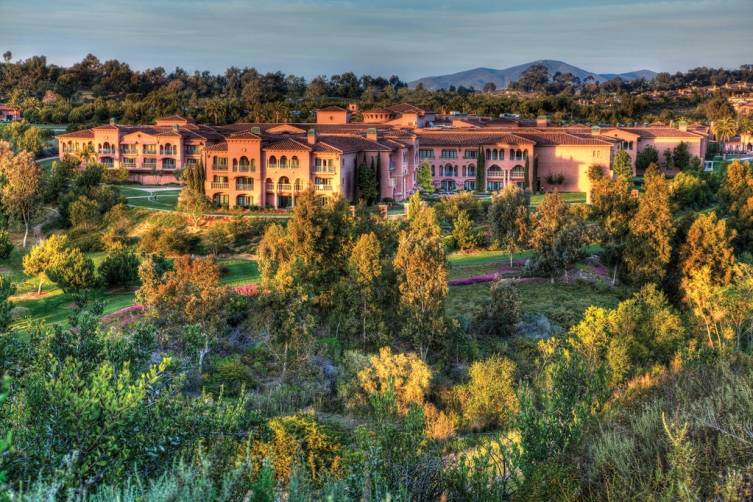 The Grand Del Mar is one of the most relaxing Labor Day retreats you can hope to find. It's tucked away off a remote, tree-lined path that is only accessible after security clearance. Oh yes, you will feel that VIP. In addition to its proximity to the Del Mar Racetrack—a great place to wear fancy hats, bet on horses and sip champagne—there are other activities on offer at this stunning resort over the holiday weekend. The hotel offers beach service daily and offers complimentary umbrellas, chairs, towels and more to guests. Check out the Glow Golf Driving contest on August 29th, roast s'mores by the firepit and grab your picnic basket and head outdoors to watch a special summer concert on August 31st. For couples enjoying some alone time over the weekend, make sure to take in a romantic meal at the resort's 5-star fine dining restaurant, Addison. 
The Grand Del Mar, 5300 Grand Del Mar Ct, San Diego, CA 92130, (866) 305-1528
CATALINA ISLAND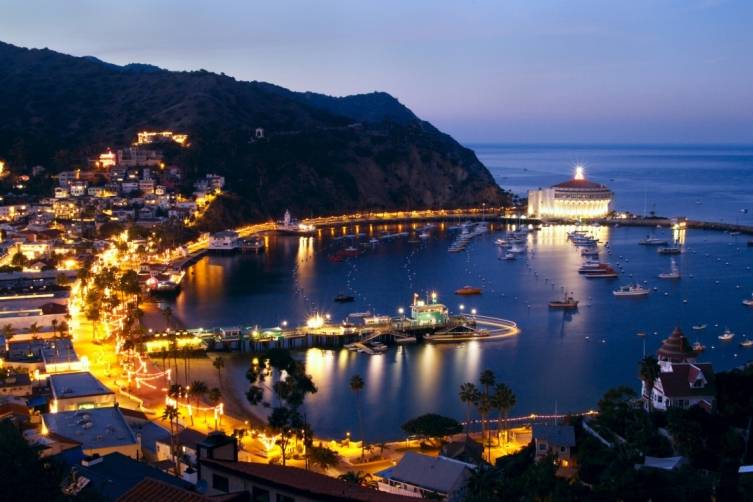 Catalina Island is the perfect weekend retreat for the Angeleno who wants to get away from it all. Just an hour's ferry ride away from Long Beach Harbor, the idyllic locale is a great recipe for relaxation with its plethora of restaurants, hikes and sleepy charm. Though picturesque, the island also has incredibly wealthy roots since chewing gum magnate William Wrigley Jr. bought out shareholders for controlling interest of the Santa Catalina Island Company back in 1919. From 1921 until 1951 the Wrigley-owned Chicago Cubs used the island as their spring training spot of choice. The family still owns the island today, though has generously given 90% of its mass to the Catalina Island Conservatory.If you're heading to Catalina for some fun in the sun, you'll need to book yourself one of the new Presidential Cabanas at the Descanso Beach Club, where you won't have to lift even a finger: hosts will cater to your every whim. Conversely, you can also go 18 holes at the Catalina Golf Club or, if you're lucky, get a member to host you at the exclusive Tuna Club. Regardless of what you choose to do, know that this is a place where the only thing you're required to do is relax. 
Stay at Hotel Vista Del Mar, 417 Crescent Ave, Avalon, (310) 510-1452
NAPA VALLEY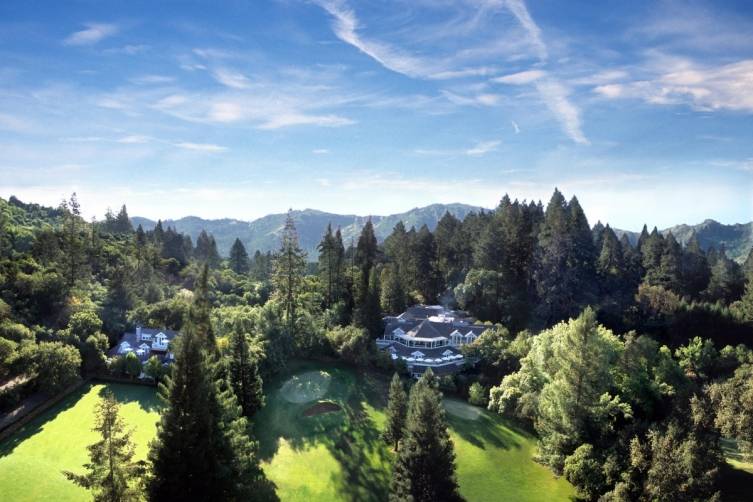 What better way to spend Labor Day weekend than by indulging in some of the best wine in America? Get ready to imbibe Cabernet Sauvignon and Chardonnay a-plenty in a gorgeous, picturesque setting: Napa Valley. After touring wineries like Stag's Leap, Opus One and Screaming Eagle (if you're so lucky), check in to the tony Meadowood Napa Valley in St. Helena. From the moment you drive up a tree-lined driveway to checking in with a glass of wine and eventually arriving at your room, you'll feel pampered and taken care of. Those who can afford to should check in to the property's priciest room, The Estate, a unit with luxurious two-person soaking tubs and separate showers, dual sinks, dressing vanities, full length mirrors and walk-in closets. While at the Meadowood you will also want to take advantage of its golf course, tennis courts, croquet court, award-winning spa and one of only two three-Michelin starred eateries on the west coast, the fabulous Restaurant at Meadowood helmed by Chef Christopher Kostow. If you're in the mood to have a double three star weekend, book a reservation (if you can) at Thomas Keller's The French Laundry. Cheers! 
Stay at: Meadowood Napa Valley, 900 Meadowood Ln, St. Helena, (707) 531-4788
SANTA BARBARA

Thanks to the film Sideways, you know that Santa Barbara has a lot to offer on the wine front, but it has so, so much more. There are more than a dozen options for golf lovers in Santa Barbara and the adjacent town of Montecito. If you can get a pal who's a member to take you (or feel like becoming a member yourself) two of the best options are the Montecito Country Club and the uber-private Valley Club of Montecito. A fabulous public course is the championship-level Sandpiper. 17 of 18 holes at the William Bell Jr. course have ocean or mountain views; six are located right on the bluffs. The Four Seasons Resort The Biltmore Santa Barbara is elegance personified. This Four Seasons property is built in the area's classic Spanish Colonial style and includes 207 luxury oceanfront guest rooms and suites as well as twelve cottages. We recommend you take advantage of the glittering Pacific Ocean view and book a stay at the Ty Warner Cottage. This three-bedroom, four-bathroom 2,000 square foot space, named after "Beanie Baby Billionaire" Ty Warner, offers heated bathroom floors, a therapeutic rain shower and its own backyard, among other luxuries.  A stay in one of the Biltmore's best rooms also includes complimentary access to the tony Coral Casino Beach and Cabana Club, a private reserve tour and wine blending and access to its award-winning spa.
The Biltmore, 1260 Channel Dr, Santa Barbara, (805) 969-2261
LAGUNA BEACH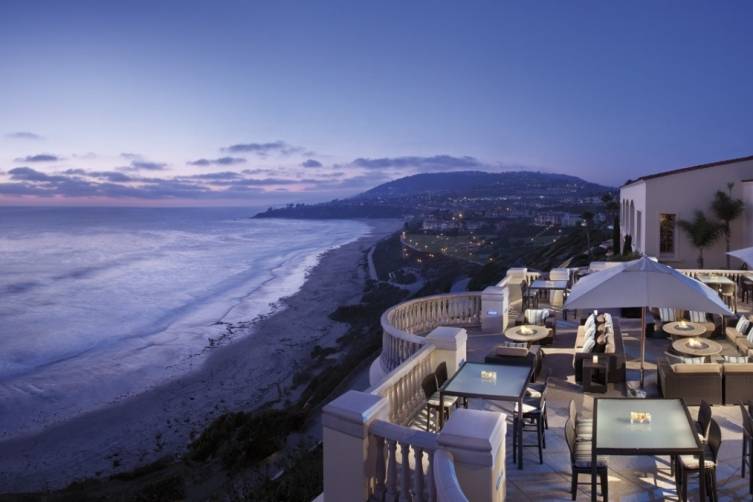 We love the ritzy Orange County locale of Laguna Beach, which embodies the best of upscale SoCal chic. Surf, dine and indulge in style at two of our favorite properties, the Ritz-Carlton, Laguna Niguel and the Montage Laguna Beach.  Both are completely luxurious and just a stone's throw away from the beach. If you can extend your Labor Day vacation, we highly suggest you stay on at the Ritz, which will be showcasing the works of Pablo Picasso.  On loan from Galerie Moderne, Picasso: Themes & Variations opens September 2, 2014 exclusively to guests staying on The Club Level.  The collection is comprised of a body of work that follows Picasso's constantly evolving artistic vision with depictions of his numerous styles through the modern era. From his early compositions of circus performers in his Blue and Rose periods to the discovery of Cubism, the collection will portray the master's constant state of metamorphosis. It consists of several different mediums which Picasso explored throughout his career including exclusive pieces in pochoir which were created by hand coloring stencils with watercolor and gauche paint. Guests can enjoy the Picasso exhibit and extend their stay with the Treat You package. Starting at $775 per night, the Treat You package includes accommodations on The Ritz-Carlton Club Level and one complimentary night when guests stay four nights.
Stay at: The Ritz-Carlton Laguna Niguel, 1 Ritz Carlton Dr, Dana Point, (949) 240-5020
or the Montage Laguna Beach, 30801 S Coast Hwy, Laguna Beach, (949) 715-6000
CORONADO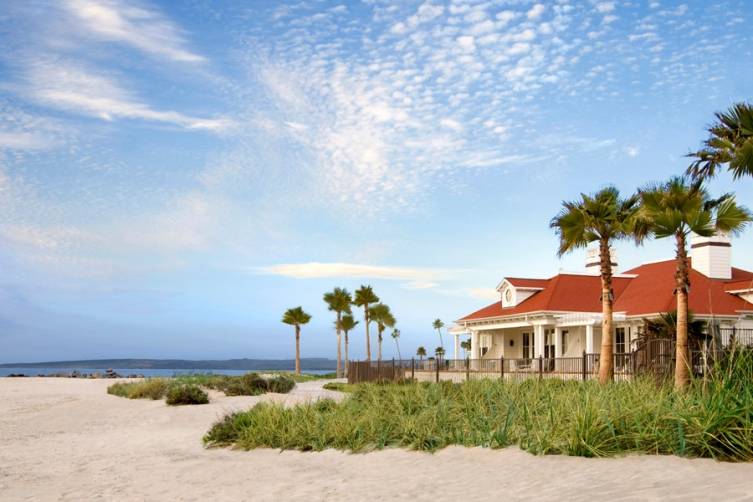 For a truly indulgent getaway, head to the picture perfect town of Coronado, located just on the outskirts of San Diego, which is far away to feel like its own private paradise and close enough to downtown San Diego so you can take advantage of its nightlife. Stay at the Hotel del Coronado, a stunning, historic Victorian-style hotel — it's 125 years old — with a ton of famous visitors. This is the spot where President William H. Taft said he spent his "first real vacation I have had for years", where Charlie Chaplin once played polo, where Charles Lindberghwas honored, where Ronald Reagan made the decision to marry his future wife, Nancy, and where President Nixon hosted a state dinner. It is the place w L. Frank Baum, the writer of The Wizard of Oz, is said to have based his Emerald City on and where Marilyn Monroe filmed Some Like it Hot. It is just as beloved by the modern day A-list, as guests have included  Kevin Costner, Whoopie Goldberg, Gene Hackman, Brad Pitt, Madonna, Barbra Streisand and Oprah Winfrey. It isn't just the Victorian beauty or the beachfront access of the Del that makes it special, or that makes it so beloved by a whole new generation of guests. It's newly renovated Beach Village cottages and villages have every modern-day amenity you can imagine. The elegant rooms have French doors that open up to a terrace overlooking the most beautiful beach imaginable. Each have TVs complete with Bose® surround-sound systems, spacious dining areas, great rooms with cozy fireplaces, indulgent beds adorned with 400-thread count linens, unique five-fixture bathrooms and top-of-the-line gourmet kitchens. The Beach Village is truly the spot for VIPS: all of the accommodations here provide gated, direct access to the beach, have their own private valet and check-in area. Even if you aren't a VIP, you'll feel like one. Beyond that, the town of Coronado is charm personified—a jewel box of a town—where you can shop, eat, drink and be merry in a place that has one of the best beaches in all of America.
Hotel Del Coronado, 1500 Orange Ave, Coronado, (619) 522-8809
Subscribe to discover the best kept secrets in your city