Latin American recording artist Luis Fonsi is not only one of the most famous singers in the world, but most recently, expanded his horizons to becoming an artist. Fonsi, along with Aloe Blacc, Capital Cities, DJ Irie, Alauca Mala, Typoe, Ron Finley and Camille Rose Garcia, each collaborated with Beck's, the German beer brand to individually design a bottle for the international label. Last night at the Electric Pickle, Miami art enthusiasts and fans of Aloe Blacc gathered to watch Blacc perform his hit singles "I Need a Dollar" and "Wake Me Up" for the launch of 'Beck's Beyond Labels.' Haute Living took a moment to catch up with the Puerto Rican born, Miami resident Luis about this artsy project.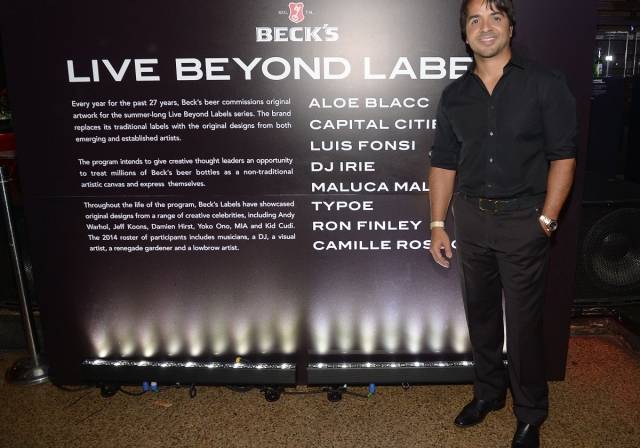 HL: How did this all happen?
L: I was approached by Beck's through my label, Universal Music. Beck's was doing a campaign, and it came up and it was a different way of expressing myself, through art. We all agreed that it was a great way to represent from the Latin perspective.
HL: Tell us about the bottle you designed.
L: My bottle was inspired mostly by music. My bottle has an upside down acoustic guitar, and has elements of my home, Puerto Rico. It is very tropical. I used the image of El Moro an island in Puerto Rico, that looks like a fort, and is the most recognizable image of my country. There are also elements of the island water beach, sun and the sky.
HL: What are you working on now, a new album? Any cool collaborations with major recording artists?
L: I just released my album on May 19th, and I start touring in September. On this album I did a great song with Juan Luis Guerra.
HL: So how long have you lived in Miami for? What do you love about Miami?
L: I have lived here for fifteen years. Miami, it's my home. I love the beach vibe, the weather and mix of cultures, with people from everywhere, the Spanish food, music, culture and the art. It is also a hub here. There are flights that are non-stop to anywhere in the world!
HL: Your favorite Miami restaurant?
L: Pubbelly.
HL: And one last question….What is your favorite radio station, and how do you feel when you hear a song of yours on the radio?
L: That is a great question! I love 104.3, a sports radio and Y-100, and I don't like hearing myself on the radio!
Subscribe to discover the best kept secrets in your city