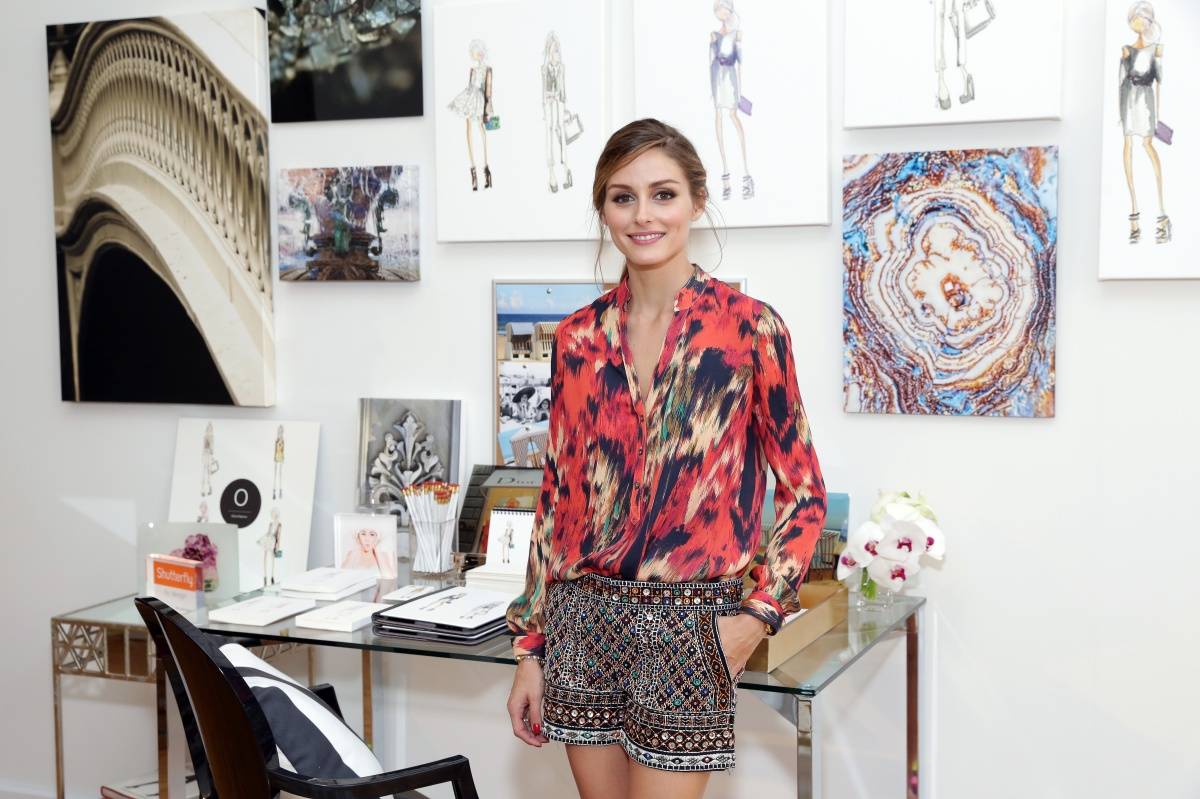 Few names possess the ability to influence women's style and induce beauty envy like Olivia Palermo. For years the model and actress has been known as the "it girl" for street style and brand collaborations—so it's no surprise that Shutterfly teamed up with Palermo. Along with Brit Morin and Michelle Workman, Palermo showcased her Shutterfly-designed room at a private exhibition on June 25 in the Flatiron District. The three celebrity hosts used Shutterfly products, from decals to blankets, to stylize and personalize a home. Haute Living sat down with Olivia Palermo and garnered some of her top summer style and beauty secrets.
With just one glance at her Shutterfly-styled room, you can recognize Palermo's singular touch. The same refined and relaxed glamour that exudes from her ensembles appears in the chic living room, comprised of vintage fashion sketches, harmonious ivory walls, unexpected accessories, and resplendent bouquets. How does she design a room so effortlessly? "It's kind of similar with what you do in fashion—you know, adding details on the pillows and artwork," she explains. "I'm always inspired by old classic movies from the '50s and '60s." By the way, her favorite retro film is Auntie Mame with Rosalind Russell.
So where does Palermo stock up on essentials for her coveted closet? When she's not at Piperlime or across the street at Tibi, she likes to check out SoHo's shops. "I try to go downtown a little bit. I like Flair," she reveals. "I look a lot on One Kings Lane for a lot of my inspirations."
Known to blend timeless fashion with today's trends, Palermo keeps it simple with just one summer essential: chiffon. "I always say the same thing because it will never change—lots of chiffon. I think it's great when you travel," she explains. "It's perfect, it travels well, there's movement, it's dressy, it's comfortable." And of course, the model loves to experiment with color.
For those hoping to copy Palermo's enviable and insanely shiny locks, look no further for the secrets behind her famous mane. Palermo swears by a monthly haircut by Andre Davis, a daily wash, and two-week periods of natural air-dying. For her daily hair routine, the model relies on Phyto's clarifying shampoo. "When you're modeling and you have so much product in your hair every day, it's super important to make sure you strip any product off," Palermo says. "You need to let the texture of your hair go back." Oh, and her stunning hair color is natural.
Photo Credit: Andrew Toth / Getty