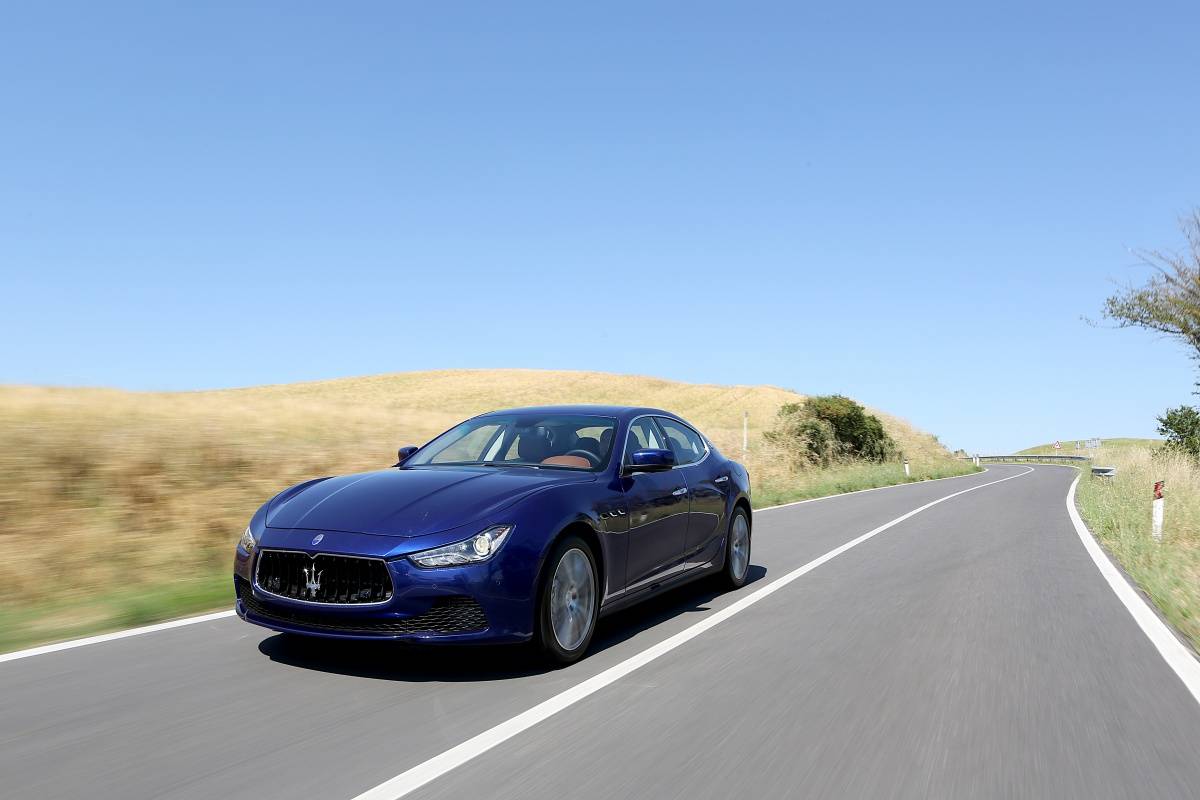 What better way to celebrate Father's Day on Sunday than at the annual Rodeo Drive Concours d'Elegance?
This year's event not only marks a day to honor your dad, but also the centennial celebration of luxury Italian car company Maserati, who has selected "100 Years of Horse Power" as its theme.
This milestone will be celebrated with a one-day only museum-like installation of vehicles which best illustrate Beverly Hills' feted history, from the horse-drawn Wells Fargo Wagon to the current cars you'll see racing around the 90210, like the Bugatti Veyron Nicolas Bijan Pakzad famously parks outside of the House of Bijan every day.
Below is a description of what you'll see during this year's Concours d'Elegance on Los Angeles' most famous street.
200 BLOCK
1. ZERO TO 100: 2014 Honored Marque Maserati joins Beverly Hills in celebrating its' Centennial in 2014.  In celebration of the first 100 years, the revered auto manufacturer introduces its GT MC Centennial Edition Model adding to the heritage of horsepower on display. To commemorate its milestone anniversary, Maserati has created unique designs of its top performance models GranTurismo  MC  Centennial Edition  and  GranTurismo  Convertible  MC  Centennial Edition.
2. FORMULA 1-INSPIRED: Auto Gallery and McLaren Beverly Hills are the official licensed dealer for the McLaren MP4-12C in Los Angeles and offer the groundbreaking 12C coupe, the new 12C Spider as well as pre-owned exotic cars from other marques.
3. HELLO NEIGHBOR: Come and meet your newest automotive neighbor – Infiniti of Beverly Hills.  Discover the 2014 lineup of award winning high- performance luxury vehicles.
300 BLOCK
4. CALIFORNIA, HERE I COME: Following a highly successful debut that set a new standard for the market, excitement is mounting for Auctions America's 2014 California sale August 1 and 2 in Burbank, California.  This year's auction will present 400 collector cars handpicked for Southern California's unique car culture.  See some of the highlights of consignments from this year's auction.
5. ORIGINAL HORSE POWER: This year's show opens with an appearance by the famed Wells Fargo Wagon.  Before the City was founded in 1914, J. P. Bruso moved to town in 1909 and operated the Wells Fargo express office out of his grocery store and butcher shop continuing to offer customers quick and reliable express shipments of money, goods, and valuables until 1918.
6. PONY RIDE: A rare public appearance of the new 2015 Mustang celebrating the brand's 50th Anniversary in 2014. Introduced at the 1964 New York World's Fair, the original Mustang helped define automotive youth culture in America and was so eagerly embraced by the buying public that it quickly shattered all sales records.
7. BEVERLY HILLS SPEEDWAY: This year's Concours pays tribute to the Beverly Hills Speedway, also known as the Los Angeles Speedway, a 1.25-mile track for auto and motor cycle racing that attracted such racing legends as Barney Oldfield and Indianapolis 500 winner Gaston Chevrolet.  Up to 70,000 spectators could attend races where world speed records were set and broken at the time. It was built in 1919 and operated until 1924 on 275 acres of land that includes the site of today's Beverly Wilshire Hotel just outside the "Golden Triangle."  Make sure to see film footage of actual races on the track by noted Beverly Hills historian and author Robert Anderson.
8. PUTTIN' ON THE RITZ: A holdover from the horse and carriage era, the 1927 Rolls-Royce  Phantom I Town Car by Hooper was originally owned by Fred Astaire until 1950.  Astaire used the car in London, New York and Los Angeles.  This ultra-formal vehicle has a sumptuously appointed rear compartment complete with green brocade upholstery, silver plated fittings, his and hers English Silver vanity sets, silver bud vases, and two walking sticks, one fitted with a telescope, the other with opera glasses and a custom Louis Vuitton trunk on the back.  Passengers could communicate with the chauffeur through a speaking tube.
9. BLOND BOMBSHELL: American film actress and sex symbol Jean Harlow owned this 1932 Packard 6-45 Dietrich Dual Cowl Phaeton.  After being signed by director Howard Hughes, Harlow became a leading lady for MGM, starring in a string of hit films with frequent co-stars Spencer Tracy and Clark Gable.  She was one of the biggest movie stars in the world by the late 1930s.
10. THE AVIATOR: One of the wealthiest people in the world, Howard Hughes was a maverick film producer, investor, engineer, philanthropist and aviator. Hughes was involved in a near-fatal aircraft accident on July 7, 1946, in Beverly Hills while performing the first flight of the prototype XF-11.  Hughes purchased this 1924 Rolls-Royce Silver Ghost and later, the car was owned by Gloria Swanson.  Hughes also purchased this 1955 Packard Caribbean for wife and actress Jean Peters.
11. MUSCLE REVOLUTION: Watch-and-jewelry designer David Yurman has teamed up with muscle-car visionary Carroll Shelby, creator of the legendary Shelby Cobra, to create Yurman's first limited-edition sports watch, the David Yurman Revolution Shelby 1000.  It celebrates the 50th anniversary of the Shelby American brand, founded by Carroll Shelby, which produced the Cobra and other high-performance sports cars that tore up the worldwide auto racing circuit in the 1960s and early 1970s. See the new Shelby 1000 Mustang in front of David Yurman – the most powerful car to date – then check out the limited edition Revolution Shelby 1000 in store.
12. SIMPLY THE BEST: O'Gara Coach Company is an award-winning new and pre-owned retailer for Aston Martin, Bentley, Bugatti, Lamborghini and Rolls-Royce Motor Cars.  Stop by and see what the top automotive luxury brands have to offer for 2014.
13. NEVER MET A FIREMAN I DIDN'T LIKE: The 1928 Ahrens-Fox Fire Truck served the City of Beverly Hills for several decades and is owned by the Beverly Hills Fire Department.  In 1925, actor, author and humorist Will Rogers declined to be nominated as Governor of Oklahoma, instead opting to become the first and only Honorary Mayor of Beverly Hills.
400 BLOCK
14. BEVERLY HILLS SPIRIT: Assouline Publishing presents their newest book "In the Spirit of Beverly Hills."  Meet the author and have your book signed by former Los Angeles Magazine editor Nancie Clare from 1 pm to 4 pm.
15. THE COLOR OF SUNSHINE: In 1967 Fred Hayman, "the father of Rodeo Drive," opened Giorgio Beverly Hills, the street's first high-end boutique with its signature yellow and white stripes.  Mr. Hayman delivered purchases to customers via his yellow and black 1953 Silver Wraith Rolls-Royce and told the world that his favorite city was "the color of sunshine."  In 1976, Bijan opened a showroom on Rodeo, which helped to solidify Rodeo Drive's reputation as a luxury shopping destination.  Bijan touted his Rodeo Drive location as "the most expensive in the world" and parked his 2008 Bugatti Veyron "Bijan Edition" in front of the store daily – a tradition that continues to this day and now has its own special parking meter.  Both Hayman and Bijan went on to create international best-selling fragrances "bottling Beverly Hills."  No surprise, but bright yellow is their favorite color.
16. SWIMMING POOLS. MOVIE STARS: "They loaded up the truck and moved to Bever-lee. Hills, that is."  See an authentic replica of the jalopy from the hit 60's TV show "The Beverly Hillbillies."
17. TV & FILM: The cars from HBO's "Entourage," "Gumball Rally" and the 1951 Academy Award Best Picture "An American in Paris" make a rare appearance.  Of note, "American in Paris" star Gene Kelly lived on Rodeo Drive for more than 40 years and film composers George and Ira Gershwin lived on Roxbury Drive for many years.
18. TRANSFORM: Los Angeles-based artists Scrap Sculptures present ultimate pieces of art comprised of recycled scrap metal from car and motorcycle parts.  Stop by and see their life-size sculptures of Megatron, Optimus Prime and BumbleBee. And, don't miss the fourth installment of the robo-movie "Transformers:  Age of Extinction," opening June 27.
19. THE FUTURE: Take a peek into the future with URB-E,the world's most compact electric personal transportation. Folded, it fits next to you on a train or bus and can reach 15 mph with a 20-mile range on a single charge.  It is the winner of the 2014 Consumer Electronic Show's "Best Personal Vehicle" Award and has been featured on "The Today Show."
20. PETERSEN MUSEUM: Since its inception in 1994, the Petersen Automotive Museum has been regarded as the focus of automotive enthusiasm on the West Coast. Their current exhibit is "Mustangs Forever: 50 Years of a Legend."
21. BLACK STALLION: There's a reason the black stallion serves as the centerpiece to the logo of Ferrari:  Horse Power.  Ferrari USA and Ferrari Beverly Hills present the newest line-up from their collection that includes the Ferrari FF, California, 458 Italia, 458 Spider, F12, 599 and F430.
Like Haute Living Los Angeles? Join our Facebook page or follow us on Twitter @HauteLivingMag.