New Mexico state senator Phillip Maloof's Palms Place penthouse is now on the market for an eye-popping $38 million.
A member of the famous hotelier family—a.k.a. the epitome of Las Vegas royalty—Maloof bought the unit in 2008 for a sliver of its current asking ($4.5 million).
Why the shocking inflation in price, you ask? Probably because his father, George Maloof, founded the Palms, and continues to manage it to this day (in short, Junior definitely took advantage of the family discount).
For those of you quick to deem the hefty price tag "absolutely ludicrous," here's a small tidbit that might change your mind: there are twin priceless cherries sitting atop this deal, presented in the form of two remarkable paintings created by a pair of the most famous artists of all time—the legendary Salvador Dalí, and the great Pablo Picasso.

Along with the duo of invaluable art, the phenomenal three-bedroom, five-bath pad comes with a plethora of jaw-dropping features, including a 20-person hot tub; 35 flatscreen TVs; a DJ booth; a wet bar; an outdoor theater and kitchen; and an unparalleled remote control system—not to mention its own helipad. Accessible via private elevator, the  glass-encased beauty—which is being sold fully furnished—boasts 30-foot-tall ceilings, and 360-degree vistas of the Strip.
Though the residence only has a 6,230-square-foot interior, its outdoor area is nearly four times as large (mostly due to its five terraces), for a grand total of approximately 27,000 square feet.
The property's homeowners association dues amount to nearly $5,000 a month—an unsurprising figure, given all the perks it entails (concierge services, a pre-arrival grocery shopping service, fitness center access, two free spa passes per month, and discounts for The Palms' restaurants, shops, and services).

To view the property's full listing, click here.
Evening View
Bedroom
Bedroom
Bath
Living Room at Night
Outdoor Theater
Bedroom
Lounge Area at Sunset
Wet Bar
Bath
Bedroom
Kitchen
Kitchen
Exterior Daytime
Daytime View
Home Gym
Master Bath
Master Bath
Bedroom
Bedroom
Stairs
Entry View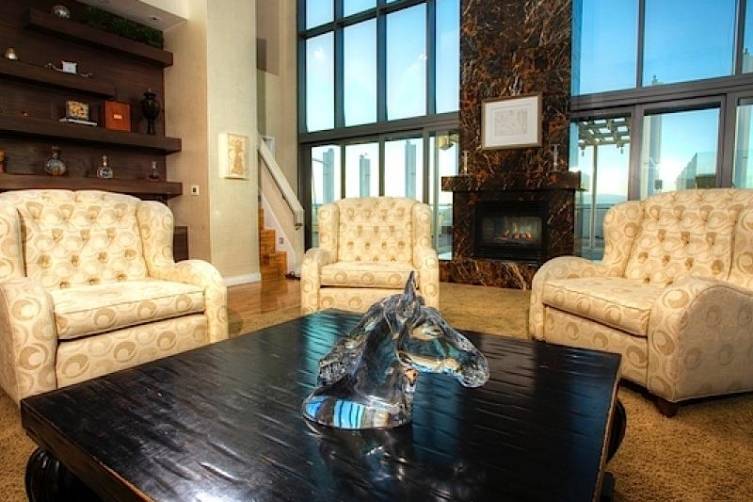 Living Room Close-Up
Living Room
Decor
Wet Bar
Hot Tub at Night
Lounge Chairs
Corner View
Exterior Sunset
Outdoor Seating
Hot Tub at Sunset
Hot Tub
Patio Chairs
Outdoor Kitchen
Outdoor Kitchen
Patio Table
Dining Room
Living Room
Entry
Exterior Evening
Subscribe to discover the best kept secrets in your city