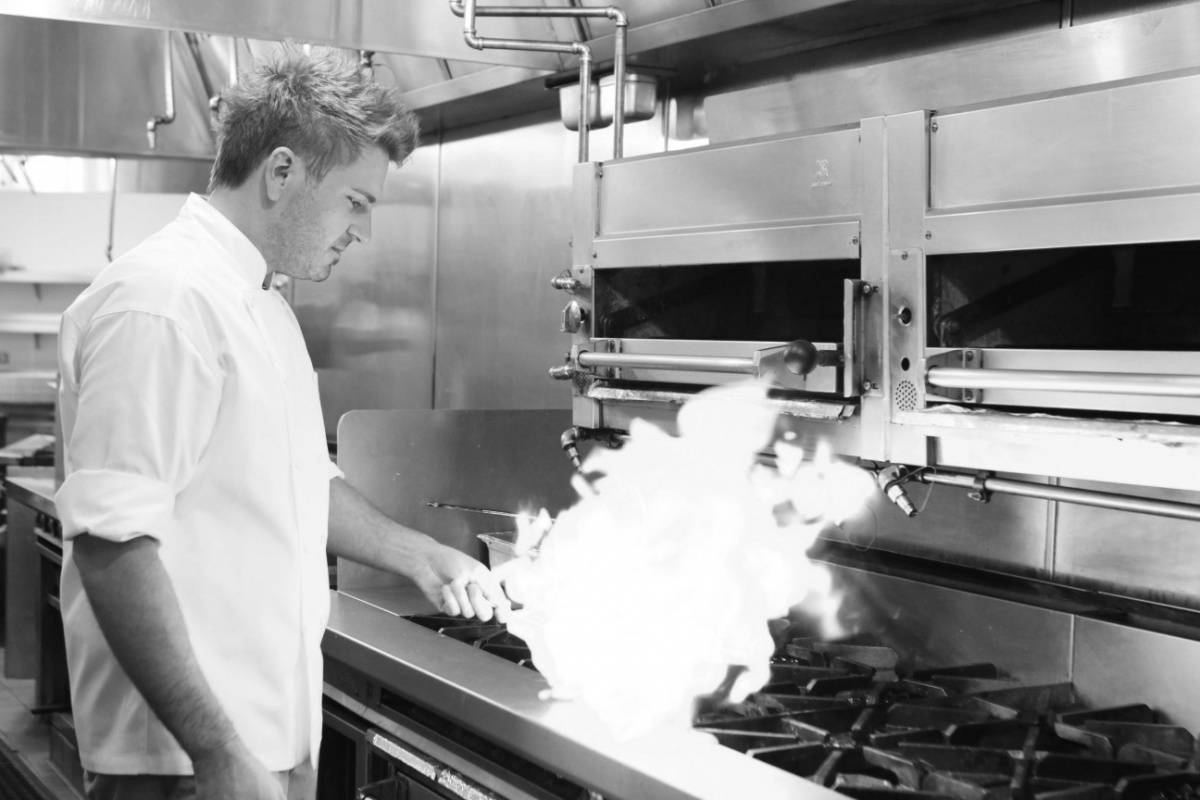 With charm and wit on and off screen, and a flair for flavors to boot, Chris Crary has been winning audiences and diners over with his light California fare at LA hotspots 41 Ocean, Whist at Viceroy Hotel, and Jack's La Jolla. This summer, the Top Chef fan favorite is taking on the next evolution of the HYDE brand at the newly opened Hyde Sunset: Kitchen + Cocktails. We sat down with this top chef to discuss working for sbe, his favorite romantic meal and if he plans to return to TV, as well as Chris' curated playlist of what he listening to when he's cooking up gourmet fare in the Hyde Sunset kitchen.
What do you love about working at HYDE Sunset: Kitchen + Cocktails?
HYDE Sunset: Kitchen + Cocktails is a one of a kind restaurant. It will be an entire evening destination from pre-dinner drinks, on to dinner and then finishing up with cocktail in the lounge. So it's fun for me to take people on that entire evening journey.
What's your favorite thing to cook  – both on the menu and at home?
I don't have one favorite thing exactly.. That's like asking a parent which child is their favorite. I do, however, love to cook sweetbreads, bone marrow, sardines, you know things that you don't see on every day on menus.
Any plans to return to TV? Tell us about them if so.
There is a possibility in the near future, but you know how much LA loves their NDAs.
Did you have a favorite moment on Top Chef? What was it?
My favorite moment was getting to meet and cook for Nathan Myhrvold, author of Modernist Cuisine. He is a great inspiration to me, along with anyone else who dares to push the envelope and think outside of the box.
If you're cooking a romantic meal, what do you prepare?
I think all food can be romantic, it's not what's on the plate, it's about the time and effort you put into it. I'm a big fan of pairing adult beverages with food; I do think that helps in the romance department. I generally start with a cocktail, preferably something with bourbon in it. Then I like to move into light wines and champagne. My favorite champagne right now is anything from Schramsburg.
White Noise by Disclosure
Take Me to Church by Hozier
Castles In The Snow by Twin Shadow
 Shake it Out by Florence + The Machine
  Keep You by Class Actress
Gust Of Wind by Pharrell / Daft Punk
Fall in Love by Phantogram

Duke Dumont by I Got You

Disparate Youth by Santigold
Coming of Age by Foster The People
Simple Song by The Shins
Pressure by Tensnake

Modern Art by Black Lips
 Man of The Year by Schoolboy Q
Just What I Needed by The Cars 

My Love by Route 94
True Affection by The Blow
1998 by Chet Faker
Shake Your Body by The Jacksons
Global Concepts  by Robert Delong
Like Haute Living Los Angeles? Join our Facebook page or follow us on Twitter @HauteLivingMag.
Subscribe to discover the best kept secrets in your city