Where is the best view in Miami? At Juvia, of course! Above 1111 Lincoln Road, Miami's most notable tastemakers were invited to experience the all new FACUNDO Rum Collection,  a curated program celebrating the true artistry of the first-ever collection of four aged sipping rums.
The evening consisted of an exceptional four-course menu specially prepared by Juvia executive chefs Laurent Cantineaux  and Sunny Oh. Guests began the evening sipping on specialty cocktails such as a Neo Sirena, Neo Old Fashioned and Eximo Old Fashioned. Bacardi Brand Master David Cid later led the intimate crowd, including Jason & Michelle Rubell, Fernanda Domit, Marcella & Daniel Novela, Kinga & Eddie Lampert, Fabio Lopes, John Lin, Cheryl Stephenson and Carolyn Travis, through a pairing of the collection's four master marques – Neo, Eximo, Exquisito and Paraiso – as they dined on a special menu of lobster salad, Hawaiian hearts of palm, cold smoked sea scallop, duck margret salad, grilled salmon and beef tenderloin. A Rum Baba sponge cake with whipped cream, toasted almonds and golden raisins concluded the memorable meal. Following dinner, guests smoked custom-made cigars while tasting Paraiso, the collection's ultimate sipping rum aged up to 23 years, while overlooking sweeping views of South Beach.
The FACUNDO Rum Collection is a Master Series of the most exquisite and extraordinary aged rums from the private Bacardi Family reserves, the largest and most extensive of its kind in the world. The FACUNDO Rum Collection is a tribute to Bacardi founder Don Facundo Bacardi Masso and his relentless pursuit of producing rums of unsurpassed quality and refinement. These rums embody the art of rum-making and more than 150 years of Bacardi family artistry and rum mastery. They are hand-selected, aged in an authentic style, true to Bacardi and the founder and are in limited release each year. Sipping rum is a Bacardi family tradition, passed down from generation to generation. Now, with The FACUNDO Rum Collection, connoisseurs everywhere can share in this revered tradition as rum is elevated to an art form.
Already a standout success with consumers, the industry has also taken note of this remarkable collection:  Facundo Exquisito just received a 2014 Double Gold medal for Best Extra-Aged Rum (5 years +) and "Best Of" in its category, in the prestigious San Francisco World Spirits Competition.   Of the multiple entries, FACUNDO Exquisito was one of a select few spirits brands to receive a Double Gold Medal, signifying a unanimous vote by the judges that the expression is of world-class distinction.
Yaddley Hannick & Marcella Novela
Sofia Zamolo & Fabio Lopes
Sharon Donnelly & Debby Menegay1
Michelle & Jason Rubell
Marianela Ancheta, Angelia Alvarez, Raysa Peres, & Krista Richmon1
Maria Tettamanti & Sarah Liss1
Lena Koorse & Vanessa Poskanzer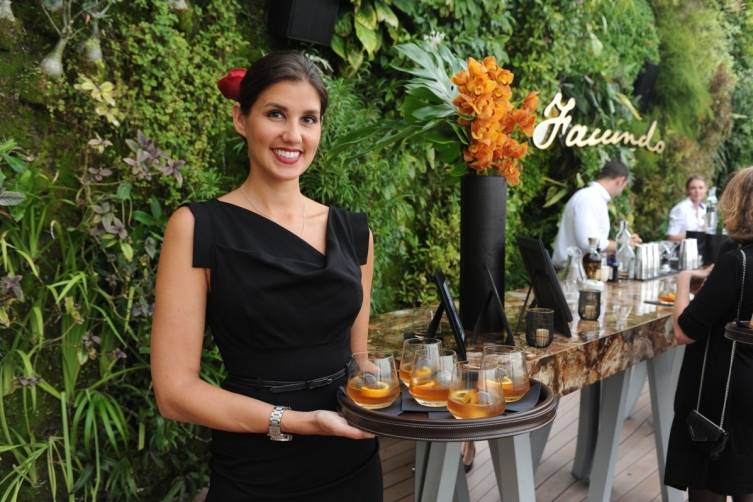 Krista Richmon1 - Copy
Juan Rovia & Paul Lehr1
Juan Rovia & Kelly Adams1
John Lin & Mighael Halabu
David Cid & Brad Troisi
Chris Hudnall & Daniel Deshe
24-Sofia Zamolo & Fabio Lopes (2)
23-David Cid
22-David Cid (3)
21-David Cid (2)
20-Atmosphere (15)
19-Atmosphere (4)
18-Atmosphere (3)
17-Atmosphere (20)
16-Atmosphere (7)
15-Juan Rovia & Paul Lehr2
14-Juan Rovia & Kelly Adams1
13-Sofia Zamolo & Fabio Lopes
12-Sharon Donnelly & Debby Menegay1
11-Michelle & Jason Rubell
10-Carolyn Travis, John Lin, & Mighael Halabu
9-Fernanda Domit, Christian DeBerardinis, & Lara Shriftman2
8-Fernanda Domit & Sarah Harrelson3
7-Carolyn Travis & Cheryl Stephenson
6-Austin & Sarah Harrelson
4-NEO Sirena
3-Krista Richmon
2-NEO Old Fashioned
1-Atmosphere (11)