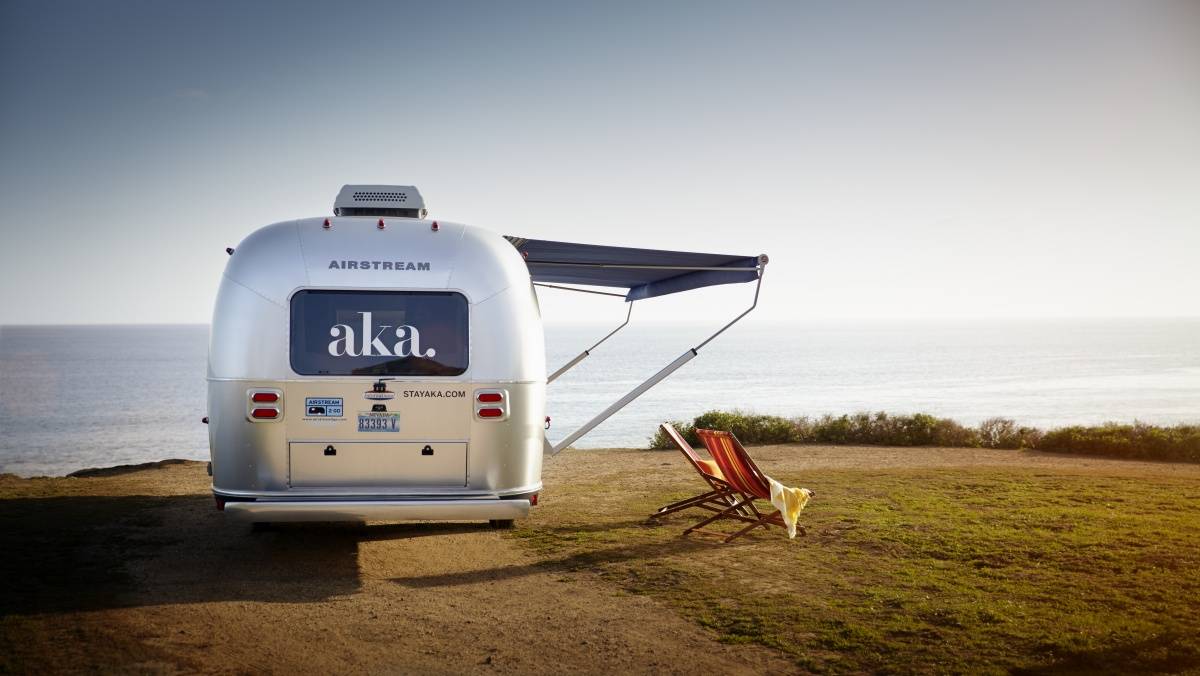 AKA Beverly Hills and Trina Turk are making it possible for you to go glamping in haute style this summer. The two, in collaboration with Airstream 2 Go, are launching the first-ever luxury mobile suite with its AKA Mobile Suite.
Residents of AKA Beverly Hills can take the AKA Mobile Suite, a sleek, top-of-the-line Airstream from Airstream 2 Go outfitted with AKA signature comforts and colorful Trina Turk accessories, for a curated road trip up the California coast while cruising behind the wheel of a premium tow vehicle — a new GMC Yukon Denali.
The mobile suite is meant to duplicate a suite at AKA…albeit one on wheels, of course.Guests will find plush linens, towels, bathrobes, Bulgari bath amenities, a Nespresso coffee machine and a DVD selection from AKA Beverly Hills' private screening room.
In true SoCal spirit, this suite-on-wheels experience begins with a personal styling session at the Trina Turk boutique in LA to select pieces from Turk's summer 2014 collection, which, coincidentally, was also inspired by a California road trip. Mobile suite trippers receive an exclusive VIP promotion on all full-priced, in-store purchases as well as Trina Turk's recommended "What to Pack" list featuring her must-haves for the ultimate California road trip.
The AKA Mobile Suite is loaded with luxuries befitting a five-star road trip/glampathon so that even the fussiest folk won't mind going on the road. You'll find a fully equipped kitchen, a bathroom with a shower, a flat-panel TV/DVD and an iPod interface. For California dreamin' outdoors, there is a power awning, available AKA bikes and bike rack, camping chairs, a table and a gas grill.
Rates for the AKA Mobile Suite start at approximately $6,000 for the five-day journey up the coast with two nights of exclusive glamping on Santa Barbara's sun-dappled Sunstone Vineyards and two nights overlooking the Pacific Ocean at Ocean Mesa Campground. Additional experiences can be arranged for you along your journey, including a private dinner at Sunstone Vineyard, spa treatments, botanical hikes, bike paths, yoga, stargazing and canyon concerts, as well as a choice of world-class activities, including surfing, ocean kayaking, whale watching and wine tastings on Santa Barbara's Urban Wine Trail.
The mobile suite is only available to residents of AKA Beverly Hills, where a one-bedroom suite starts at $435 per night based on a one week stay, and is available at a lower rate for monthly stays. Rates vary by season, suite type and availability. AKA Beverly Hills accepts stays of a week or longer.
 Like Haute Living Los Angeles? Join our Facebook page or follow us on Twitter @HauteLivingMag.
AKA Mobile Suite Interior Sofa Area and Kitchen Featuring AKA Luxury Amenities and Trina Turk La Jolla Embroidered Pillow,jpg
Courtesy of AKA
AKA Mobile Sutie Exterior Rear
Courtesy of AKA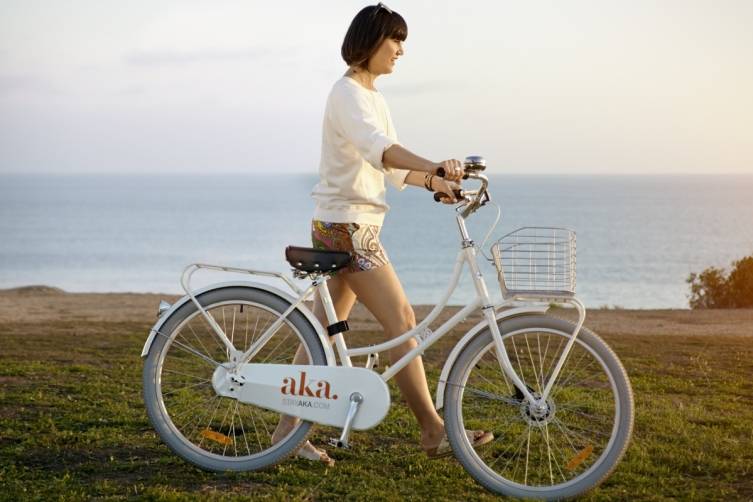 Trina Turk in Delano Short and Solvang Top with AKA's Sleek Custom Bicycles That Are Complimentary to AKA Residents
Courtesy of AKA
Trina Turk in her Bardo Dress in Margarita Outside of the AKA Mobile Suite
Courtesy of AKA
Water Pitcher and Trina Turk Fabric Coaster
Courtesy of AKA
AKA Mobile Suite Closet Filled With Trina Turk Clothing_Rosemarie Top, Fabiana Short, Natty Sweater, Bella Top, Betsy Top
Courtesy of AKA
AKA Mobile Suite Interior Bedroom Featuring AKA Luxury Amenities Like AKA's Plush Linens, Bathrobe, and Trina Turk California Pillow
Courtesy of AKA
AKA Mobile Suite Interior Kitchen and Bedroom Featuring AKA Luxury Amenities Like AKA's Plush Towels, Linens, and Bathrobe, and Trina Turk California Pillow
Courtesy of AKA