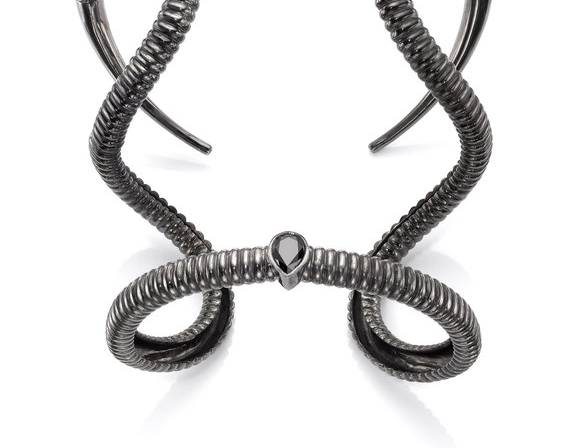 Disney's Maleficent has already been a financial success story, and the film doesn't even hit theaters until May! We're not surprised; anything starring Angelina Jolie is destined to be lucrative.
Several haute designers have created luxury goods in honor of the film, a live action take on the truth behind Sleeping Beauty's resident villain.
We've already discussed the Stella McCartney kids line for little boys and girls with a penchant for Disney designer ware, but there is so, so much more that's being offered — including a $20,880 rose gold, yellow and red sapphire ring by Crow's Nest.
Daniel Belevitch has created dark and edgy baubles for the film's May 30 release, releasing a 7-piece collection of cuffs and rings ranging in price from $5,720 to the aforementioned $20,880 ring. The items, available in early May, include a horn-shaped cuff made of black rhodium with a pear-shaped onyx in the center and a dragon ring made of white gold in black rhodium with black diamonds and an opal at its center.
Luxury Italian scarf maker Faliero Sarti has created two scarves for the film including a blue piece edged in a thorn design with a damsel in distress in the middle, while the black scarf depicts Maleficent herself framed by thorns, skulls and blackbird. The pieces will retail for $438 and are available in early May.  
David Lerner has created fashionable pieces for the film, including a jersey dress and side-zip leggings, while designer Naeem Kahn has created a capsule collection of "good" and "wicked" items including trousers, tops, dresses and jackets.
Last but not least, MAC Cosmetics – famous for creating capsule collections tied to film icons and movies alike – has created the 11-piece "Maleficent" collection with items including the "True Love's Kiss" lipstick and "Nocturnelle" nail polish, which become available on May 15.  
Like Haute Living Los Angeles? Join our Facebook page or follow us on Twitter @HauteLivingMag.