The Los Angeles Ballet's annual gala was, as usual, a glittering affair.
A haute crowd of ballet lovers gathered at the Beverly Wilshire on Saturday night to catch a live ballet performance, imbibe cocktails and honor three women who have made the ballet their passion.
Leslie Kavanaugh and Kirsten Sarkisian presented awards to Lori Milken, Paul Abdul and Jane Seymour.
Each woman has a history with dance. Abdul is an accomplished singer, dancer, actress, and TV personality who got her start as a choreographer, while the Emmy and Golden Globe winning actress Seymour was, in fact, a former ballerina; Milken, in addition to being an esteemed education and medical research advocate, is also a board member of the LA Ballet.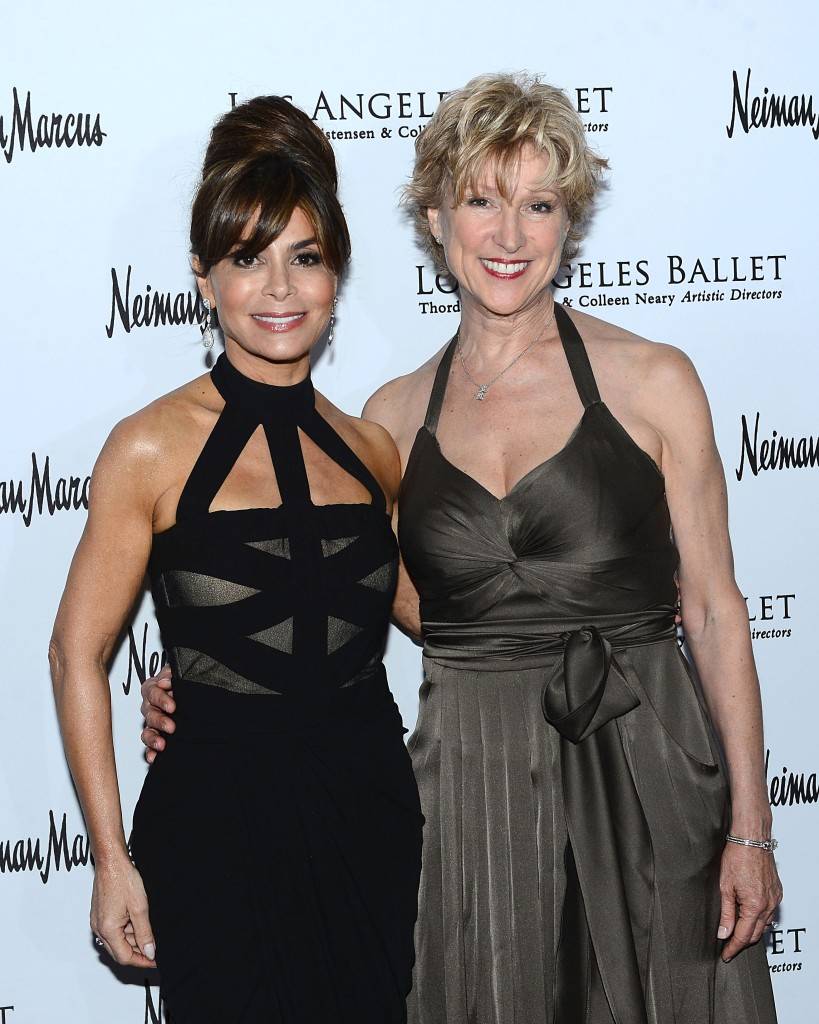 After cocktails and dinner, the assembled crowd was treated to a performance of George Balanchine's "Stars and Stripes" by the Los Angeles Ballet dancers.
Additional guests at the gala included Michael Milken, Relativity chief Ryan Kavanaugh, Kathy Highstrete, Director of Development and former LA Dodgers owner Jamie McCourt. 
The Los Angeles ballet was founded in 2004 by Artistic Directors Thordal Christensen and Colleen Neary, and Executive Director Julie Whittaker, Los Angeles Ballet is proud to be entering its 8th Season. Known for its superb stagings of the Balanchine repertory, stylistically meticulous classical ballets and its commitment to new works, LAB has become recognized as a world-class ballet company. LAB has presented 21 productions encompassing 43 works, including 13 commissioned world premieres. Los Angeles Ballet 'tours' throughout LA County, regularly appearing at seven venues. In March 2014 LAB presents Quartet, a suite of four works specifically selected by Christensen and Neary. May/June 2014 brings the romantic 2-act story ballet La Sylphide, plus George Balanchine's beloved Serenade.
Like Haute Living Los Angeles? Join our Facebook page or follow us on Twitter @HauteLivingMag.
Photo Apr 13, 1 19 13 PM
Brian Lindensmith/ All Access Photos
Photo Apr 13, 1 19 59 PM
Brian Lindensmith/ All Access Photos
Photo Apr 13, 1 22 25 PM
Brian Lindensmith/ All Access Photos
Photo Apr 13, 1 22 47 PM
Brian Lindensmith/ All Access Photos
Photo Apr 13, 1 23 16 PM
Brian Lindensmith/ All Access Photos
Photo Apr 13, 1 27 21 PM
Brian Lindensmith/ All Access Photos
Photo Apr 13, 1 31 13 PM
Brian Lindensmith/ All Access Photos
Photo Apr 13, 1 33 34 PM
Brian Lindensmith/ All Access Photos
Photo Apr 13, 12 00 55 PM
Brian Lindensmith/ All Access Photos
Photo Apr 13, 12 07 42 PM
Brian Lindensmith/ All Access Photos
Photo Apr 13, 12 08 35 PM
Brian Lindensmith/ All Access Photos
Photo Apr 13, 12 08 58 PM
Brian Lindensmith/ All Access Photos
Photo Apr 13, 12 09 09 PM
Brian Lindensmith/ All Access Photos
Photo Apr 13, 12 09 24 PM
Brian Lindensmith/ All Access Photos
Photo Apr 13, 12 09 31 PM
Brian Lindensmith/ All Access Photos
Photo Apr 13, 12 09 52 PM
Brian Lindensmith/ All Access Photos
Photo Apr 13, 12 10 03 PM
Brian Lindensmith/ All Access Photos
Photo Apr 13, 12 12 57 PM
Brian Lindensmith/ All Access Photos
Photo Apr 13, 12 13 28 PM
Brian Lindensmith/ All Access Photos Brian Lindensmith/ All Access Photos
Photo Apr 13, 12 13 39 PM
Photo Apr 13, 12 13 54 PM
Brian Lindensmith/ All Access Photos
Subscribe to discover the best kept secrets in your city