After months of being tethered to an elliptical machine, it's time to breathe in the fresh spring air and take your workout outside! Whether you are in search of cardio or strength training, Haute Living has rounded up the best outdoor fitness classes that will make you break a sweat (and get a sun-kissed glow) without stepping foot inside of a gym.
CARDIO & STRENGTH TRAINING
NYC Endurance
Locations vary throughout Manhattan

This fast-paced interval workout is a sure way to stay beach body ready all summer long. The one-hour strength and conditioning class consists of weight lifting, flexibility exercises and modalities for individuals of all fitness levels. NYC Endurance offers complete workout packages, which include coached classes, nutrition advice, running analysis, and customized workout plans.
CONDITIONING & STABILITY
Manhattan Kayak Company
Pier 84 boathouse
557 12th Avenue
New York, NY 10036
(212) 924-1788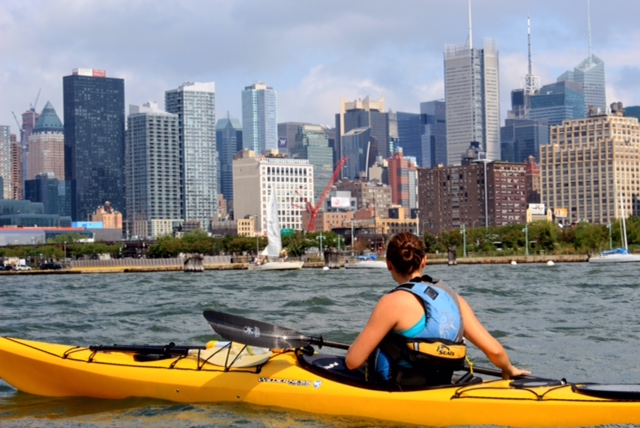 Get fit while enjoying the beauty and tranquility of the New York Harbor. Manhattan Kayak Company offers daily specialty paddleboard and kayak classes and tours guaranteed to build your core, improve your balance and strengthen your upper body. Go solo or bring a friend, but either way, you're guaranteed to have a good time while burning 500 calories an hour.
FLEXIBILITY & STRETCHING
Exhale Meatpacking
8 Ninth Avenue
New York, NY 10014
(212) 660-6733
Take your Om outside with Exhale's outdoor program. Exhale Meatpacking has partnered with Asics, Lululemon and Chelsea Piers to bring yoga, zumba and stretching classes to the cobblestoned plaza just south of the Gansevoort Hotel. Classes are donation only and all proceeds benefit the Meatpacking District Improvement Association.
CIRCUS INSPIRED
Trapeze School New York
Pier 40
353 West Street
New York, NY 10014
(917) 797-1872
Take your workout to new heights—literally! Increase your upper body strength and tone your abs as you fly through the air with ease. Trapeze School New York offers beginner and advanced classes in flying trapeze and other aerial arts at two central Manhattan locations. The intense full body workout—done while hanging 23 feet in the air—is designed for thrill seekers looking for something completely different and exhilarating.
FUNCTIONAL TRAINING
Physical Equilibrium
139 East 57th Street, 9th Floor
New York, NY
(917) 744-6627
Trade in the treadmill for Central Park's natural "equipment" consisting of benches, steps, hills and open grassy spaces. Group classes comprised of 10 people or less are offered twice per week to provide you with plenty of individualized attention. All outdoor classes incorporate exercises that focus on strength training, total body conditioning, stretching and core partner workouts.