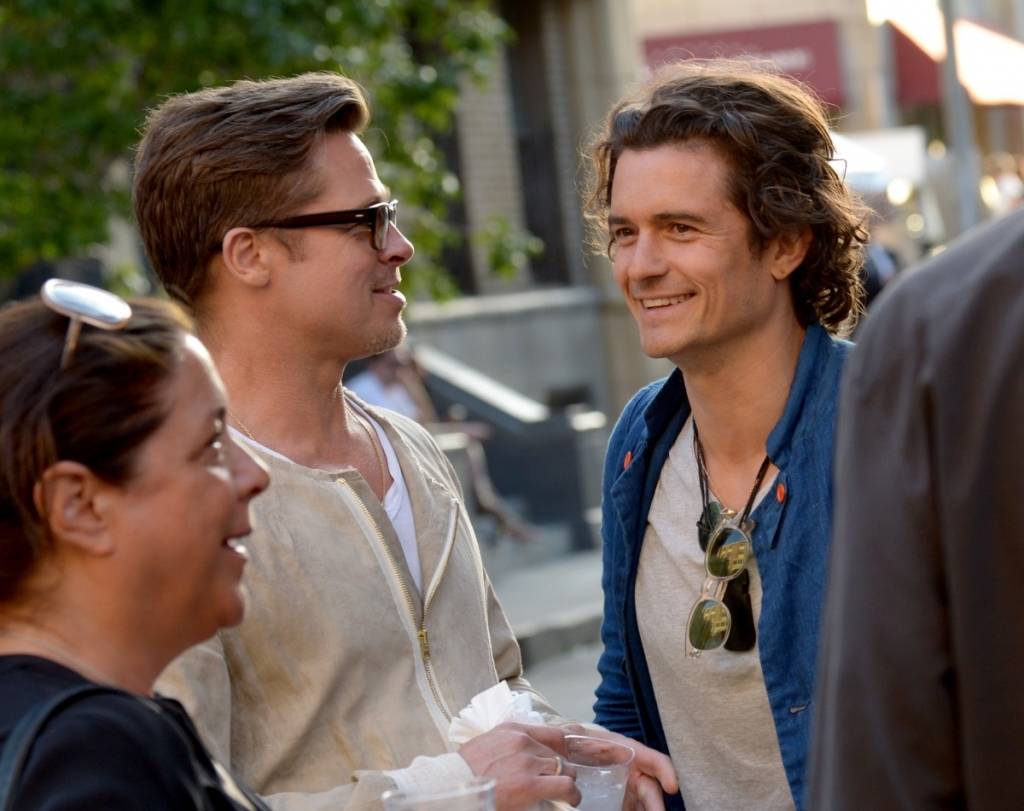 BMW was a partner of the star-studded preview of Paris Photo's second annual arrival in Los Angeles on Thursday night, which drew a haute crowd of guests including celebrity art collectors like Brad Pitt, Orlando Bloom and Jodie Foster.
The crowd of over 4,800 attendees included collectors Maria Bell, Jan and Trish de Bont, Danny First, Alan Hergott, Maja Hoffmann, Deborah Irmas, Stefan Simchowitz, Scott Stover, Kathy Suder, Benedikt and Lauren Taschen, and Michael G. Wilson; and art world principals Quentin Bajac, Chief Curator of Photography at The Museum of Modern Art, Dan Cameron, Chief Curator at The Orange County Museum of Art, Joanne Heyler, Director of The Broad Museum, Chrissie Iles, Anne and Joel Ehrenkranz Curator at the Whitney Museum of American Art, Agnès Sire, Director of the Fondation Henri Cartier-Bresson, Steven D. Lavine, President of CalArts, Roxana Marcoci, Photography Department Senior Curator at The Museum of Modern Art, Ann Philbin, Director of The Hammer Museum, Sandra Phillips, Curator of Photography at San Francisco Museum of Modern Art, and Britt Salvesen, Curator of Photography at Los Angeles County Museum of Art were on hand to celebrate at Paramount Studios in Hollywood.
Additional Los Angeles and international personalities in attendance included Maria Bello, Jo Champa, Jamie Lee Curtis, Julie Delpy, Lisa Edelstein, French director/producer Claude Lelouch, Steven Levitan, Joni Mitchell, Moby, Roger O'Donnell, Tracee Ellis Ross, Cameron Silver, Mena Suvari, Omar Sy, and Jesse Williams, of whom were offered glasses of Ruinart Champagne upon arrival.
In addition to a presentation by BMW, 81 galleries and art book dealers from 181 countries were on hand at the Paramount New York lot.   A robust programming schedule invites guests to attend book signings, artist conversations, screenings, the special LAPD Photo Archive exhibition, and a Dennis Hopper tribute. The fair is open to the public April 25-27, 2014. 
Like Haute Living Los Angeles? Join our Facebook page or follow us on Twitter @HauteLivingMag.
Julien_Frydman_Jean-Daniel_Compain_Tom_LaBonge_Paris_Photo_Los_Angeles_2014
Photo: Getty Images for Paris Photo
Jesse_Williams_Paris_Photo_Los_Angeles_2014
Photo: Getty Images for Paris Photo
Maria_Bello_Paris_Photo_Los_Angeles_2014
Photo: Getty Images for Paris Photo
Steven_Levitan_Paris_Photo_Los_Angeles_2014
Photo: Getty Images for Paris Photo
Brad_Pitt_Paris_Photo_Los_Angeles_2014
Photo: Getty Images for Paris Photo
Mena_Suvari_Paris_Photo_Los_Angeles_2014
Photo: Getty Images for Paris Photo
Moby_Julie_Mintz_Paris_Photo_Los_Angeles_2014
Photo: Getty Images for Paris Photo
Paris Photo Los Angeles - Private Preview And Press Conference
Photo: Getty Images for Paris Photo
Tracee_Ellis_Ross_Paris_Photo_Los_Angeles_2014
Photo: Getty Images for Paris Photo
Jodi_Foster_Julien_Frydman_Paris_Photo_Los_Angeles_2014
Photo: Getty Images for Paris Photo
Paris_Photo_Los_Angeles_2014_Atmosphere_Photo by Jeff McLane18
Photo by Jeff McLane
Paris_Photo_Los_Angeles_2014_Atmosphere_Photo by Jeff McLane6
Photo by Jeff McLane
Paris_Photo_Los_Angeles_2014_Atmosphere_Photo by Jeff McLane11
Photo by Jeff McLane
Paris_Photo_Los_Angeles_2014_Jenkins_Johnson_Installation_Photo_by_Jeff_McLane
Photo by Jeff McLane
Paris_Photo_Los_Angeles_2014_Julien Frydman_Photo by Jeff McLane2
Photo by Jeff McLane
Paris_Photo_Los_Angeles_2014_Atmosphere_Photo by Jeff McLane7
Photo by Jeff McLane
Paris_Photo_Los_Angeles_2014_Atmosphere_Photo by Jeff McLane10
Photo by Jeff McLane
Paris_Photo_Los_Angeles_2014_Atmosphere_Photo by Jeff McLane12
Photo by Jeff McLane
Paris_Photo_Los_Angeles_2014_Atmosphere_Photo by Jeff McLane19
Photo by Jeff McLane
Paris_Photo_Los_Angeles_2014_Sabine_Knust_Installation_Photo_by_Jeff_McLane
Photo by Jeff McLane
Paris_Photo_Los_Angeles_2014_M+B_Gallery_Installation_Photo_by_Jeff_McLane
Photo by Jeff McLane
Paris_Photo_Los_Angeles_2014_M+B_Gallery_Installation_Photo_by_Jeff_McLane2
Photo by Jeff McLane
Paris_Photo_Los_Angeles_2014_Atmosphere_Photo by Jeff McLane2
Photo by Jeff McLane
Paris_Photo_Los_Angeles_2014_Atmosphere_Photo by Jeff McLane3
Photo by Jeff McLane
Paris_Photo_Los_Angeles_2014_Atmosphere_Photo by Jeff McLane12
Photo by Jeff McLane