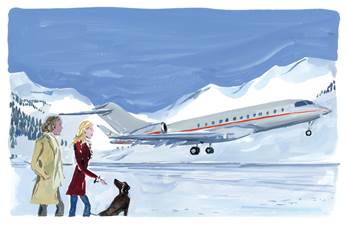 Jean-Philippe Delhomme is a French cartoonist, illustrator and writer who is now based in New York. Defining himself as a commentator and columnist of the contemporary culture, Delhomme has collaborated on award-winning campaigns for Barney's New York, Le Bon Marche in Paris and The Mark Hotel in New York.
He is internationally known for his witty satirical illustrations that are as much gentle ribbing at the notion of the "good life" in the modern world as they are chronicles of the hip and fabulous. For this reason, his work has been embraced by the worlds of fashion, art, design as well as luxury commercial clients.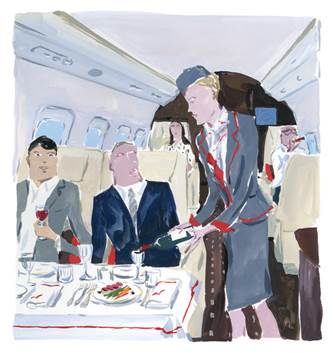 Delhomme was recently commissioned by VistaJet to create a storybook to help take the company to the next level. As one of the world's leading luxury private aviation companies, VistaJet extends beyond being a luxury aviation service and has become a stylish lifestyle brand with many partnerships and collaborations in the art and fashion world. The company also started an arts initiative by allowing international street artist, RETNA, to paint the tail of a $60,000,000 private jet in collaboration with Vladimir Restoin Roitfeld and Andy Valmorbida. That first art collaboration has been followed by a sponsorship of L'Uomo Vogue's Africa Issue, flight attendant and pilot jackets by Moncler, a Faberge Easter plane with a tail painted by British artist Ian Davenport, and a safety instructional video by artist Tom Sachs.