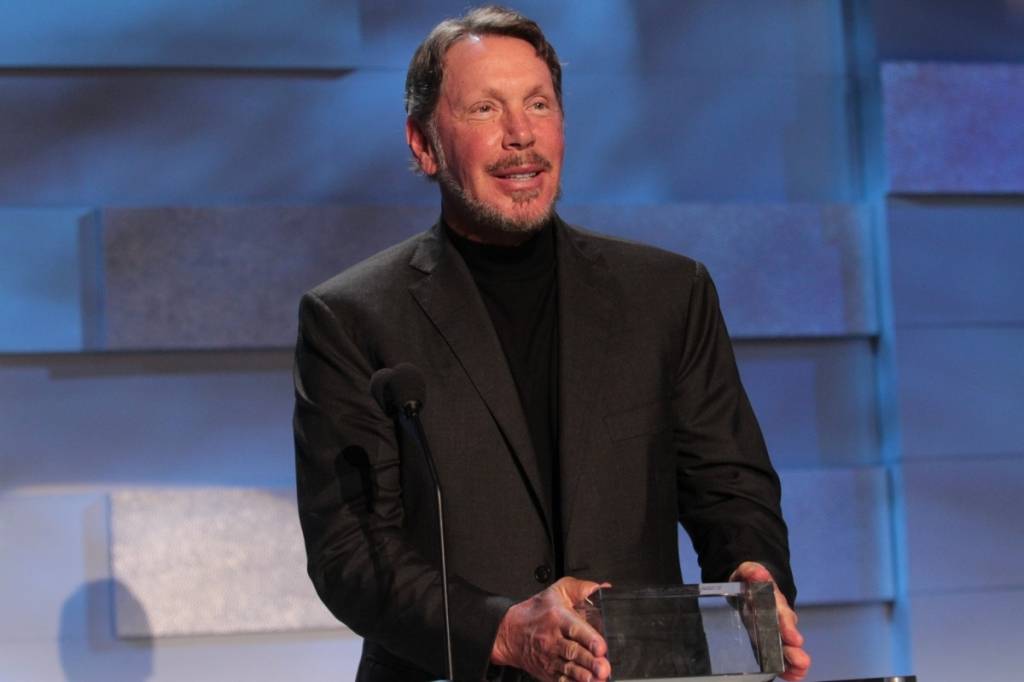 The second Rebels With a Cause gala was one of the hautest evenings of the year in Hollywood: not only was Oracle CEO Larry Ellison honored, but over $9 million was raised to benefit the USC Center for Applied Medicine's life-saving cancer research.
The event, held at Paramount Pictures Studios, was hosted by Jimmy Kimmel; musical guests included man-of-the-moment Pharrell Williams in his statement Vivienne Westwood mountie cap as well as Barry Manilow.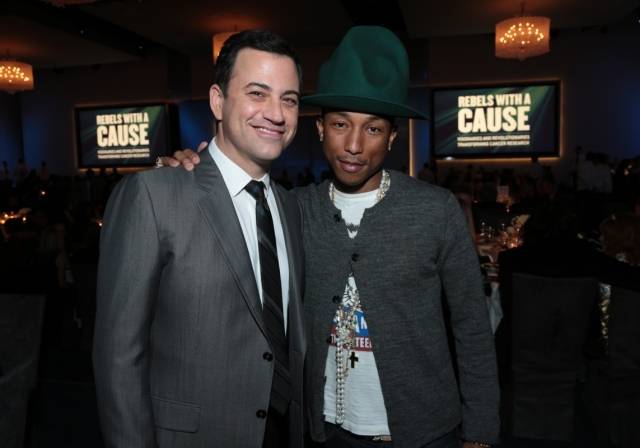 Paramount Pictures CEO Brad Grey and his wife, Cassandra, as well as Carmen A. Puliafito, M.D., M.B.A., dean of the Keck School of Medicine, co-chaired the event. Co-presenting sponsors were Lynne and Marc Benioff, founder, chairman and CEO of Salesforce.com.  Sixteen-time Grammy Award-winner David Foster, who also took to the stage, served as the evening's musical director.  Internationally acclaimed director and producer Don Mischer acted as event producer.
Pharrell opened the evening performing his Oscar-nominated hit, "Happy" before Kimmel introduced guests including Sacha Baron Cohen and Isla Fisher, January Jones, John Stamos, Bob Saget, Jerry Bruckheimer, Anna Kendrick and Chris Pine, before Grey took to the stage. then introduced the evening's co-chair, Brad Grey. In his opening remarks, he said: "Tonight I am happy to announce we will build a new transformational cancer institute here in Los Angeles. It will be a life changing and life saving facility dedicated to personalized medicine, that will give cancer patients the chance they need and the chance they deserve."  Grey will also chair this new endeavor.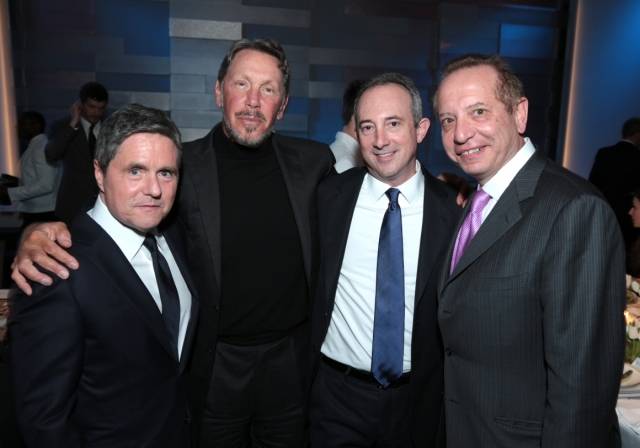 Kendrick and Jonah Hill then read a series of poignant, life-changing letters written by cancer patients on-stage before USC's David Agus, M.D.  introduced the night's honoree, Larry Ellison, calling him "a champion of our Center's work from day one when his foundation announced funding for the initiation of our cancer research at the USC Center for Applied Molecular Medicine."
The Oracle chief's words were brief but powerful – money talks!  "Whatever we've made tonight, I'm matching!" he declared, bringing the evening's contribution to $9 million.   
Like Haute Living Los Angeles? Join our Facebook page or follow us on Twitter @HauteLivingMag.
49909--E032014B-2373
Alex Berliner
49910--E032014B-2376
Alex Berliner
49911--E032014B-2384
Alex Berliner
49912--E032014B-2390
Alex Berliner
49877--E032014B-0646
Alex Berliner
49881--E032014B-0758
Alex Berliner
49886--E032014B-0825
Alex Berliner
49887--E032014B-0845
Alex Berliner
49891--E032014B-0947
Alex Berliner
49893--E032014B-0621
Alex Berliner
49898--E032014B-1024
Alex Berliner
49821--E032014B-0697a
Alex Berliner
49902--E032014B-1250
Alex Berliner
49821--E032014B-0697a
Alex Berliner
49822--E032014B-0832a
Alex Berliner
49823--E032014B-0963a
Alex Berliner
49824--E032014B-0981a
Alex Berliner
49856--E032014B-0300
Alex Berliner
49865--E032014B-0396a
Alex Berliner
49869--E032014B-0463
Alex Berliner
49897--E032014B-1002a
Alex Berliner
Subscribe to discover the best kept secrets in your city