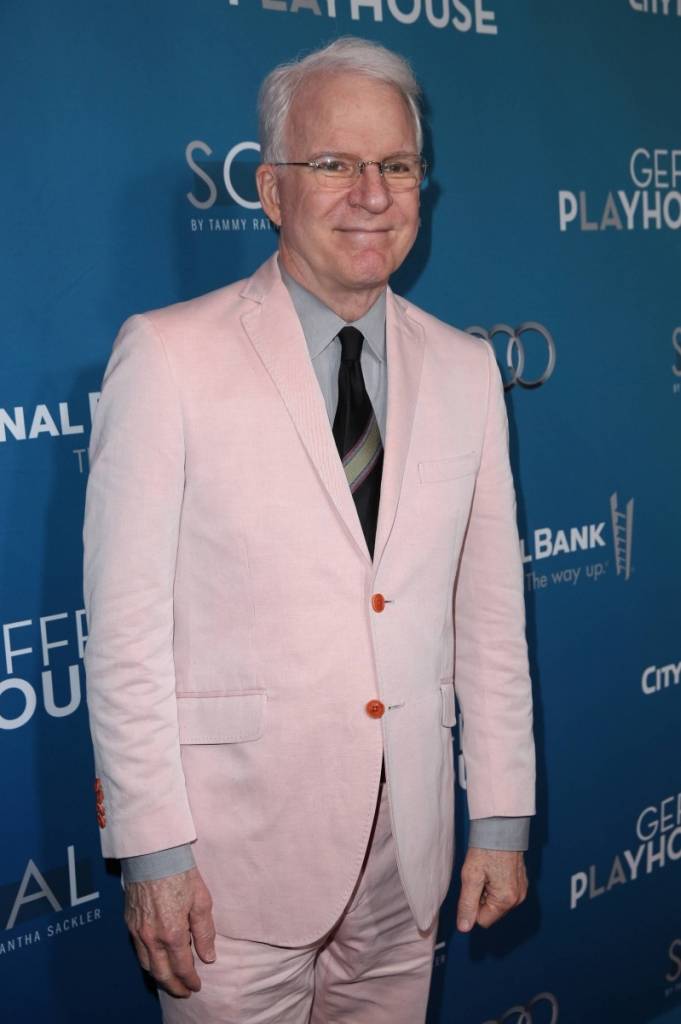 The hautest names in Hollywood headed backstage over the weekend, so to speak, to attend the Geffen Playhouse's annual Backstage at the Geffen benefit.
The insider event and pre-show host committee dinner grossed over $1.4 million for the Geffen Playhouse's education, outreach and artistic initiatives.
Honorees during the event included Walt Disney Studios Chairman Alan F. Horn, who was presented with the Distinction in Service Award by Rob Reiner and Steve Martin, who accepted the Distinction in Theater Award from award-winning composer/musician Mason Williams.
In addition to the awards presentations, the evening featured "backstage" stories and songs by stars of the stage and screen including Sean Hayes, Nathan Fillion, Marcia Gay Harden, Anna Kendrick, Mason Williams, Jennifer Garner, Carrie Fisher, Norman Jewison and Rob Reiner. Steve Carell served as Master of Ceremonies; Honorary Co-Chairs were Robert Iger and Willow Bay and Ron and Kelly Meyer.
During the event, Carrell regaled the audience with his version of how honorees Steve Martin and Alan Horn first met … as the vaudeville team of "Martin and Horn." Carell's hilarious "biographical" journey through the years was accompanied by on screen photos of the supposed duo superimposed on the faces of legendary teams ranging from Laurel and Hardy to circa 60's Studio 54 clubbers. Anna Kendrick moved the audience with her rendition of "No One is Alone," from Stephen Sondheim's, "Into the Woods," followed by "Being Alive."  Jennifer Garner reminisced about her days as an intern in summer stock, where she told a great story about her mentor in theatre and learned a tough lesson about how the show must always go on. Alan Horn's daughters Cody and Cassidy Horn spoke fondly of their father before introducing Rob Reiner. Reiner noted that he had the privilege of incorportating a story he was told at a party by Alan Horn's father, Sol. The senior Horn had told Reiner the story of how he had met his wife 41 years earlier. It was such a touching story, that it was the catalyst for the opening of "When Harry Met Sally."
Honorees, special guests and the event's Host Committee enjoyed a pre-event dinner in a giant tent designed by Social and Designer 8 erected directly across the street from the Geffen Playhouse. Catered by Ronen Levy Events, it featured Double Cross Vodka Cocktails, Malibu Family wines and Source Water, also part of the pre-show reception at the Playhouse. After the show, guests indulged in desserts ranging from Deluscious Cookies with shots of milk to a My Vienna Gelato bar, Richard Ruskell Pastries, Gotta Have S'mores, and Pure Cheesecakes along with contributions from Seasons 52 and Ronen Levy Events.
The funds raised will benefit the Geffen Playhouse's artistic initiatives including new play development, playwright commissions, second productions and artistic risks, as well as the theater's award-winning education and outreach programs, which help bring the excitement of live theater to more than 15,000 disadvantaged youth, seniors and veterans annually.
The evening's sponsors included City National Bank, Audi of America and Social by Samantha Sackler.
Like Haute Living Los Angeles? Join our Facebook page or follow us on Twitter @HauteLivingMag.