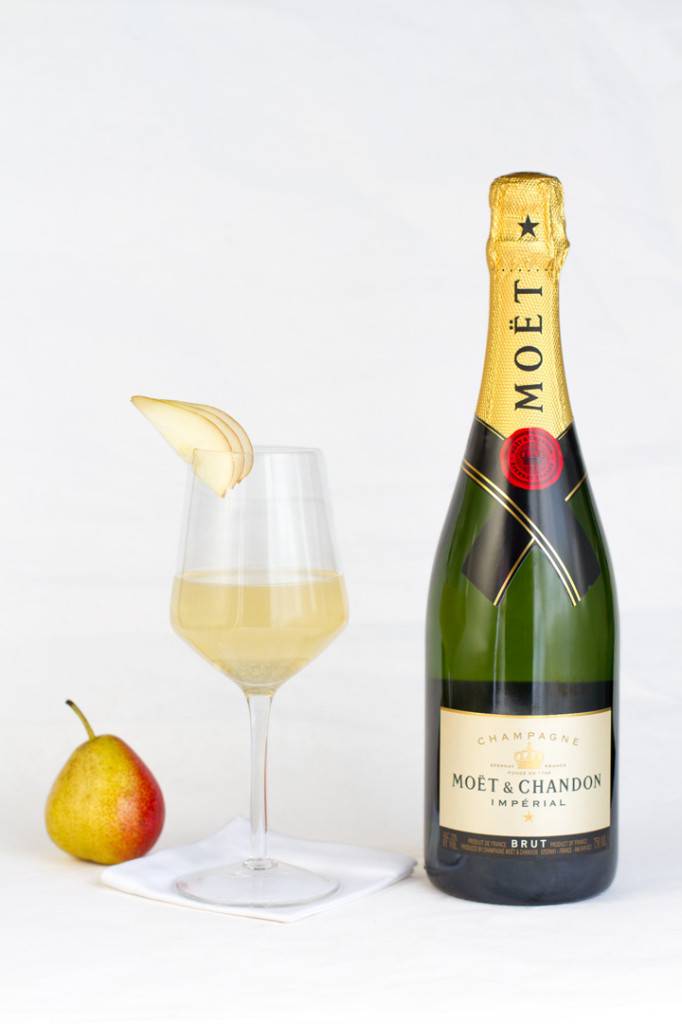 It's time to bring on the bubbly!
For the first time ever, an official Golden Globes cocktail has been announced. It does, of course, include Moët & Chandon, which has been the official sponsor of the Golden Globe Awards for 23 consecutive years.
The cocktail, as invented by celebrity chef Aida Mollenkamp, is called the "Moët Golden Night."
The libation will be served in the newly envisioned Golden Globes lounge and is crafted of  Moët Impérial, cardamom syrup, pear brandy and is garnished with a "fan" of fresh pear slices.
For those that wish to make the cocktail at home during your own personal viewing party, check out the recipe below.
MOËT GOLDEN NIGHT
Makes: 6 cocktails // Enough simple syrup mixture for 8 cocktails
Total Time: 25 minutes
Hands On Time: 5 minutes
INGREDIENTS
1/4 cup unrefined granulated sugar
1/4 cup water
20 whole cardamom pods, crushed using the back of a knife or a mortar and pestle
1/4 cup pear brandy
1 (750 ml) chilled Moët & Chandon Imperial Brut Champagne
2 small ripe Forelle or Seckel pears, for garnish
INSTRUCTIONS
Combine sugar and water in a small saucepan, stir to dissolve the sugar, add the crushed cardamom pods and bring to a simmer over medium heat. Simmer the simple syrup for 5 minutes, then remove from heat and allow to steep and cool for 20 minutes.
Using a fine mesh strainer, strain the simple syrup, discard the seeds and pods, and place the simple syrup into a liquid measuring cup. Add the pear brandy and stir to combine. (The pear-cardamom simple syrup mixture can be made up to 2 days ahead and the Asian pears can be peeled up to 2 hours ahead.)
Just before serving, cut the pear off the core and slice pear lengthwise into 1/8-inch thick slices. (Separate slices into stacks of three and spread slightly to make a fan. If cutting slices ahead of serving time, coat them with a little lemon juice to prevent them from browning.)
To serve, add 1/2 ounce of the pear-cardamom simple syrup mixture to 6 white wine glasses or 6 Champagne coupes (this makes enough syrup for 8 cocktails). Add 4 ounces of chilled Moët & Chandon Imperial Brut Champagne to each glass, filling each glass about halfway. Garnish each glass with three pieces of fanned pear slices and serve.
Like Haute Living Los Angeles? Join our Facebook page or follow us on Twitter @HauteLivingMag.