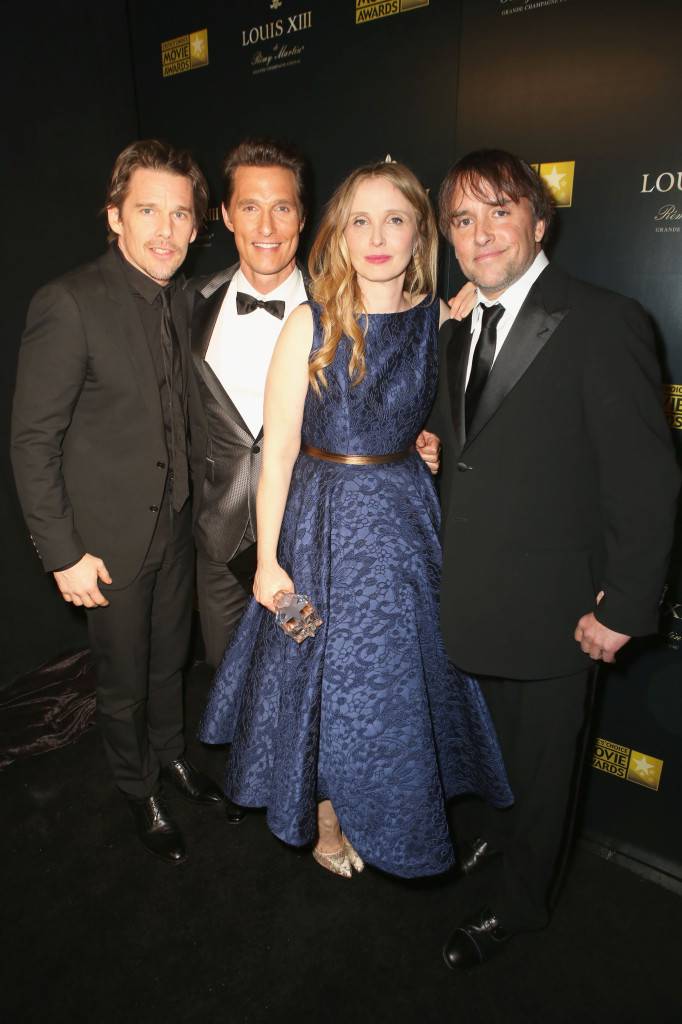 The 2014 Critics' Choice Awards was a glamorous affair thanks to Louis XIII.
The haute cognac company was on hand to present Ethan Hawke, Julie Delpy and Richard Linklater with its second annual Louis XIII Genius Award at the 19th annual awards ceremony last week.
Academy Award nominee Matthew McConaughey presented the award to the trio, who were nominated in the "Writing – Adapted Screenplay" category for their film, Before Midnight.      
Said Augustin Depardon, Global Marketing Director, LOUIS XIII, "We are honored to partner with the Broadcast Film Critics Association for the second time to present the Critics' Choice LOUIS XIII Genius Award. The genius collaboration of these three creative artists bestows a legacy for future generations of filmmakers."
The event, held at Santa Monica's Barker Air Hangar, was attended by Yves de Launay, Vice President Prestige Brands at Remy Cointreau USA, as well as Leonardo DiCaprio, Julia Roberts, Sandra Bullock, Jonah Hill, Sam Rockwell, Jonah Hill, Jeremy Renner, Meryl Streep, Oprah, Matthew McConaughey, Camila Alves, Brie Larson, Jessica Chastain, Seth Rogan, Kevin Spacey, James Marsden, Tom Hanks and Rita Wilson, Mark Wahlberg, Margo Robbie, Emma Thompson, Melissa McCarthy, Kristen Bell, Will Forte and Julia Louis Dreyfus, among others.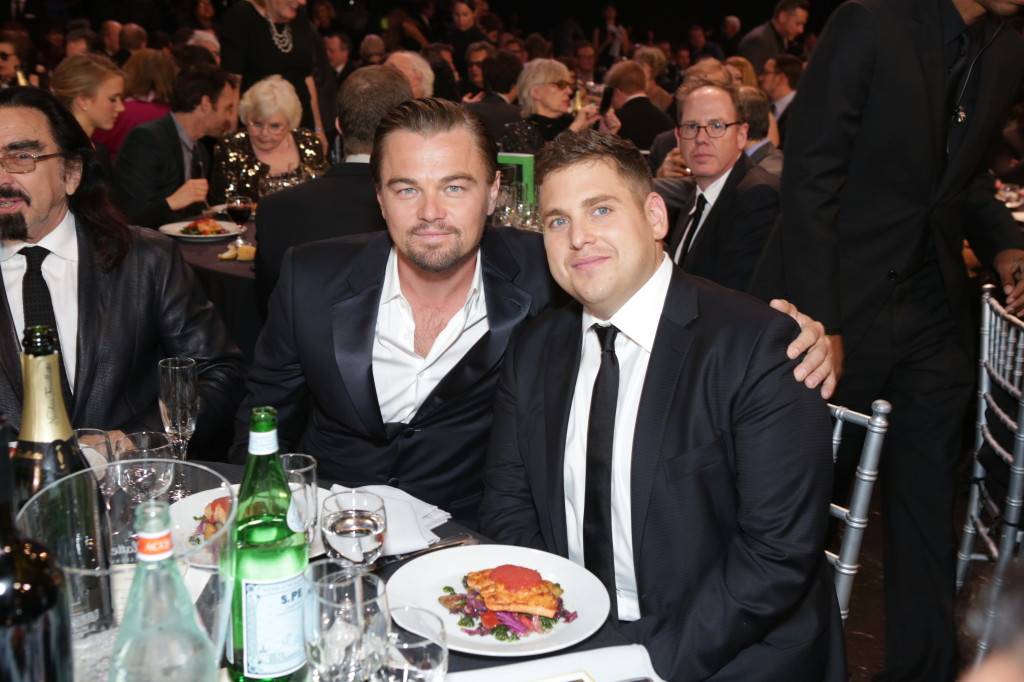 See the full list of winners below
Picture: "12 Years a Slave"
Actor: Matthew McConaughey, "Dallas Buyers Club"
Actress: Cate Blanchett, "Blue Jasmine"
Supporting actor: Jared Leto, "Dallas Buyers Club"
Supporting actress: Lupita Nyong'o, "12 Years a Slave"
Young Actor/Actress: Adele Exarchopoulos, "Blue Is The Warmest Color"
Acting Ensemble: "American Hustle"
Director: Alfonso Cuarón, "Gravity"
Original screenplay: Spike Jonze, "Her"
Adapted screenplay: John Ridley, "12 Years a Slave"
Cinematography: Emmanuel Lubezki, "Gravity"
Art direction: Catherine Martin (production designer), Beverley Dunn (set decorator), "The Great Gatsby"
Editing: Alfonso Cuarón and Mark Sanger, "Gravity"
Costume design: Catherine Martin, "The Great Gatsby"
Hair and makeup: "American Hustle"
Visual effects: "Gravity"
Animated feature: "Frozen"
Action movie: "Lone Survivor"
Actor in an action movie: Mark Wahlberg, "Lone Survivor"
Actress in an action movie: Sandra Bullock, "Gravity"
Comedy: "American Hustle"
Actor in a comedy: Leonardo DiCaprio, "The Wolf of Wall Street"
Actress in a comedy: Amy Adams, "American Hustle"
Sci-fi/horror movie: "Gravity"
Foreign language film: "Blue Is the Warmest Color"
Documentary feature: "20 Feet From Stardom"
Song: "Let It Go" Robert Lopez and Kristen Anderson-Lopez, "Frozen"
Score: Steven Price, "Gravity"
Like Haute Living Los Angeles? Join our Facebook page or follow us on Twitter @HauteLivingMag.
19th Annual Critics' Choice Movie Awards - Critics' Choice LOUIS XIII Genius Award
Ari Perilstein / Getty Images for LOUIS XIII
19th Annual Critics' Choice Movie Awards - Critics' Choice LOUIS XIII Genius Award
Ari Perilstein / Getty Images for LOUIS XIII
19th Annual Critics' Choice Movie Awards - Critics' Choice LOUIS XIII Genius Award
Ari Perilstein / Getty Images for LOUIS XIII
Champagne Nicolas Feuillatte at the Critics' Choice Movie Awards 2014
Getty Images
Champagne Nicolas Feuillatte at the Critics' Choice Movie Awards 2014
Getty Images
Brie Larson photo credit Lisa Rose
Getty Images
Critics' Choice Movie Awards 2014 VIP Reception
Getty Images
Critics' Choice Movie Awards 2014 VIP Reception
Getty Images
Champagne Nicolas Feuillatte at the Critics' Choice Movie Awards 2014
Getty Images
Champagne Nicolas Feuillatte at the Critics' Choice Movie Awards 2014
Getty Images
Champagne Nicolas Feuillatte at the Critics' Choice Movie Awards 2014
Getty Images
Champagne Nicolas Feuillatte at the Critics' Choice Movie Awards 2014
Getty Images
Meryl Streep photo credit lisa rose
Getty Images
Sam Rockwell Jeremy Renner Sophie Melisse Liam James
Getty Images
Critics' Choice Movie Awards 2014 VIP Reception
Getty Images
Seth_Rogan_wife
Getty Images
Critics Choice Movie Awards Barker Hanger 1/16/14 photo: Lisa Rose
Getty Images
Champagne Nicolas Feuillatte at the Critics' Choice Movie Awards 2014
Getty Images
Critics' Choice Movie Awards 2014 VIP Reception
Getty Images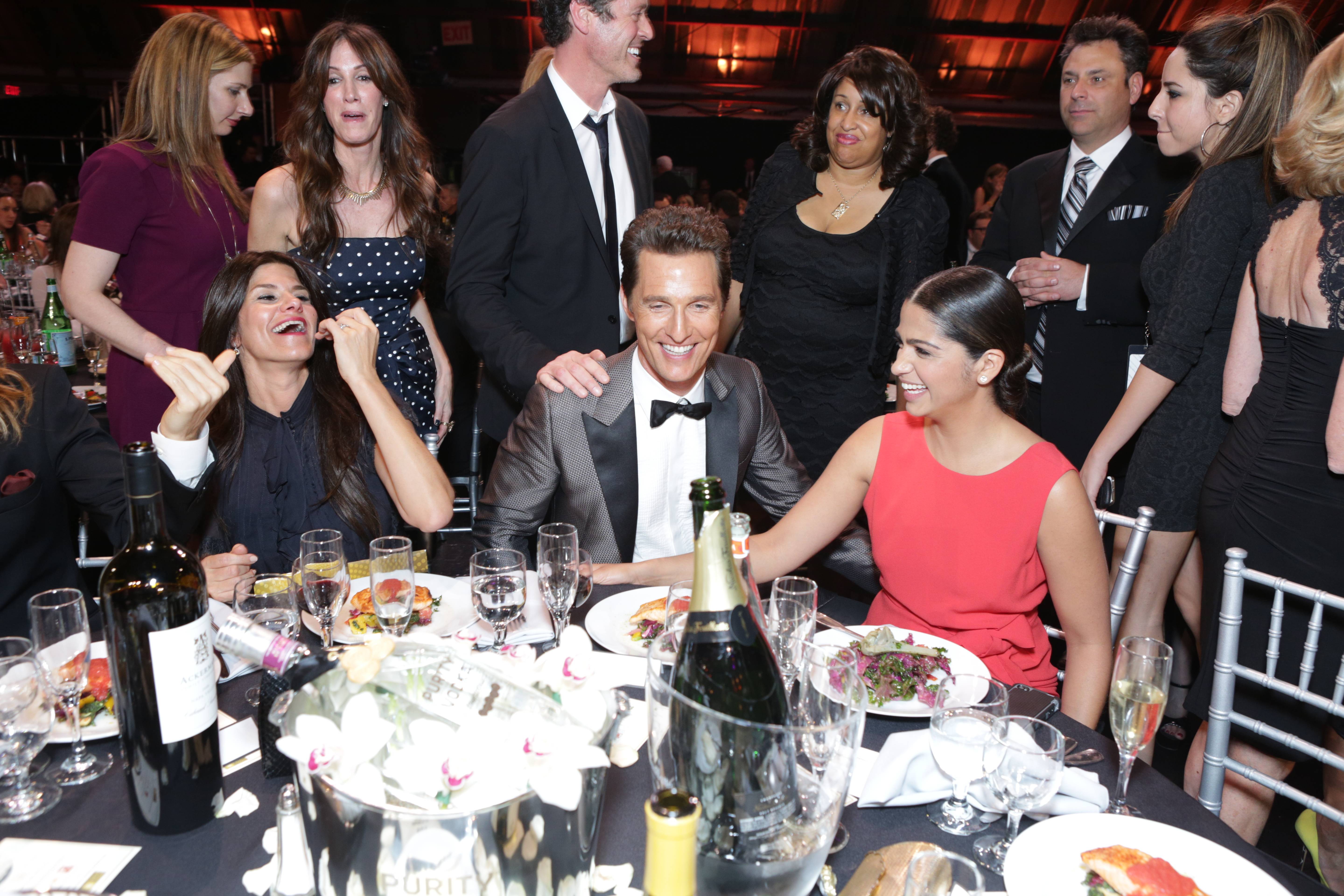 Champagne Nicolas Feuillatte at the Critics' Choice Movie Awards 2014
Getty Images
Champagne Nicolas Feuillatte at the Critics' Choice Movie Awards 2014
Getty Images
Critics' Choice Movie Awards 2014 VIP Reception
Getty Images
19th Annual Critics' Choice Movie Awards - Critics' Choice LOUIS XIII Genius Award
Photo by Ari Perilstein/Getty Images for LOUIS XIII
19th Annual Critics' Choice Movie Awards - Critics' Choice LOUIS XIII Genius Award
Photo by Ari Perilstein/Getty Images for LOUIS XIII
19th Annual Critics' Choice Movie Awards - Critics' Choice LOUIS XIII Genius Award
Photo by Ari Perilstein/Getty Images for LOUIS XIII
19th Annual Critics' Choice Movie Awards - Critics' Choice LOUIS XIII Genius Award
Photo by Ari Perilstein/Getty Images for LOUIS XIII
Subscribe to discover the best kept secrets in your city