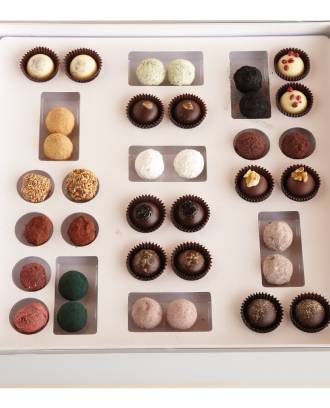 The Hunger Games: Catching Fire set a new Thanksgiving box office record with $110 million, and naturally, the craftiest of companies are capitalizing, as it will, on the success of the Capitol.
Haute chocolate company Vosges in particular has paid homage to the film's sweet success with a collection of bonbons created specifically for those who can't resist gobbling up everything they can pertaining to the Games.
According to the Vosges website, the $225 Capitol Truffle Collection is described as "a ritual of degustation" and has been "curated to guide your palate through opulence and ritual."
The 36 truffles are made in flavors like rosemary with pink peppercorn, coconut and banana rolled in coconut charcoal ash and candied walnuts rolled in cocoa powder.
Underneath the chocolates, there are 16 secret compartments offering vials of crushed violet petals, pearl dust, gold leaf and matcha tea are accompanied by detailed mixology instructions to create decadent libations. Trinkets and objects of desire dictate social rules and traditions.
Vosges also offers bars in tribute to the Lionsgate film's main characters: Katniss (Jennifer Lawrence), President Snow (Donald Sutherland) and Effie Trinket (Elizabeth Banks).
Like Haute Living Los Angeles? Join our Facebook page or follow us on Twitter @HauteLivingMag.
Focus Result 3_B, 8, 9
Image courtesy of Vosges
2013_june_vosges_hungergames 9333
Image courtesy of Vosges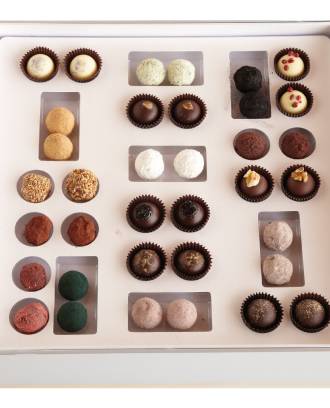 hg-36-truffles-in-box-all-truffles-Large
Image courtesy of Vosges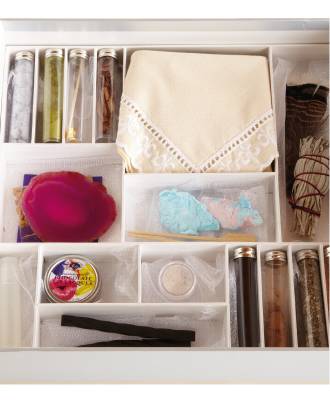 hg-36-count-bottom-tray-in-box-Large
Image courtesy of Vosges
KATNISS-FNL-01
Image courtesy of Vosges
SNOW-BAR-FNL-01
Image courtesy of Vosges
EFFIE-FNL-01
Image courtesy of Vosges