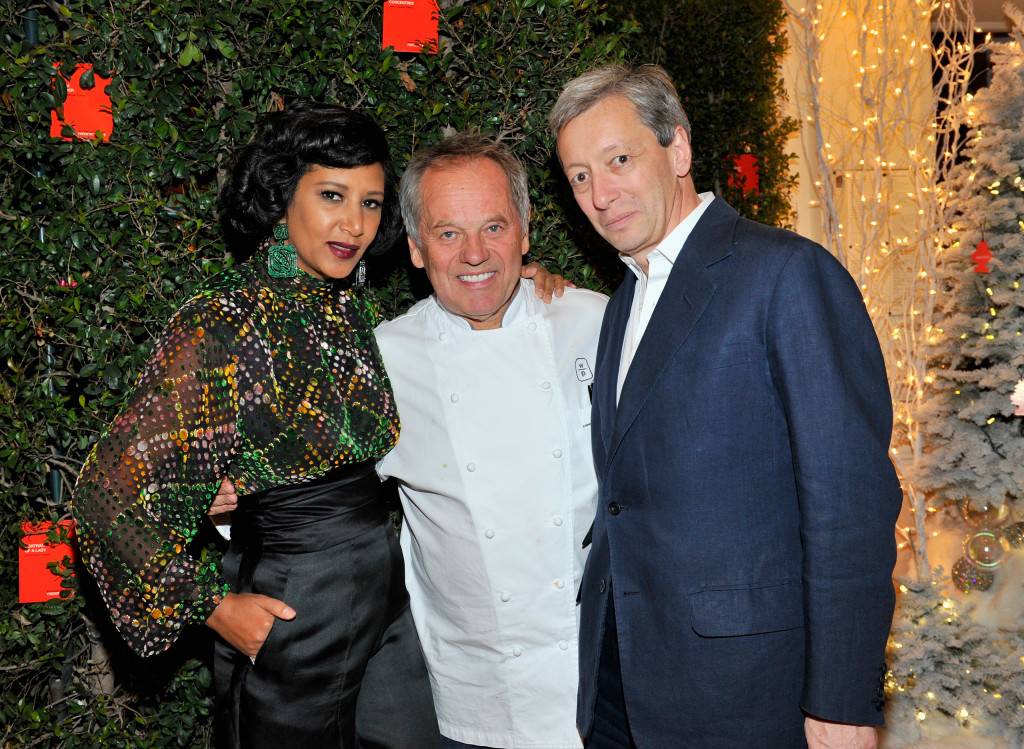 Barneys New York and Gelila Puck hosted a haute soiree for premiere perfumier Frédéric Malle in Los Angeles earlier this month.
Those from the art, fashion and design worlds came out to celebrate the fragrance master at Cut Sidebar, which is owned by Puck's husband Wolfgang. 
Attendees included Stephanie Danan + Justin Kern, Konstantin Kakanias, Bettina Korek, Tatiana Sorokko, Christina Zilber, Rosette Delug, China Chow, Anne Crawford, Waldo Fernandez, Larissa Sabadash, Liane and Richard Weintraub, Kathryn Ireland, Angelique Soave, Justin Melnick, Luba Troyanovsky, Kendall Conrad DA Wallach, Shiva Rose, Lauren Taschen and Kimberly Bini.
"Perfume publisher" Malle's latest fragrance (he has only released 20 since he began his career) was a collaboration with Belgian fashion designer Dries Van Noten.
Like Haute Living Los Angeles? Join our Facebook page or follow us on Twitter @HauteLivingMag.
Barneys New York & Gelila Puck Host A Private Dinner In Honor Of Frederic Malle
Credit: Donato Sardella
Barneys New York & Gelila Puck Host A Private Dinner In Honor Of Frederic Malle
Credit: Donato Sardella
Barneys New York & Gelila Puck Host A Private Dinner In Honor Of Frederic Malle
Credit: Donato Sardella
Barneys New York & Gelila Puck Host A Private Dinner In Honor Of Frederic Malle
Credit: Donato Sardella
Barneys New York & Gelila Puck Host A Private Dinner In Honor Of Frederic Malle
Credit: Donato Sardella
Barneys New York & Gelila Puck Host A Private Dinner In Honor Of Frederic Malle
Credit: Donato Sardella
Barneys New York & Gelila Puck Host A Private Dinner In Honor Of Frederic Malle
Credit: Donato Sardella
Barneys New York & Gelila Puck Host A Private Dinner In Honor Of Frederic Malle
Credit: Donato Sardella
Barneys New York & Gelila Puck Host A Private Dinner In Honor Of Frederic Malle
Credit: Donato Sardella
Barneys New York & Gelila Puck Host A Private Dinner In Honor Of Frederic Malle
Credit: Donato Sardella
Barneys New York & Gelila Puck Host A Private Dinner In Honor Of Frederic Malle
Credit: Donato Sardella
Barneys New York & Gelila Puck Host A Private Dinner In Honor Of Frederic Malle
Credit: Donato Sardella
Barneys New York & Gelila Puck Host A Private Dinner In Honor Of Frederic Malle
Credit: Donato Sardella
Barneys New York & Gelila Puck Host A Private Dinner In Honor Of Frederic Malle
Credit: Donato Sardella
Barneys New York & Gelila Puck Host A Private Dinner In Honor Of Frederic Malle
Credit: Donato Sardella
Barneys New York & Gelila Puck Host A Private Dinner In Honor Of Frederic Malle
Credit: Donato Sardella
Barneys New York & Gelila Puck Host A Private Dinner In Honor Of Frederic Malle
Credit: Donato Sardella
Barneys New York & Gelila Puck Host A Private Dinner In Honor Of Frederic Malle
Credit: Donato Sardella
Barneys New York & Gelila Puck Host A Private Dinner In Honor Of Frederic Malle
Credit: Donato Sardella
Subscribe to discover the best kept secrets in your city