PLAY
Calling all wine lovers! The Angelenos who consider themselves to be oenophiles, foodies or a mixture of both should look no further for a weekend getaway than northern California's Napa Valley. And what better weekend to get away from it all than one celebrating gourmet food and spectacular wine?If this sounds like your particular goblet of Chardonnay, then you must take a trip to the region for its sumptuous Flavor! Napa weekend.
Flavor! isn't for the masses.  It is an intimate event for VIPs with an average of 3500 people in attendance over the course of the five-day festival.  Flavor! was purposefully created to offer experiences that allow a much better connection to the culinary culture of the Napa Valley. Some are so private that eight attendees are allowed, while the number of folks allowed to attend the biggest evening, a culinary and wine tour of the Appellation Trail, was capped at 1000 guests.
Special featured events included a winemakers dinner with celebrity chefs like Todd English, Roy Choi, Larry Forgione, Jeffrey Jake, Masaharu Morimoto and Richard Reddington, a tasting to honor the life of Napa pioneer Robert Mondavi, a tasting provided by winemaking luminaries such as Jean Hoefliger, Shannon Staglin, Jeffrey Stambor, Charles Thomas and Cameron Vawter and a private tasting at Grgich Estates with winemaker Mike Grgich.
Other events included cooking demonstrations with Christopher Kostow, Scott Conant, Michael Chiarello, English, Choi and Morimoto, a retrospective tasting with Louis M. Martini heir Mike Martini and Terroir to Table events, where guests had many opportunities to get up close and personal with food and wine experts, many times learning during a hands-on experience. Highlights of said events included a "secrets" event with Napa's Model Bakery, a "Winemaker for a Day" blending at Raymond Vineyards, the "3 Beekeepers, 3 Chefs and a Winemaker" demonstration with the Napa Valley Bee Company, The Art of True Neapolitan Pizza and the Handmade at Oenotri cooking experience.
Those who were still learning to become oenophiles were offered the chance to do so as well with a two-day Wine Lovers boot camp.
Many of the events were held at the feted Culinary Institute of America at Greystone, while others were held at the Silverado Resort, Meritage Resort & Spa and Beringer Vineyards. Sponsors of the weekend included Merrill Lynch, Delta Airlines, Infiniti, Bing, Chase, Dean & Deluca and Whole Foods.
At the end of the day, Flavor! Napa is a completely haute kind of event. It's special, unique, private and only available to a limited number. It reflects all that Napa is and has to offer — amazing wine, fabulous food and very, very good company.
The best news? While you might have missed the 2013 festival, you still have time to pre-book tickets for next year's bacchanalia, which will be held from November 19-23 in 2014.
STAY
There are three — count 'em, three — places you must stay during the Flavor! weekend.
For an upscale, VIP experience, check in to the Meadowood in St. Helena. From the moment you drive up a tree-lined driveway to checking in with a glass of wine and eventually arriving at your room, you'll feel pampered and taken care of. Those who can afford to should check in to the property's priciest room, The Estate, a unit with luxurious two-person soaking tubs and separate showers, dual sinks, dressing vanities, full length mirrors and walk-in closets. While at the Meadowood you will also want to take advantage of its golf course, tennis courts, croquet court and award-winning spa.
For a completely romantic stay, we love the sweeping grounds of the Carneros Inn. This Plumpjack resort can easily feel like your home away from home (only better). There are two pools with hot tubs, a 3,000 square foot fitness center, yoga studio, bocce court and complimentary bicycles to use as well as complimentary fitness classes on weekends. The best amenity in our eyes is that the resort will whisk guests off to wineries in customized Audis. Bliss!
We also fell in love with the private and upscale Auberge du Soleil in Rutherford. You'll feel like you're in your own little remote corner of the world here, where days and nights pass by in a lovely haze of wine and gourmet food. There are wineries on the premises, as well as outdoor art installations, cozy rooms and tennis courts. We were most impressed at the thoughtfulness of its management, as every need was accounted for: from shaving kits to paper clips to skylit soaking tubs to complimentary snacks and beverages. We were also impressed by the Mercedes-Benz test drive program the resort offers. Who knows? You might just fall in love and make your next luxury car purchase!
WINE
It can be an impossible task to find the right winery for you in Napa (there are endless possibilities!) but some of our favorites include Opus One, Far Niente, Staglin, Robert Mondavi, Quintessa, Artesa, Cakebread Cellars, Silver Oak and Stag's Leap. The private tours at Opus One and Far Niente are among the best ways you can imagine spending an afternoon. If you have time outside of the Flavor! activities, we highly advise you treat yourself to a tasting.
DINE
If you haven't stuffed yourself silly after indulging in a three-course lunch with the likes of Todd English, make your way to Morimoto, a den of Japanese delicacies from sushi master Masaharu Morimoto, The Restaurant at Meadowood, a meal that can't be missed from three Michelin-starred chef Christopher Kostow, the award-winning Restaurant at Auberge du Soleil and, of course, the big daddy: Thomas Keller's The French Laundry. If you make your reservations now, you might just squeak in in time for next year's Flavor! festivities.

TRAVEL
With Napa as close as it is to California, we highly recommend you fly Delta and, upon arrival in San Francisco, San Jose or Sacramento, borrow or rent a Bentley GT Speed. Driving this sleek machine is like driving on air — though, at 205 mph and as the fastest production Bentley ever, "air" might not be the first comparison that comes to mind. This Bentley is the perfect fit for a weekend in Napa.  The elegant automobile's classic exterior matches its interior perfectly: think soft, supple diamond-quilted leathers, polished veneers and cool-touch metals. The touchscreen Infotainment system not only offers directions, but recommends "Personal Points of Interest", which, as any wine-lover touring Napa knows, is a necessity when trying to remember your favorite wineries. Trust us, the Bentley GT Speed drives like a dream — and is the perfect pairing for your ripe, rich and flavorful trip.
West Coast Meets East, courtesy of Flavor! Napa
Courtesy of Flavor! Napa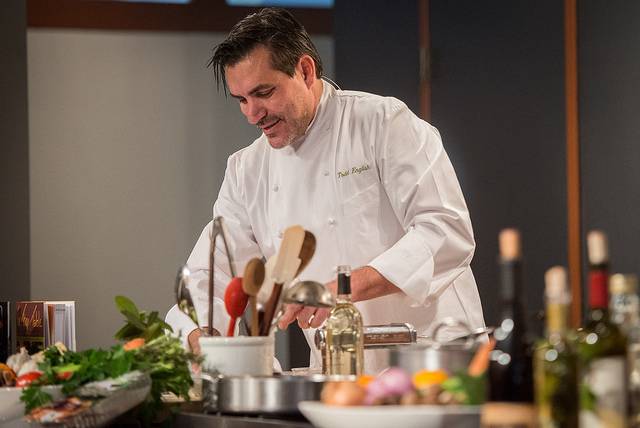 Interactive lunch with Todd English, courtesy of Flavor! Napa
Courtesy of Flavor! Napa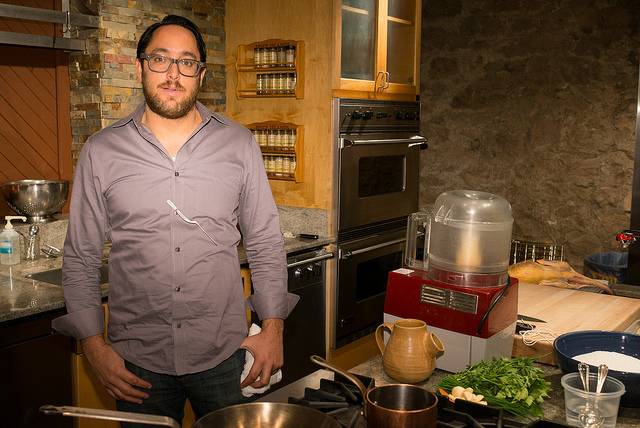 Culinary demonstration with christopher kostow, courtesy of Flavor! Napa
Courtesy of Flavor! Napa
Culinary Demonstration with Masaharu Morimoto, Courtesy of Flavor! Napa
Courtesy of Flavor! Napa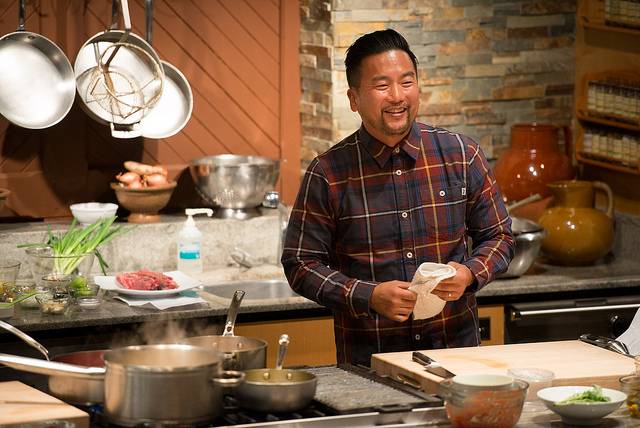 Culinary demonstration with Roy Choi courtesy of Flavor! Napa
Courtesy of Flavor! Napa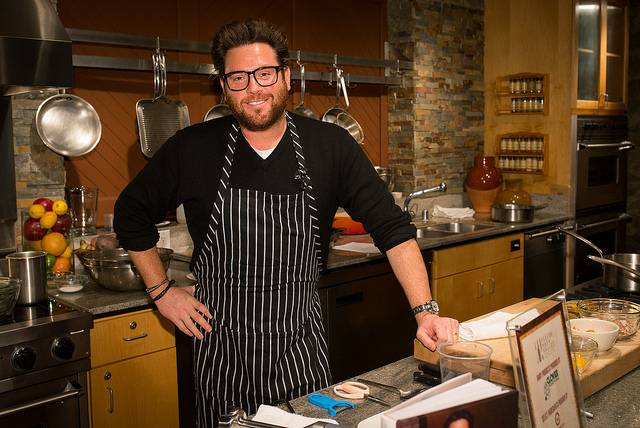 Culinary Demonstration with Scott Conant, courtesy of Flavor! Napa
Courtesy of Flavor! Napa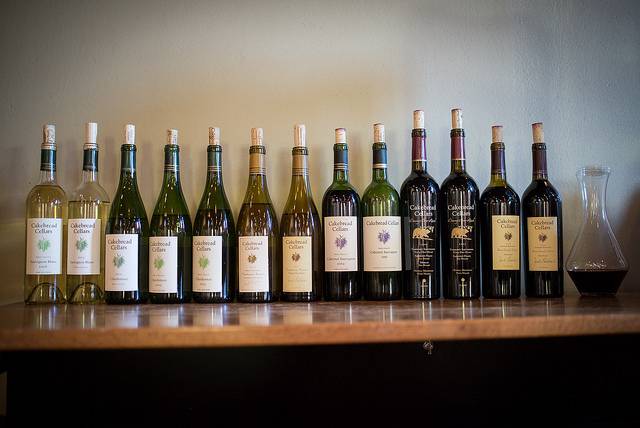 Cakebread Cellars Retrospective Tasting, Courtesy of Flavor! Napa
Courtesy of Flavor! Napa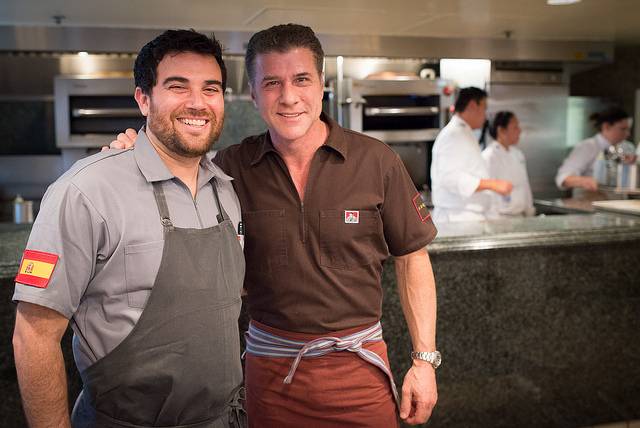 2013 Culinary Demonstration with Michael Chiarello & Ryan McIlwraith, courtesy of Flavor! Napa
Courtesy of Flavor! Napa
Welcome Dinner,
Courtesy of Flavor! Napa
Like Haute Living Los Angeles? Join our Facebook page or follow us on Twitter @HauteLivingMag.