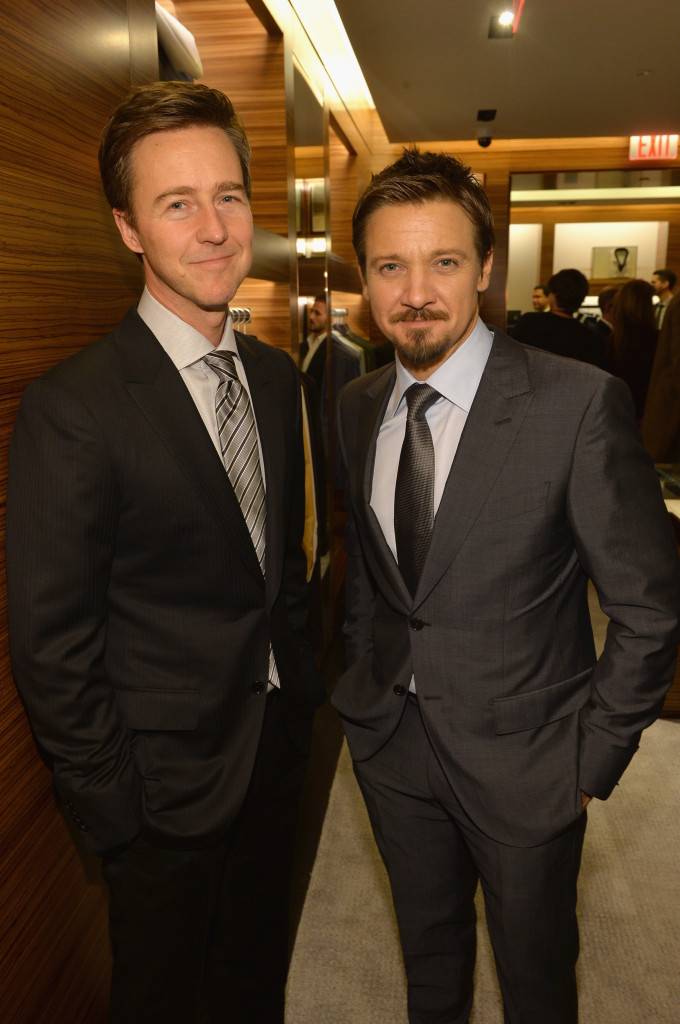 Ermenegildo Zegna threw a haute fete to celebrate the opening of its new global store on Rodeo Drive last week.
Stefano Pilati, Head of Design, also unveiled the luxury brand's latest collection exclusively at its new Beverly Hills boutique on the evening of Nov 7.
Those on hand to celebrate the grand opening included celebrities such as Gerard Butler, Edward Norton, Jeremy Renner, Sharon Stone and musician Gavin Rossdale. 
Additional guests included actors Jim Parsons, Joe Manganiello, Ed Weeks, Columbus Short, Ethan Peck, Clark Duke, Ben Feldman and Nathan Keyes, as well as model Annouck Lepere, singer Joe Jonas, Brad Goreski, George Kotsiopoulos, Decade's Cameron Silver, Balthazar & Rosetta Getty, Amanda Luttrell-Garrigus, Shiva Rose, designer Brigette Romanek, Brooke Davenport, Eric Buterbaugh, Zelda Williams, model and equestrian rider Hannah Selleck, CAA Agent Joel Lubin and publisher Lauren Taschen.
Gildo Zegna and Stefano Pilati hosted the soiree to showcase the new Peter Marino-designed store and showcase 10 new couture looks. Highlights of the collection include a wool and mohair suit separates, wool gabardine jackets, floral jacquard knits and "after six" looks which will remain in-store and available for purchase throughout the full Spring Summer 2014 season.
The evening continued as guests enjoyed a special exhibition and dinner at the JF Chen design gallery where they discovered the new Ermenegildo Zegna brand direction. Attendees then enjoyed cocktails and dinner in the lounge area while famed deejays Francois Benner in from Berlin and Konrad Black spun into the night.
Like Haute Living Los Angeles? Join our Facebook page or follow us on Twitter @HauteLivingMag.
Ermenegildo Zegna Global Store Opening Hosted By Gildo Zegna And Stefano Pilati
Getty Images
Ermenegildo Zegna Global Store Opening Hosted By Gildo Zegna And Stefano Pilati
Getty Images
Ermenegildo Zegna Global Store Opening Hosted By Gildo Zegna And Stefano Pilati
Getty Images
Ermenegildo Zegna Global Store Opening Hosted By Gildo Zegna And Stefano Pilati - Red Carpet
Getty Images
Ermenegildo Zegna Global Store Opening Hosted By Gildo Zegna And Stefano Pilati - Red Carpet
Getty Images
Ermenegildo Zegna Global Store Opening Hosted By Gildo Zegna And Stefano Pilati - Red Carpet
Getty Images
Ermenegildo Zegna Global Store Opening Hosted By Gildo Zegna And Stefano Pilati - Red Carpet
Getty Images
Ermenegildo Zegna Global Store Opening Hosted By Gildo Zegna And Stefano Pilati - Red Carpet
Getty Images
Ermenegildo Zegna Global Store Opening Hosted By Gildo Zegna And Stefano Pilati - Red Carpet
Getty Images
Ermenegildo Zegna Global Store Opening Hosted By Gildo Zegna And Stefano Pilati - Red Carpet
Getty Images
Ermenegildo Zegna Global Store Opening Hosted By Gildo Zegna And Stefano Pilati - Red Carpet
Getty Images
Ermenegildo Zegna Global Store Opening Hosted By Gildo Zegna And Stefano Pilati - Red Carpet
Getty Images
Ermenegildo Zegna Global Store Opening Hosted By Gildo Zegna And Stefano Pilati - Red Carpet
Getty Images
Ermenegildo Zegna Global Store Opening Hosted By Gildo Zegna And Stefano Pilati - Red Carpet
Getty Images
Ermenegildo Zegna Global Store Opening Hosted By Gildo Zegna And Stefano Pilati - Red Carpet
Getty Images
Ermenegildo Zegna Global Store Opening Hosted By Gildo Zegna And Stefano Pilati - Red Carpet
Getty Images
Ermenegildo Zegna Global Store Opening Hosted By Gildo Zegna And Stefano Pilati - Red Carpet
Getty Images
Ermenegildo Zegna Global Store Opening Hosted By Gildo Zegna And Stefano Pilati - Red Carpet
Getty Images
Ermenegildo Zegna Global Store Opening Hosted By Gildo Zegna And Stefano Pilati - Red Carpet
Getty Images
Ermenegildo Zegna Global Store Opening Hosted By Gildo Zegna And Stefano Pilati - Red Carpet
Getty Images