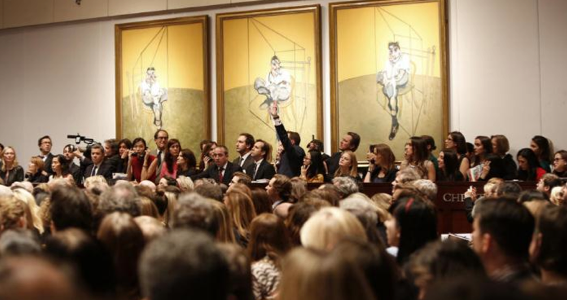 Christie's two-week sales series comprised of important impressionist, modern, post-war and contemporary art totaled $1,076,080,500. In addition to setting 16 new world records, the New York-based auction house sold three works for more than $50 million, 20 works more than $10 million and 129 works for more than $1 million.
"Art made headlines last week as the enthusiasm from clients was memorably demonstrated at the highest levels while also seen throughout the different sales," Steven P. Murphy, CEO of Christie's International, said in a statement. "After several months of exhibitions of the season's key highlights across the globe from London, Moscow, Hong Kong and Shanghai to New York, we welcomed over 11,000 visitors to our Rockefeller galleries during the public exhibitions."
The auction, which included registered bidders from 42 countries, featured valuable pieces such as Frank Stella's Mitered Squares, Francis Bacon's Three Studies Of Lucian Freud and Pablo Picasso's Mousquetaire.
"When works of art of true quality, great significance and by the most significant artists are curated and presented to collectors, the audiences at different levels for acquiring these works compete enthusiastically," he explained. "While we continue to see a broadening pool of clients who are able to participate at the highest levels above $20 million, we are also delighted to be welcoming many new collectors through our online-only sales, including the Picasso Ceramics sale and our ongoing Post-War & Contemporary sale, which have both been very well received, with a notable 99% sell through rate and 45% new visitors from 109 countries for the Picasso Ceramics sale."
Subscribe to discover the best kept secrets in your city