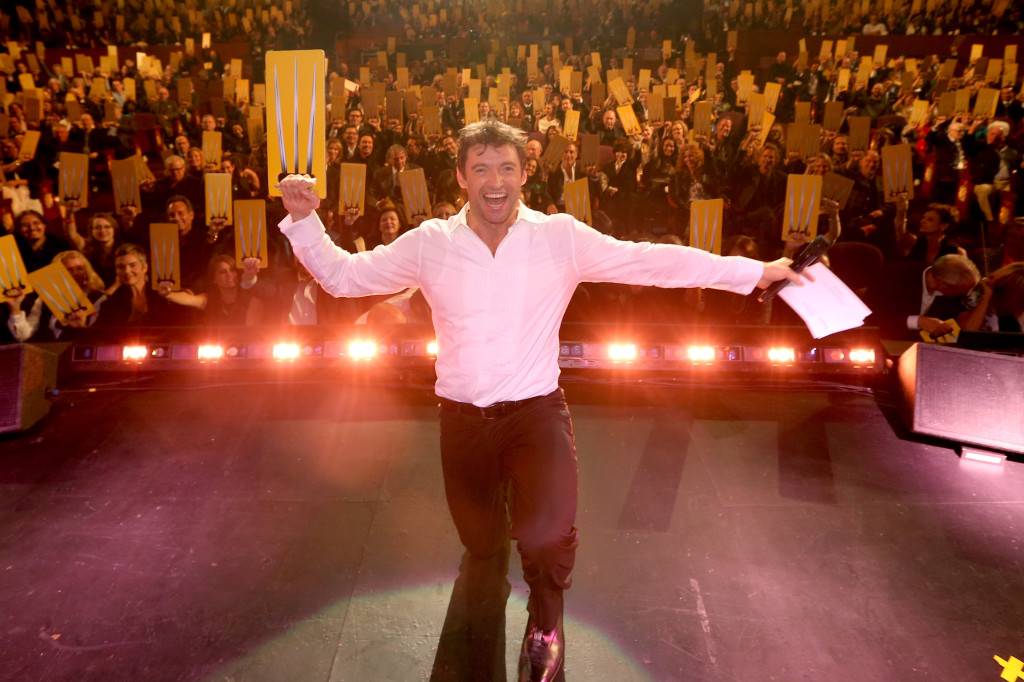 The hautest event of the weekend was a ticket to Hugh Jackman's one-man, one-night show, One Night Only.
The event was held at Los Angeles' Dolby Theater to benefit the Motion Picture & Television Fund (MPTF); it was co-chaired by Jim Gianopulos, Chairman and CEO, 20th Century Fox, and his wife Ann, longtime supporters of MPTF.
Using song and dance, Jackman shared with the audience stories about his life, and expressed the things most important to him to the 3,200 person audience.
He dedicated "The Way You Look Tonight," to his wife, Deborra-Lee, while a slide show of personal photos of the family played for the audience. Jackman sang "Right Here Waiting", a duet with friend Richard Marx, and performed Chicago's "Fever" while weaving through the theater to grab a hug from Cybill Shepard and dance with audience members.
The show ended with a performance of "Mack the Knife", whereupon his wife wheeled out a cake to celebrate Hugh's 45th birthday.  Audience members also enjoyed birthday cupcakes created by Wolfgang Puck.
Guests in the audience included Maria Bello, Darren Criss, Tom Cruise, Kristin Davis, Barry Diller, Baby Face, Terrence Howard,  Jeffrey Katzenberg, Michael Kors, Donna Langley, Steve Levitan, Olivia Munn, Carole Bayer Sager, Octavia Spencer and Diane Von Furstenberg.
After the surprise birthday celebration, the audience participated in a live auction to benefit MPTF with Wolverine claw auction paddles, which raised more than $1.85 million for the MPTF. Auction items included a Panerai watch, two Delta Air Lines and FOX "X Men: Days of Future Past" Premiere packages, three Dolby screening experiences, a jacket signed and worn by Jackman during the filming of "X-Men Origins: Wolverine", two shirts, literally, off of Jackman's back that night and signed, two sets of Wolverine claws Jackman wore during filming and a Fiat 500e vehicle, individually personalized by Jackman. VIP guests were then headed to an after-party at The Annex.
Like Haute Living Los Angeles? Join our Facebook page or follow us on Twitter @HauteLivingMag.
Hugh Jackman "One Night Only" Benefiting The MPTF (Motion Picture & Television Fund)
Getty Images
Hugh Jackman "One Night Only" Benefiting The MPTF (Motion Picture & Television Fund)
Getty Images
Hugh Jackman "One Night Only" Benefiting The MPTF (Motion Picture & Television Fund)
Getty Images
"Hugh Jackman... One Night Only" Benefiting MPTF
Getty Images
"Hugh Jackman... One Night Only" Benefiting MPTF
Getty Images
"Hugh Jackman... One Night Only" Benefiting MPTF
Getty Images
"Hugh Jackman... One Night Only" Benefiting MPTF
Getty Images