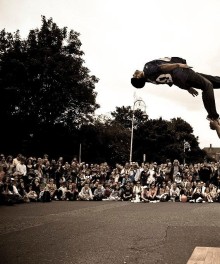 The Galleria on Al Maryah Island will become the stage for 21 specialist acts originating from countries including Argentina, Spain, England, Scotland, America, Canada and Australia. In partnership with the Abu Dhabi Culture and Tourism Authority and in celebration of the spirit of Eid Al Adha, the new-to-Abu Dhabi concept will offer visitors to The Galleria the chance to enjoy  dynamic 40-minute shows throughout the holiday.
Running daily between 15 and 17 October, the 21 street theater performances will enable local residents to acquire a glimpse of international theater acts from cities such as New York, Tampa, Toronto, and beyond.
A selection of the artists performing live over the three days includes London's Shandy South (comedy / mime), Rob Collins(comedy) and Kwabana (high-wire), Australian entertainers Benny B, Brucie Show and The Great Dave, Argentine comedy football legend, Victor Rubilo, the renowned illusionist Todd Various and Floridian dance troupe, USA Breakdancers.
The shows will take place daily from 16-20pm.
Subscribe to discover the best kept secrets in your city