Body English Nightclub & Afterhours at the Hard Rock Hotel kicked off on Friday night with Lucky Date, DJs From Mars, StoneBridge, The Partysquad and DJ Teenwolf as they turned up the bass at the DJ booth. Among the crowd, R&B singer Ray J and former professional basketball player Gary Payton were spotted at the nightclub.
Saturday night, Body English proved to be the city's hot spot as newlyweds Holly Madison and Pasquale Rotella were seen mingling with guests. Record producer Suge Knight and rapper Too Short were also at the nightclub as Destructo, Digitalism, Dash and DJ Shift spun at the turntables.
On Sunday, Rehab welcomed award-winning rapper Nelly to the city's hottest pool scene for an unforgettable hour-long performance. The music luminary had the crowd shaking their tailfeathers as he opened with his newest hit "Get Like Me" followed by "Country Grammar," "E.I.," "Air Forces Ones" and many more. During a special rendition of his hit song "Dilemma" featuring Kelly Rowland, Nelly pulled one lucky birthday girl onto the stage and serenaded her in front of the crowd. Rapper Tyga, hip-hop recording artist Pusha T and professional boxer Adrien Broner were spotted on stage dancing as Nelly took over Las Vegas' original dayclub.
Nelly continued to make it "hot in herre" as he hosted a meet and greet Sunday before hosting at Body English. Upon arriving to the nightclub, the hip-hop icon jumped on stage to thank his fans for coming out to support him before heading to his table where he partied with members of the St. Lunatics.
At Soundwaves poolside stage, Daddy Yankee and Baby Bash performed in honor of Mexican Independence Day. Baby Bash sang several of his popular hits including "Suga Suga," "Obsession" and "Cyclone," before Daddy Yankee brought down the house with "Lo Que Paso, Paso," "Rompe" and "Gasolina."
Inside The Joint, Carnival of Madness Tour rocked the house with Shinedown, Papa Roach, Skillet, In This Moment and We As Human. Mötley Crüe's bassist Nikki Sixx was spotted in the audience, where his band's second residency, Mötley Crüe Invites you to an Intimate Evening in Hell, kicks off this week on Wednesday.
Click on the photos below to enlarge.
Like Haute Living Las Vegas? Join our Facebook page or follow us on Twitter. Want Haute Living Las Vegas delivered to your in box once a week? Sign up for our newsletter.
09.15_Shinedown_Carnival of Madness Tour_The Joint_Photo Credit Chase Stevens
Chase Stevens/Erik Kabik Photography
09.15_Daddy Yankee_SOUNDWAVES_Photo Credit Wayne Posner
Wayne Posner/Erik Kabik Photography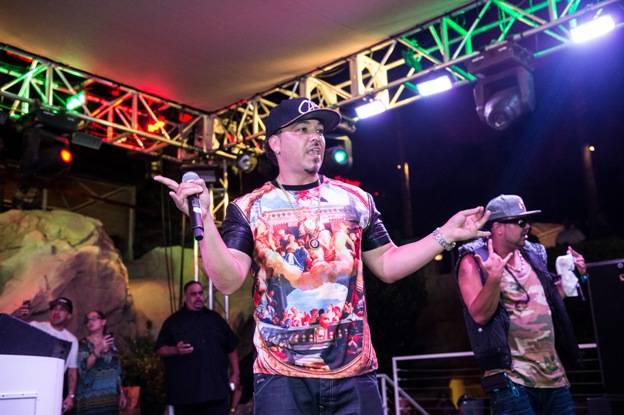 09.15_Baby Bash_SOUNDWAVES_Photo Credit Wayne Posner
Wayne Posner/Erik Kabik Photography
09.15_Papa Roach_Carnival of Madness Tour_The Joint_Photo Credit Chase Stevens
Chase Stevens/Erik Kabik Photography
09.15_Nelly_REHAB_Photo Credit Joey Ungerer
Nelly at Rehab. Photo: Joey Ungerer
Subscribe to discover the best kept secrets in your city