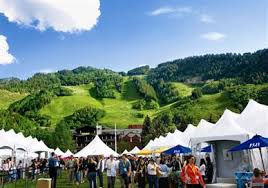 The big white tents are up in town parks, private jet parking is filling up at the airport and there's a hint of bubbly in the air; the 31st Food & Wine Classic is set for another year in Aspen. The three-day event officially kicks off on Friday, but satellite dinners and parties are already underway for the thousands of people in town ready to celebrate.
Over the weekend, June 14-16, there will be more than 80 cooking demonstrations and wine seminars, panel discussions, tasting events and the famed Grand Tasting Pavilion. Off-site, hotels, restaurants, corporate sponsors and friendly locals partake in a number of private events, all geared toward good food and tasty drink.
The Food & Wine Classic sold out in April, but there are still ways to enjoy the weekend without a pass:
• Sweet treats, creative cocktails and late-night snacks are only half the fun; host Gail Simmons brings chef Johnny Iuzzini to the Last Bite Dessert Party Friday, June 14 at the Hotel Jerome. Tickets are $125.
• Honoring 25 years of the Best New Chefs, guests will celebrate decades of visionary talent at 11,212 on top of Aspen Mountain at the Sundeck on Saturday. Join Best New Chefs John Besh, David Chang, and more, alongside creative cocktails and extraordinary wines. Tickets are $250.
• For a good start to an indulgent weekend, partake in the Celebrity Chef 5K Charity Run, to benefit Food & Wine's Grow for Good initiative. Race time is 7 a.m. on Friday, June 14. Registration is open at the Aspen Chamber Resort Association.