Sammy Hagar celebrated the third anniversary of his Cabo Wabo Cantina inside the Miracle Mile Shops at Planet Hollywood Resort with a free performance on Saturday night.

Hundreds of fans lined up in the early hours of the morning to get tickets to the standing room only show at the Strip-side cantina.
Hagar joined the house band from the flagship restaurant in Cabo San Lucas, Cabo UNO, right before 10 p.m.
After welcoming concertgoers to the anniversary celebration, Hagar launched into his hit, "I Can't Drive 55" as fans erupted in excitement.

Hagar attributed the success of his restaurant to the passion of his fans. "For Cabo Wabo to survive in Las Vegas on the Strip is because of y'all," Hagar said. "The Redheads rock this place.
"

With his performance projected on Miracle Mile's jumbo marquee for foot traffic on Las Vegas Boulevard, the Red Rocker kept the crowd pumped up for over an hour with songs including, "Mas Tequila," an acoustic rendition of "Eagles Fly" and the Van Halen single, "Why Can't This Be Love." 

Hagar concluded his performance by telling the crowd, "We're giving you the keys. This place is yours now."
Before the anniversary party, Hagar was seen at the cantina sipping on his famous Sammy's Beach Bar Rum, spending time with his wife Kari Hagar and mingling with fans.
Click on the photos below to enlarge.
Like Haute Living Las Vegas? Join our Facebook page or follow us on Twitter. Want Haute Living Las Vegas delivered to your in box once a week? Sign up for our newsletter.
Sammy Hagar Celebrates Las Vegas' Cabo Wabo Cantina's 3 Year Anniversary With Live Performance
Sammy Hagar and wife Kari Hagar before his performance at Cabo Wabo Cantina. Photos: Jeff Bottari/WireImage 
Sammy Hagar Celebrates Las Vegas' Cabo Wabo Cantina's 3 Year Anniversary With Live Performance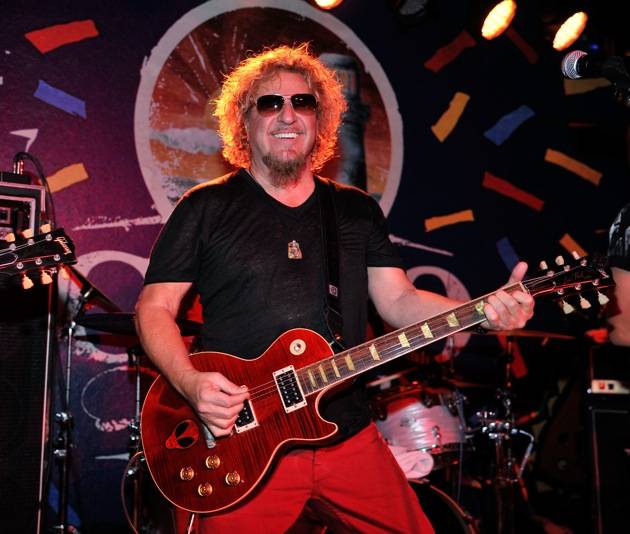 Sammy Hagar Celebrates Las Vegas' Cabo Wabo Cantina's 3 Year Anniversary With Live Performance
Sammy Hagar Celebrates Las Vegas' Cabo Wabo Cantina's 3 Year Anniversary With Live Performance