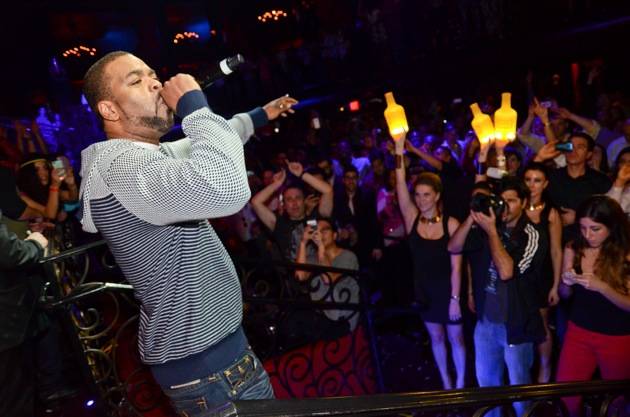 Legendary rapper, record producer and actor Method Man delivered an incredible performance at LAX Nightclub inside Luxor on Saturday night. After entering the nightclub just after 1 a.m. looking casual in a striped-zip up hoodie, sporting a fresh white T-shirt and premium edition Jordan high-tops, guests caught their first glimpse of the iconic rap star as he made his grand entrance shaking hands and acknowledging his admirers. Staying true to his laid-back persona, Method Man settled in with his entourage at his VIP booth located on the main stage, taking in the sights of the packed mega-club.
Just before 2 a.m. he got on the mic and greeted his fans inviting them to take it back to the '90s. Treating his devotees to a live mini-concert, the former Wu-Tang Clan member started his energetic performance by having the crowd chant "Wu-Tang, Wu-Tang, Wu-Tang" along with him. Before he began his first song, the artist made sure to give everyone an up close and personal experience, breaking through the Hennessy lit crowd to then make his way to the platform near the main stage to kick-off the first verse of "Grid Iron Rap" from his second studio album Judgement Day.  His set also included favorites such as "Bring The Pain" and "Ice Cream." Method Man signaled to DJ Wellman to pause the song to address the crowd for a second time asking, "All the 'fellas' in the house to make some noise," and then again to focus on the females in the club by admitting, "It's not a party without all the ladies." This perfectly led into his energetic fourth song "All I Need" and teasing the crowd that he had time for one more song.  The mega-club roared when he concluded his set with one of his most well-known collaborated tracks with rapper Redman "Da Rockwilder."
The rapper thanked the partygoers and ended on a high note, flashing his pearly whites to his fans and headed back to his VIP table to pose for photos and sip on champagne.
Coming straight from their highly anticipated fight weekend, taking in the bird's eye view of the performance on the second story of LAX was American flyweight mixed martial artist Ian "Uncle Creepy" McCall and Nigerian lightweight mixed martial artist Anthony "The Assassin" Njokuani. Also found partying within the star-packed crowd and only a table away on the main stage from Method Man, were NFL mega-stars Brandon Bostick and Jarrett Boykin from the Green Bay Packers. Joining in on the camaraderie was defensive back Eddie Whitley from the Philadelphia Eagles.
Click on the photos below to enlarge.
Like Haute Living Las Vegas? Join our Facebook page or follow us on Twitter. Want Haute Living Las Vegas delivered to your in box once a week? Sign up for our newsletter.