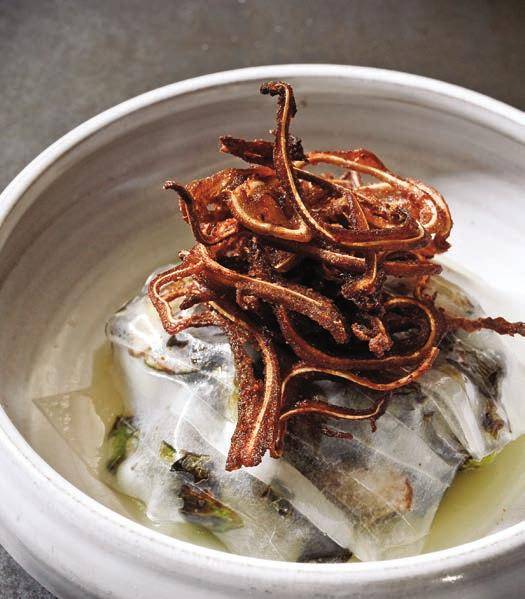 INK.
8360 MELROSE AVENUE
LOS ANGELES, CA 90069
(323) 651-5866
AMBIANCE
Vintage cool. With its mixture of concrete, wood and steel, as well as its charcoal and grey color scheme, Ink. is a hip, clean and artistic place to eat.
WHAT TO ORDER
Make sure to try Michael Voltaggio's Pork Belly, seasoned with charcoal oil, BBQ flavor and corn, as well as the Brussels Sprouts with lardo, pig ears and apple.
WHO COMES HERE
A cool crowd that includes restaurateurs like Gordon Ramsay, Danny Meyers and Tom Colicchio, as well as celebrities like David Beckham and Aziz Ansari.
SWEET TOOTH
Those who adore apple pie should try out Ink.'s apple dessert with its mouth-watering mix of caramel, walnut and burnt wood ice cream.
BACO MERCAT
408 SOUTH MAIN STREET
LOS ANGELES, CA 90013
(213) 687-8808
AMBIANCE
Baco Mercat embodies classic urban elegance, especially given that it's located in Downtown LA's historic Old Bank district.
WHAT TO ORDER
You'll be dying to eat your greens after tasting Chef Josef Centeno's Sugar Snap & Pear Salad with grapefruit, burrata, dill and walnut, as well as his wonderful Charred Octopus with English peas.
WHO COMES HERE
A mixture of artists, young business professionals and bohemian foodies.
SWEET TOOTH
You will want to savor the sweet Banana Rice Pudding with caramel. The combination of bananas, al dente rice, caramel, whipped cream and crunchy chocolate cookie crumbs is so amazing you might just need two orders.
PICCA
9575 WEST PICO BOULEVARD
LOS ANGELES, CA 90035
(310) 277-0133
AMBIANCE
Picca caters to everyone: there are marble-topped bars for the low-key luxury lover, communal tables and proper table dining for the more traditional restaurant goer.
WHAT TO ORDER
Try Chef Ricardo Zarate's eclectic blend of Peruvianinspired food including the Albacore and Seabass Ceviches or the Locro de Quinoa, a quinoa pumpkin stew topped with fried egg, parmesan cheese and tomato.
WHO COMES HERE
Anyone who's heard the buzz about Picca's to-die-for dishes which is, to say, all of Los Angeles! "Slumdog Millionaire" co-stars and couple Freida Pinto and Dev Patel were also spotted dining here.
SWEET TOOTH
The made-to-order churros are divine.
MELISSE
1104 WILSHIRE BOULEVARD
SANTA MONICA, CA 90401
(310) 395-0881
AMBIANCE
True elegance and state of the art service; this may just be the classiest meal you'll have in Los Angeles.
WHAT TO ORDER
The Lobster Bolognese, Black Truffles and Basil, Causa Albacore with garlic chip and ceviche sauce, Soft Poached Egg and American Osetra Caviar are among the eatery's most popular dishes.
WHO COMES HERE
Neil Patrick Harris, Jamie Lee Curtis, George Clooney and Luis Miguel are among Melisse's celebrity patrons.
SWEET TOOTH
Cocoa lovers should embrace the Chocolate Chocolate Chocolate, a combination plate of coffee flan, chocolate bon bons and a decadent chocolate soufflé.