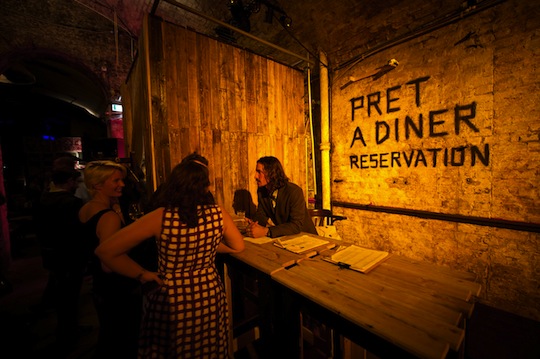 Pret a Diner, the group which brought London the Minotaur at The Old Vic Tunnels and Italians Do It Better at 50 St James's Street, have launched The Burlington Social Club, London's first pop-up private members club. The Burlington Social Club has been set up in the posh Senate Rooms at the Royal Academy of Arts, where private guests can enjoy Michelin-starred dining and an array of innovative cocktails. Pret a Diner announced that there will be a special emphasis on mixology at this latest venue, and indeed some of the best mixologists from across Europe have been flown in to take part.
But it won't be all about food and drink – for the first time in history, the Royal Academy will showcase works from all of the academy's current artist members. Contemporary artist Olivia Steele was tapped as creative director, with works by a plethora of artists including Tracy Emin, Antony Gormley, Grayson Perry, Frank Gehry and Cindy Sherman, to name a few.
Come to try the imaginative cocktails – including the 'Coquetier', an eggshell filled with rum, pimento, chocolate, Bitter's, PX, protein and cinnamon – and the delectable cuisine, stay for the award-winning art on display. One thing's for sure – you'll be back for more. The Burlington Social Club is on now at the Royal Academy of Arts and runs until November 17.
Monday – Saturday: 7PM – 12:30AM
Sunday: Closed, except October 14 when the Club will be open for the Frieze Art Fair.
Royal Academy of Arts
Burlington House
London W1J 0BD
For more information please visit www.pretadiner.com. Featured image courtesy Zagat Blog.