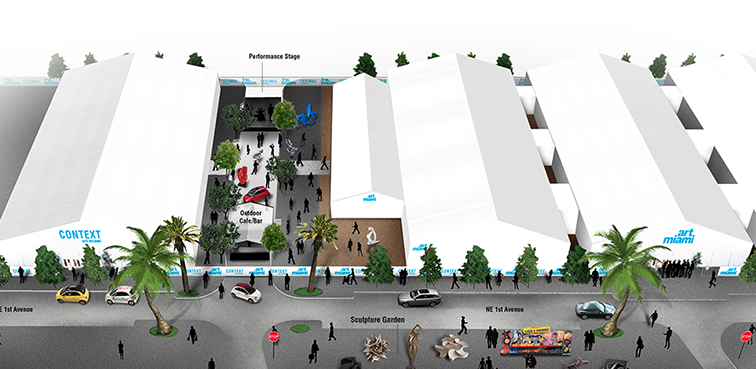 Haute Living is proud to be the official magazine sponsor of CONTEXT Art Miami, Miami's newest cutting-edge, contemporary art fair and sister fair to Art Miami. The fair will launch with a VIP Private Preview on Tuesday, Dec. 4, 2012, benefiting the Miami Art Museum, coinciding with the 23rd edition of Art Miami, and will feature a curated group of 65 international galleries representing exceptional emerging and mid-career artists, including solo artist installations, immersive environments, curated projects and multimedia exhibits in a state-of-the-art, 45,000 square-foot pavilion directly adjacent to Art Miami.
CONTEXT Art Miami will also have the privilege of featuring seven Berlin-based contemporary galleries that have been selected by a panel of expert curators and art critics. "ART FROM BERLIN," presented by the Galleries Association of Berlin (LVBG), is officially supported by the State of Berlin and the European Union (EU) and will feature the Berlin Lounge, presented by Haus am Waldsee. This marks the first joint presentation of Berlin galleries that will showcase the works of Christine Rusche, Christine Klatt, Franziska Klotz, Levke Leiss, Sussane Ring, Inka and Niclas, and Eva Bertram.
With the combination of Art Miami's 125 exhibiting galleries and CONTEXT's 65 exhibiting galleries, the Wynwood Arts District will be transformed into a mini art city, featuring 190 galleries from 21 countries within 250,000 square feet of curated indoor and outdoor exhibition space.
For more information, go to: http://www.contextartmiami.com/