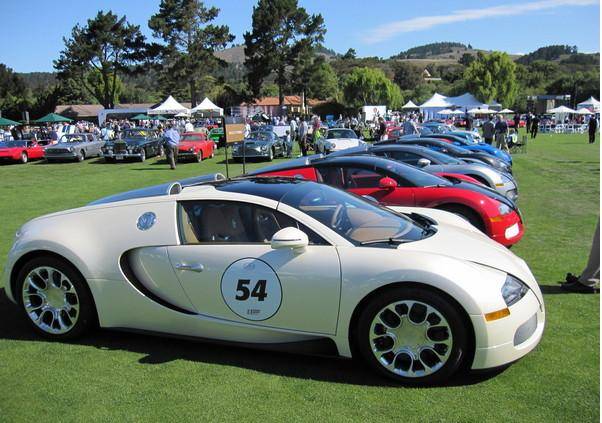 Second only to Pebble Beach Concourse d'Elegance for prominence during Monterey Car Week, but First in terms of panache and exclusivity, The Quail is an event never to be missed during Monterey Car Week, that is if you can get one of the 3,000 tickets that were priced at $450 and sold out within hours.  Most of the attendees have been going for years and just renew their purchases in advance.
This year, The Quail paid tribute to the 50th anniversary of Iso Automobili, with Piero Rivolta, author, former managing director and designer of Iso Rivolta, sharing the rich heritage of the Italian automobile manufacturer as part of The Quail's popular Fireside Chat series. Rivolta's own 1968 Iso Rivolta GT led an impressive collection of 27 Iso motorcars in celebration of the automaker's 50th anniversary
With exquisite gourmet food and wine which includes martini, tequila bars, a Cristal station, espresso counters, gelaterias and other unexpected epicurean delights like freshly shucked oysters and caviar on blinis, Quail is an event enjoyed by the epicurean and the automotive enthusiast.  But let's not forget about those private aviation addicts.  It's no coincidence that many of the attendees were clients to Flexjet or Clearjet and the large Bombardier installation by Flexjets was much appreciated.
But the focal point of The Quail will always be the extraordinary automobiles on display.  Some examples of the new guard from this year are the McLaren X-1 created by the brand's Special Operations team on commission for an anonymous McLaren customer, the one-of-a-kind super car made its first public appearance, the first U.S. delivery of the Koenigsegg Agera (whose owner was elated to be able to take it out for a spin around Carmel), a 1939 Bugatti Type 64, one of just three built by the French carmaker before the death of Jean Bugatti in 1939,  a 2013 Aston Martin Vanquish made its North American debut, and the Lamborghini Urus, the Italian marque's new concept SUV made its first U.S. showing.
And to be invited to show at Quail is no small feat.  But to win is a marquee on your car forever.  The Best of Show at the Quail Motorsports Gathering 2012 was awarded to the 1930 Bentley 4 1/2 Liter Supercharged Gurney Nutting Two Seat Roadster owned by Robert Lee. The car is a one-off, built for the Chairman of Bentley Motors Limited at the time, Captain Woolf Barnato. Constructed as a race car that never raced, the Bentley has been lovingly preserved and restored throughout time. "It feels great. To win something like this is very difficult and there is a lot of work that goes into it," said Lee.
Looking forward to next year, we anticipate an even more fantastic event since the Quail Lodge Golf Club announced plans to re-open the resort's 90-room hotel in April 2013.  I'd start trying to book now.
Subscribe to discover the best kept secrets in your city