Some of your favorite celebrities have been tweeting up a storm and it's all for a good cause! Sukitz a unique line of lollipops designed to promote health and well being has started a Twitter war amongst celebrities.
Actress Rachel Heller is a big fan of this chic new lollipop and so is Lance Bass! The Twitterthon is a competition designed to allow celebrities to raise money for their favorite charity through the sales of lollipops. Celebrities are tweeting during a span of 72 hours in attempts to raise the most funds through the purchases of their dedicated fans and followers. The winner will donate the dollar amount of their earnings to their charity of choice.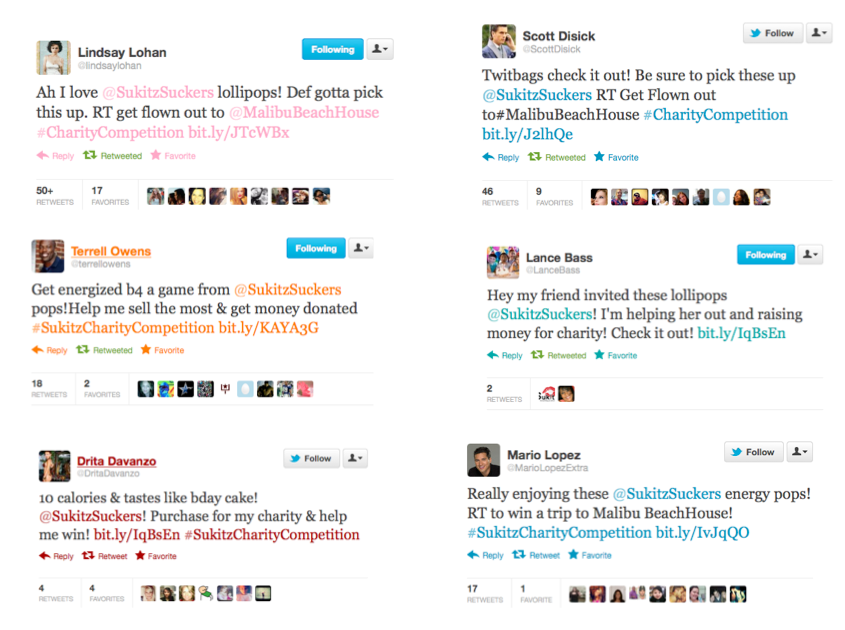 Sukitz isn't only donating to charity with the help of it's celebrity friends but it is also giving the stars loyal fans a chance to win a trip to an elite private celebrity gifting suite hosted by Talent Resources. The person who re-tweets the competition the most and aids their favorite star in raising funds will be flown out to a Malibu Beach house where they will snag swanky swag and hang with some of todays most notable stars. Other celebrities partaking in the competition are Supermodel Kelly Bensimon, Drita D'avanzo, Terrell Owens, Kenny Hamilton, Rachel Heller, Lance Bance and more!
Sukitz carries two unique candy product lines: Get Hyped – a delicious line of all-natural suckers designed to boost energy on-the-go, and Get Thin – a line of sugar-free pops made with WellTrim®, the first clinically proven neutraceutical designed specifically to promote healthy weight management, enhance your mood and support metabolic wellness as a way to crunch your cravings. For more information on Sukitz visit www.sukitz.com!
Subscribe to discover the best kept secrets in your city