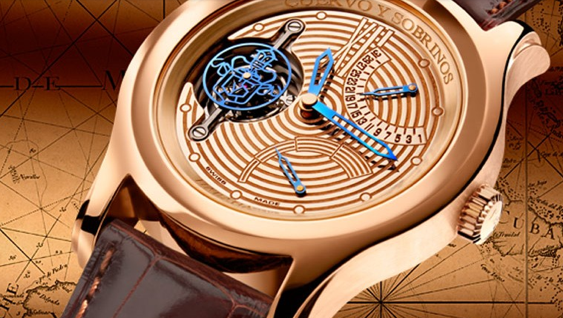 At Basel World, Haute Time had the opportunity to sit down with Marzio Villa, President of Cuervo y Sobrinos timepieces and take an exclusive look at four of his amazing timepieces.
The first piece was a beautiful tourbillon watch. While almost every luxury watch brand has a tourbillon in their collection, Cuervo y Sobrinos wanted to do something a little different. The Cuervo y Sobrinos "Robusto Tourbillon" is considered by many watch experts to be one of the world's most complicated mechanisms. It is limited to just 30 pieces and priced at $120,000 Swiss Francs.
The next watch we discussed was a gorgeous ladies timepiece. The ""Pirata" resembles the shape of a cannon and there are diamonds throughout the entire timepiece. It's absolutely gorgeous and very unique. Marzio Villa also showed me a very interesting watch, one with no hands. Part of the Espléndidos collection, the timepiece has two rotors and two discs and is exquisitely hand made.
Check out the exclusive video on HauteTime.com to see all the incredible Cuervo y Sobrino timepieces and get an inside look at my meeting with the brand's president Marzio Villa at Basel World.
Like Haute Time? Join our Facebook page or follow us on Twitter @hautetime.
Subscribe to discover the best kept secrets in your city