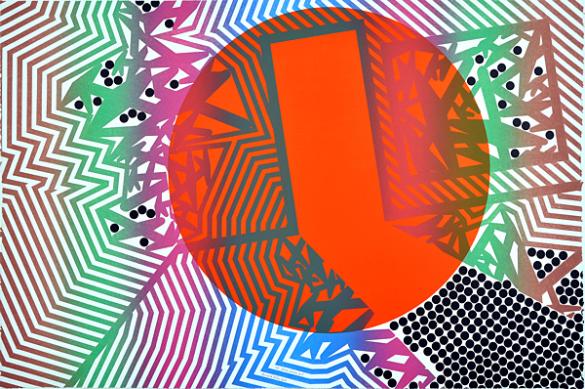 Bernard Cohen was born in 1933 London, his upbringing was surrounded by a world searching for reconstruction and a sense of lost identity, a baby of the "lost generation."
Things were changing in the art world as well, artists such as Rothko, Pollock and de Kooning turned their back on the past movements and created a new style: Abstract Expressionism.  Abstract Expressionism is in the eye of the beholder, paintings largely composed of lines and colors can be interpreted differently for each person.
A Cohen painting consists of layered colorful angular lines and sporadic circles, which seem to have no "real" deepness to them.  But of course the longer and the deeper you stare into an abstract painting, the more it seems to pierce your soul and a light bulb turns on, voila this painting means something!
Now my interpretation will, possibly, greatly differ from yours, Cohen's print "Place Game V"-from his exhibit, "Place Games" at Flowers, which is currently on display until April 21- looks like a Japanese flag that took an acid trip and walked into a cloud of confetti.
If that description seems like something that you would want to see more of, Bernard Cohen's newest exhibit is worth checking out.
For more information you can go to Flowers' website.
Like Haute Living London? Join our Facebook page or follow us on Twitter @HauteLivingUK. Want Haute Living London delivered to your inbox once a week? Sign up for our newsletter.
Source: Londonist
Subscribe to discover the best kept secrets in your city