Leona Lewis, Angela Simmons and Aimee Teegarden dined at Sugar Factory American Brasserie at Paris Las Vegas Saturday night.
Lewis and Simmons held court at a center table as the stunning duo noshed on mussels mariniere, Ahi tuna sliders and Mediterranean salads. Following dinner, the songstress indulged in a colossal cookie jar ice cream sundae. Rev Run's daughter, sporting a Nurielle dress, sipped on a larger-than-life White Gummi goblet throughout the night. Before departing, Simmons requested a dozen Couture Pops to hand out to her friends that evening.
Teegarden arrived with a group of close friends and headed straight to the flagship Sugar Factory retail store to sample her favorite sweets. The "Friday Night Lights" beauty loved the sour gummy peaches and chocolate-covered cashews, and picked up a watermelon-flavored  Pink Champagne Couture Pop for the evening. For dinner, Teegarden nibbled on macaroni and cheese pops and sipped on a Fluffer Nutter milkshake, made with peanut butter, creamy vanilla ice cream and marshmallow fluff.
Click on the photos below to enlarge.
Like Haute Living Las Vegas? Join our Facebook page or follow us on Twitter. Want Haute Living Las Vegas delivered to your in box once a week? Sign up for our newsletter.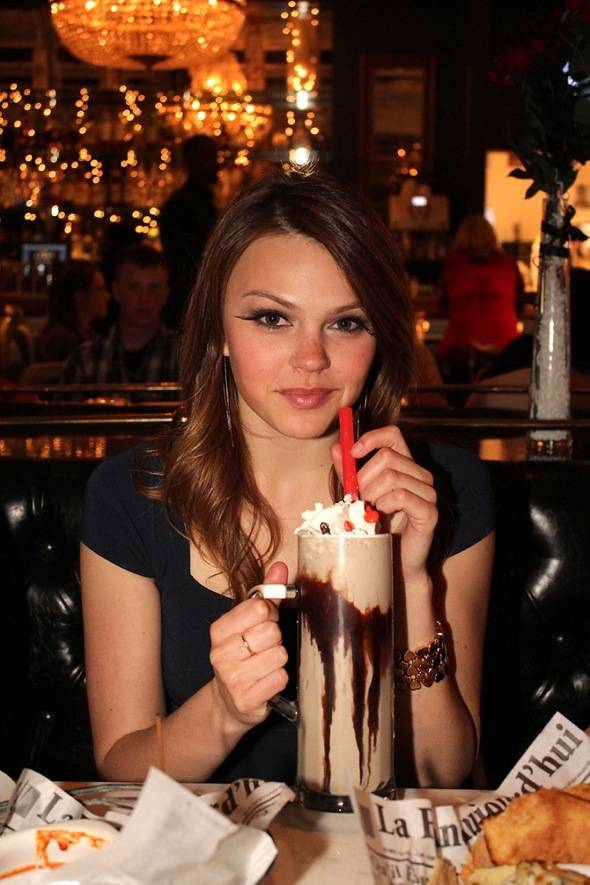 Aimee Teegarden_milkshake
Aimee Teegarden with a Fluffer Nutter milkshake at Sugar Factory American Brasserie at Paris Las Vegas. Photo by Ed Graff
138485353DT016_Angela_Simmo
Angela Simmons indulges in red velvet and cookie jar ice cream sundaes at Sugar Factory American Brasserie at Paris Las Vegas. Photo by Denise Truscel…
138485353DT014_Angela_Simmo
Angela Simmons with a signature Sugar Factory Couture Pop. Photo by Denise Truscello/WireImage
138485353DT012_Angela_Simmo
Angela Simmons sips on a White Gummi goblet cocktail at Sugar Factory American Brasserie at Paris Las Vegas. Photo by Denise Truscello/WireImage
138485353DT004_Angela_Simmo
Aimee Teegarden with a signature Sugar Factory Couture Pop. Photo by Denise Truscello/WireImage
138485353DT001_Angela_Simmo
Aimee Teegarden stocks up on sweets at the flagship Sugar Factory retail store at Paris Las Vegas. Photo by Denise Truscello/WireImage