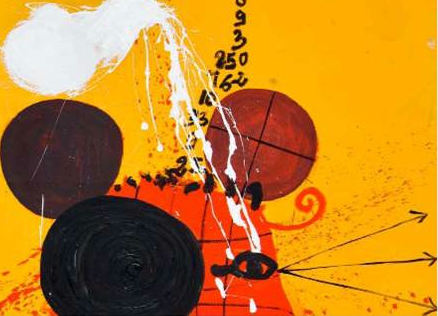 On February 7th, I attended the opening of  Ouattara Watts: Vertigo presented by Vladimir Restoin Roitfeld. The exhibition opening was celebrated with an intimate dinner at ACME, supported by Kanon Vodka. The exhibition will run through February 19, 2012.
Guests at the exhibition opening included Salman Rushdie, Carine Roitfeld, Serge Azria, Giovanna Battaglia,  Diane von Furstenberg, Brice Marden, Richard DuPont, Stellan Holm, Tom Sachs, Alba Clemente, Philip Taaffe, Eve Therond, PC Valmorbida, Dustin Yellin, Chiara Clemente, Nemo Librizzi, Nicola Vassell,  John Newsom, Christian Viveros Faune, Stefano Tonchi,  Christian Rattemeyer, Waris Ahluwalia, Demet Muftuoglu-Eseli, Cay Sophie Rabinowitz, Isaach de Bankole,  Jon Neidich, Jean-Marc Houmard, Nick Jones, Shala Monroque, Tony Arcabascio, Sante D'Orazio, Julia Restoin Roitfeld, Eddie Borgo, Zani Gugelmann, Genevieve Jones,  Johan Lindeberg, Elisa Sednaoui,   Rachel Roy, Lily Kwong, Richie Rich, Fabiola Beracasa , Glenn O'Brien, Attilio Brillembourg,  Stavros Niarchos, Caroline Sieber, Virginie Courtin, Claire Courtin, Todd English, Hamilton Fish, Nina Flohr, Nicky Hilton, Lily Kwong, Daniel Hesidence, Mauro Nicoletti, Sam Orlofsky, Jane Holzer, Michael Phelan, Francesco Maccapani Missoni, Pietro Quaglia, Ann Dexter-Jones,  Jessica Hart, Vivi Nevo, Eugenie Niarchos, Lucrezia Buti, Victor Calderone, Jazzy de Lisser,  Simone Leigh, Alex Von Furstenberg, Tico Mugrabi, Seth Campbell, Julio Santo Domingo, Ben Watts, Jimmy Traboulsi, Gherardo Guarducci, Lily Donaldson, Keith & Inga Rubenstein, Jennifer Brill, Yigal Azrouel.
It was a great event that Nadine Johnson put together which we followed up with a visit to Le Baron, and Uptown where the Tisch family celebrated the Giants win. Then it was off to the after party at 1 OAK with the team.
Like Haute Living New York? Join our Facebook page or follow us on Twitter @HauteLivingNY. Want Haute Living New York delivered to your inbox once a week? Sign up for our newsletter.