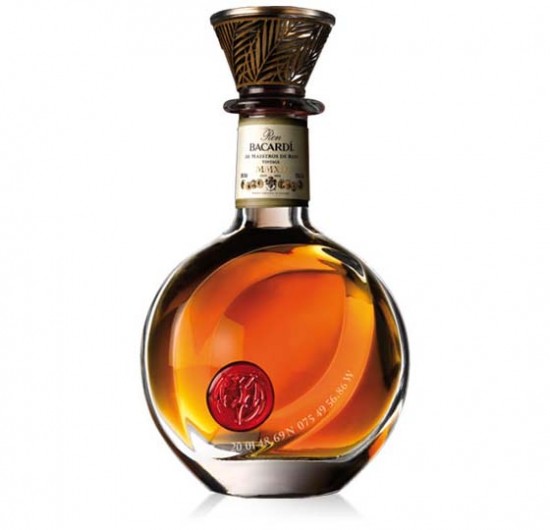 If you wake up in Davey Jones' locker this year theirs a reason why, blame Bacardi.  The Caribbean rum turns 150 this year and in honor of that milestone, Bacardi is throwing bashes all over the world.  As well as hosting parties throughout the year, Bacardi developed a limited edition decanter of rare rum.
Glassed in a 500ml crystal decanter and aged in cognac barrels for 20 years, 400 bottles of Ron Bacardi de Maestros de Ron, Vintage, MMXII will be sold at select international airports and premium retail spaces around the world.  You may have to hoist a black flag and search for a hidden treasure to buy these limited edition bottles though, each one is priced at a cool $2,000.
Creating a pricey bottle of rum is not the only highlight of Bacardi's anniversary.  Bacardi is throwing parties around the world in cities like Berlin, Miami, London, Shanghai, Indianapolis and scores more.  The first such party will be in Berlin on Jan. 28, following a Canada tour, which starts on Feb. 1.  After that Bacardi parties around the world stopping in the United States, Europe and the Middle East.
Rolling Stone will help Bacardi kick things off in the United States on Feb. 4, a day before the Super Bowl, in Indianapolis.  So if you like Pina Colada's- and getting caught in the rain- these parties are perfect for you, Bacardi will feature historical drinks made over a hundred years ago including the Cuba Libra, Mojito and, of course, the Pina Colada.  Along with the party tour, Bacardi has teemed up with tastemakers in cities all over the world who are hosting their own private events in celebration of the Rum's birthday.
Founded by Don Facundo Bacardi Masso in 1862, Bacardi's first distillery was in Santiago de Cuba, Cuba.  The company moved its headquarters out of Cuba following the Cuban Revolution and set up shop in Hamilton Bermuda.  Bacardi is famed for its smooth spiced rum.
Bacardi is throwing many more promotions this year and all of the events can be found on Bacardi's official Facebook page at www.facebook.com/Bacardi.
Source: The Wall Street Journal