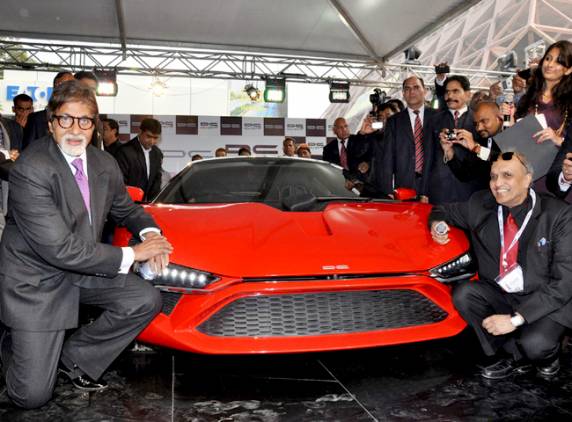 Known for avant-garde custom designs to Aston Martins, Renaults and GM to name a few, the India based company, DC Design, has stepped out of the automotive design world and into car manufacturing with the DC Design Avanti.
Unveiled by Bollywood superstar Amitabh Bachchan at the 2012 Delhi Auto Expo in New Dehli on Jan. 5, the DC Avanti was praised as India's first supercar and put India on the map as an automobile manufacturing nation.
The DC Avanti is a sleek two-seater sports car that looks like the child of a Ferrari and an Audi if they were to mechanically mate.  Although it is an original design by DC Design's Dilip Chhabria, the car features parts from other car companies as well, like the four-cylinder engine from Ford.
DC Design plans on releasing 300 of the cars by early 2013, and if demand is high for more, by 2014, that number could go up to four figures.  At a cool $56,000 the cost is moderate for India's luxury sport car.
Source: Car Advice
Photo Source : Deccan Chronicle
Like Haute Living Asia? Join our Facebook page or follow us on Twitter @HauteLivingMag. Want Haute Living Asia deliver to your inbox once a week? Sign up for our newsletter.