All eyes were on Britney Spears and Jason Trawick last night when they celebrated their engagement and Trawick's 40th birthday at Sugar Factory American Brasserie and Chateau Nightclub & Gardens at Paris Las Vegas.
Spears, glowing in the wake of her engagement, wore a skin-tight blush-colored dress showcasing her hourglass frame. Trawick, dressed for the occasion in a stylish gray suit with a vest, looked adoringly at his soon-to-be bride throughout the evening.
Her engagement ring, a befitting bauble for the gorgeous pop princess, shone brightly from her left hand. The stunning round-cut engagement ring from Neil Lane was impossible to miss.
Spears and Trawick canoodled and laughed with each other in a secluded corner of Sugar Factory's luxurious Chocolate Lounge, joined by their friends and family, reveling in the brand new chapter of their lives together. The blonde bride-to-be couldn't keep her eyes off of her brand new sparkler as she put her hand out in front of her and gave her man kisses throughout the meal.
Spears, Trawick and a group of friends started the meal with a toast to the lovely couple. For dinner, the lovebirds shared Sugar Factory American Brasserie's salmon and array of pizza, including the popular chocolate pizza. Dining in the Chocolate Lounge wouldn't have been complete without a decadent dessert and Sugar Factory pulled out all the stops for the darling duo. Spears and Trawick playfully enjoyed sharing treats dipped in an oversized chocolate fountain, the centerpiece of an elaborate dessert display of cupcakes, gumdrops and other indulgences.
As a special birthday treat for her beau, Spears walked with Trawick through Sugar Factory's retail area after dinner, picking out sweet treats for each other and goodies for the boys that included the too-cute boys' T-shirts for Sean and Jayden. Spears loved the store's apparel, as she picked out for herself the "I Want Candy" tunics and tanks, Sugar Factory signature jeans and couture pops. The sweethearts also made sure to snag sweets like M&Ms, Reese's Peanut Butter Cups, Hershey's Kisses and Blow Pops.
Surrounded by a group of 30, Trawick and Spears went upstairs to Chateau after dinner, where thousands of fans cheered and shouted congratulations for Spears and Trawick when they entered the club.
Spears and Trawick happily chatted with friends and greeted fans in the club, occasionally sneaking away to enjoy some private time together.
Still, Spears had a special surprise for her man. As the LED flashed "Happy Birthday, Jason," Spears presented her new fiance with a two-tier black and white birthday cake from Gimme Some Sugar with "Happy Birthday Jason" displayed across the decadent red velvet cake, Trawick's favorite.
Trawick and Spears clearly enjoyed their escape together, laughing and smiling with each other and friends as the newly engaged couple were seen dancing up a storm late into the night at the stylish club.
Click on the photos below to enlarge.
Like Haute Living Las Vegas? Join our Facebook page or follow us on Twitter. Want Haute Living Las Vegas delivered to your in box once a week? Sign up for our newsletter.
Jason shares a kiss with bride-to-be
Jason Trawick shares a kiss with bride-to-be Britney Spears after she presents him with his birthday cake from Gimme Some Sugar at Chateau Nightclub…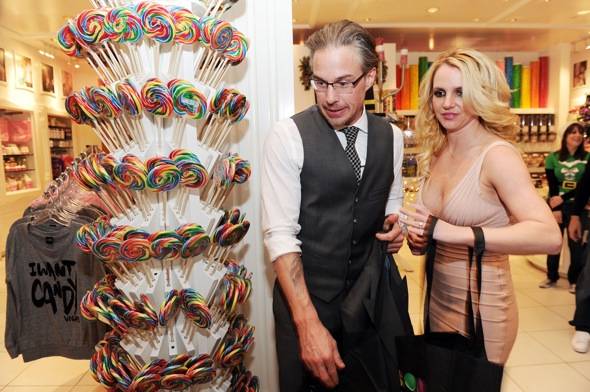 Jason and Britney pick out goodies for her sons at Sugar Factory
Jason Trawick and Britney Spears pick out goodies for her sons at Sugar Factory.
Britney Spears round-cut engagement ring from Neil Lane
Britney Spears' round-cut engagement ring from Neil Lane.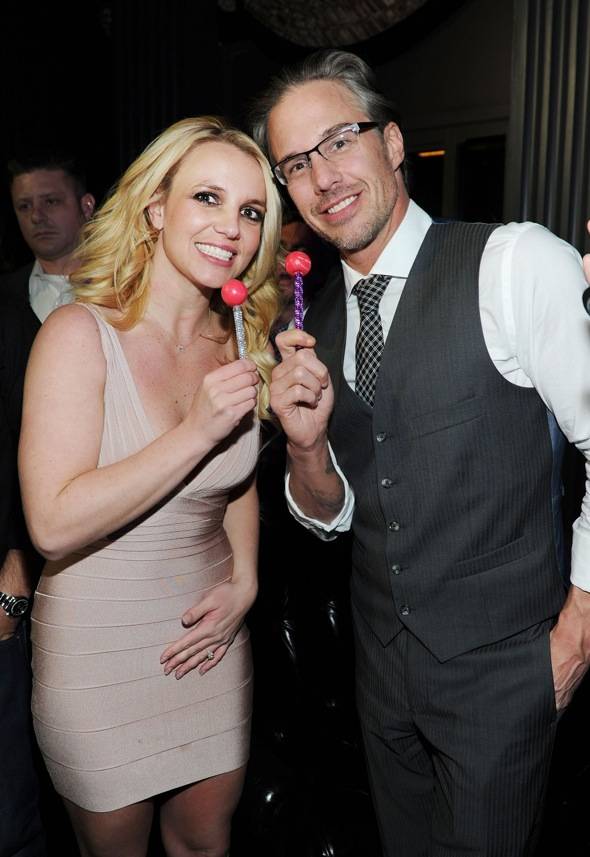 Britney and Jason with matching Sugar Factory couture pops
Britney Spears and Jason Trawick pose with matching couture pops from Sugar Factory.
Britney and Jason share a laugh at Chateau
Britney Spears and Jason Trawick.