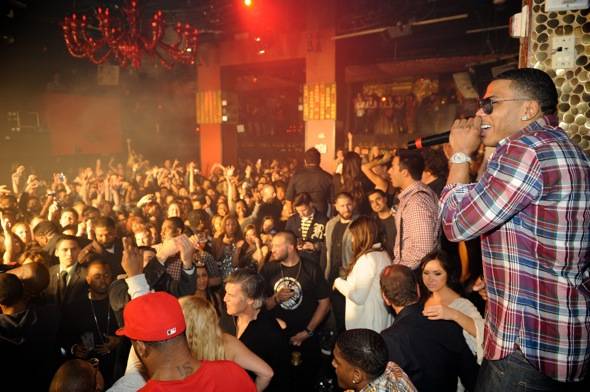 On Saturday, Nelly celebrated part two of his birthday weekend as the host of Tao's Post Fight party at the Venetian. The Grammy award winner and his party enjoyed Tao's signature dishes including crispy shrimp, wok sirloin, sea bass and Kung Pao chicken in the restaurant before making their way to the nightclub.
Nelly first dropped in the deejay booth to greet the crowd before he joined his friends at a VIP table on the dance floor. He thanked everyone for being there saying, "Shout out to Tao, who always shows Nelly love." He then went to greet Red Sox player Carl Crawford's at his table since the two had become friends the previous night at Marquee.
Confetti rained over the nightclub as Nelly was surprised with a cake and a special rendition of Happy Birthday by the crowd. DJ Vice laid down the beat with some of Nelly's hottest tracks including "Ride Wit Me," "Grillz" and his newest single. The club went wild when Nelly gave an impromptu performance of "Hot in Herre." The Southern rapper then asked the crowd to help him with his verse on "Where Da Party At" exclaiming, "I know Tao got me."
Nelly got on the microphone several times throughout the night to greet fans. He even stopped in the DJ booth a second time. The celebration lasted late into the night as DJ Vice took party-goers through a timeline of Nelly's biggest hits.
At Lavo at the Plazzo, Ron Artest, aka Metta World Peace, celebrated his birthday as the host of the Post-Fight Baller's Ball. After taking some photos on the red carpet, the Lakers player was joined in the restaurant by family and friends. The party dined on specialty dishes sent by the chef before making their way to a VIP table in the nightclub. Artest was surprised with a cake and partied the night away to the sounds of the DJ.
At Marquee at the Cosomopolitan of Las Vegas, NFL star Shawne Merriman was spotted with friends on the dance floor checking out the sounds of Kaskade. Dallas Mavericks star DeShawn Stevenson and Chicago Bull's Kurt Thomas enjoyed their night in the Boombox Room. Also, Holly Madison made a late night stop at the club.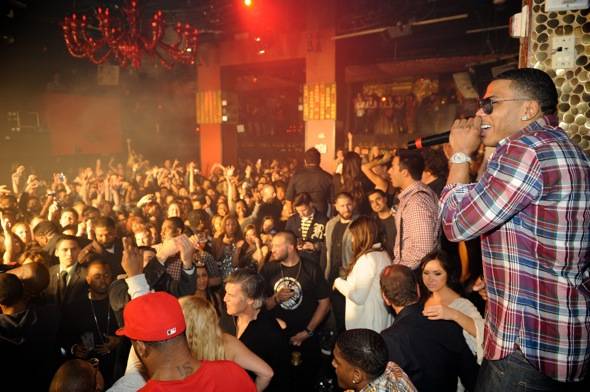 Nelly making a shout out at Tao 11.12.11
Nelly makes a shout out to the crowd at Tao.
Nelly full length at Tao carpet 11.12.11
Nelly walks the red carpet at Tao.
Nelly close up at Tao carpet 11.12.11
Nelly walks the red carpet at Tao.
Nelly at Tao 11.12.11
Nelly continues his birthday celebration at Tao.
Nelly and DJ Vice at Tao 11.12.11
DJ Vice and Nelly at Tao.
Nelly and cake at Tao 11.12.11
Nelly gets a swanky birthday cake at Tao.