Cali Swag District, the group responsible for teaching America how to "Dougie," took over Chateau Nightclub & Gardens at Paris Las Vegas for lead singer Smoove Da General's 21st birthday, while Samantha Ronson spun on the ones and twos Friday night.
The CSD trio walked the red carpet and celebrated Smoove's big 2-1 Sin City style as they posed for photographers while fans begged the boys to teach them how to "Dougie." Ronson, dressed casually for her night as the music mix master, joined the crew on the red carpet before heading into the club for her monthly appearance.
Once inside, Ronson spun a mix tailored to the CSD boys and Chateau's energetic crowd. The birthday boy and his crew took over the club's spacious VIP section as they celebrated with shots of Patron and drank champagne with friends and family. After getting situated, Smoove hopped into the DJ booth to sing along to "Turn My Swag On" and "I'm On One," telling the crowd, "It's my birthday and I'm only getting older, so somebody should have told ya."
Around 2 a.m., the Chateau cocktail waitresses presented Smoove with a three-tiered birthday cake, complete with a blinged out gold chain and Smoove's name.
Also celebrating a belated birthday at the Parisian nightclub was the resident deejay herself. French maid cocktail servers fanned Ronson with black and white ostrich feathers and presented the shocked deejay with a three-tiered cake shaped like a record with "Happy Birthday, Samantha" written across the front.
Later in the night, Cali Swag District pleased the crowd as they sang "Back It Up and Dump It" and "Kickback" as well as their Billboard Top 100 hit "Teach Me How to Dougie." All three singers balanced on the railing of Chateau's deejay booth as they sang to a packed house of screaming fans. As CSD singer Yung jumped into the crowd to shake hands with fans, Smoove told the audience, "I celebrated my 20th birthday in Vegas last year but it was nothing like this."
Click on the photos below to enlarge.
Like Haute Living Las Vegas? Join our Facebook page or follow us on Twitter. Want Haute Living Las Vegas delivered to your in box once a week? Sign up for our newsletter.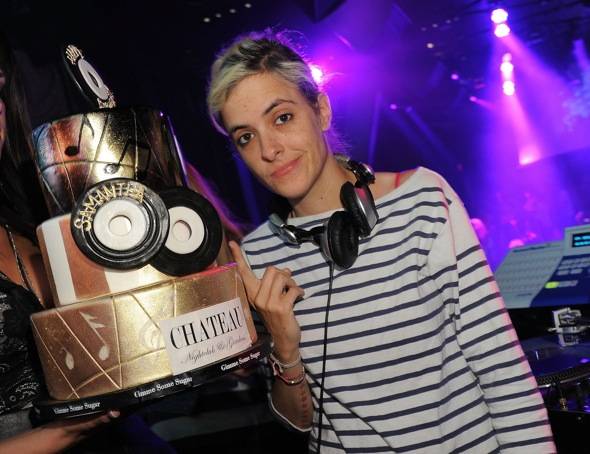 121665474AW031_Cali_Swag_Di
Samantha Ronson with her birthday cake at Chateau Nightclub & Gardens.
121665474AW017_Cali_Swag_Di
Cali Swag District walks Chateau Nightclub & Garden's red carpet.
121665474AW015_Cali_Swag_Di
Samantha Ronson walks Chateau Nightclub & Garden's red carpet.
121665474AW010_Cali_Swag_Di
Cali Swag District performs live at Chateau Nightclub & Gardens.
121665474AW001_Cali_Swag_Di
Cali Swag District celebrates Smoove Da General's birthday at Chateau Nightclub & Gardens.