Yesterday, donned in scarves made by Opportunity Village, the "Official Elvis of Las Vegas" Jesse Garon and MobileMinister.com Elvis Roland August kicked off the For the Love of Art fund-raiser at Fremont Street Experience put on by Flightlinez zipline ride and benefitting Opportunity Village. The event featured the beautiful scarves made by Opportunity Village along with baked goods from their culinary program. Emergency Arts also provided artwork for sale and had demonstrations by live artists throughout the day.
In the late '60s Elvis Presley's manager, Colonel Parker, came to Opportunity Village for a tour and noticed that the workers in the Employment Resource Center were working on sewing contracts. Colonel Parker then contracted the charity to sew all of Elvis' scarves that he would kiss and throw out to his audience. Opportunity Village soon became the "official manufacturer of the Elvis Presley Scarves."
Every scarf that Elvis gave away from stage came from Opportunity Village and were shipped to Elvis across the world. Elvis himself even visited the charity. Additionally, Opportunity Village made all of the "Elvis Live at the Hilton" promotional buttons and the ribbons that were on the hound dogs sold at the Elvis performances and in his gift shop at the Las Vegas Hilton.
The Art Enrichment Program at Opportunity Village, makes scarves using silk as a medium for artistic expression and their many special artists have created beautiful scarves at Opportunity Village ever since.
The event with Flightlinez hosted more than a thousand riders and raised just under $20,000 for the charity. Flightlinez has been hosting monthly charitable events since February, giving back more than $125,000 to local charities.
Click on the photos below to enlarge.
Like Haute Living Las Vegas? Join our Facebook page or follow us on Twitter. Want Haute Living Las Vegas delivered to your in box once a week? Sign up for our newsletter.
OV fly
A citizen of Opportunity Village ziplines.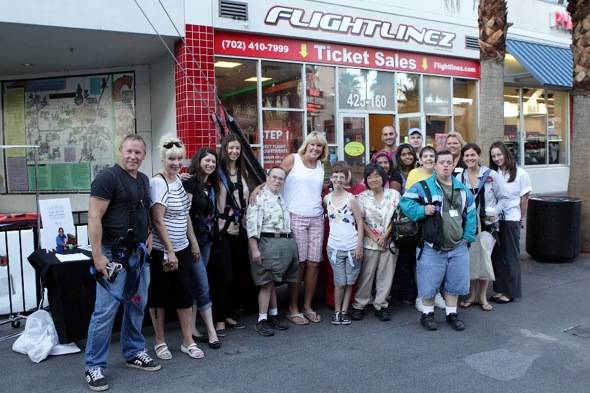 Opp Village Group with Ian
A group of Opportunity Village citizens and staff, owner of Flightlinez Ian Green (far left in harness), Emergency Arts and Flightlinez event staff.
Emergency Arts
An artist from Emergency Arts performs live painting during the For the Love of Art event.
Elvis prep
The flying Elvi prepare to zipline.
Elvis OV vol
Elvis fly
Jesse Garon and Roland August on the zipline.